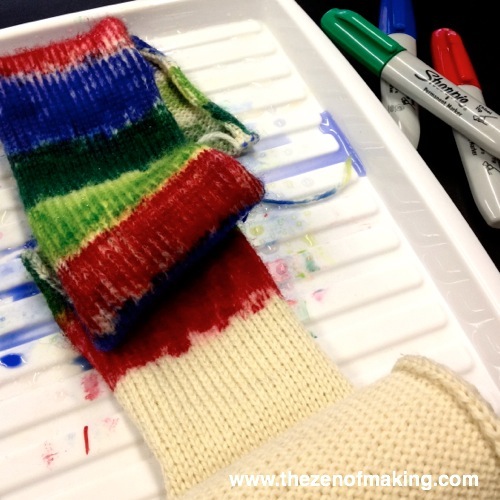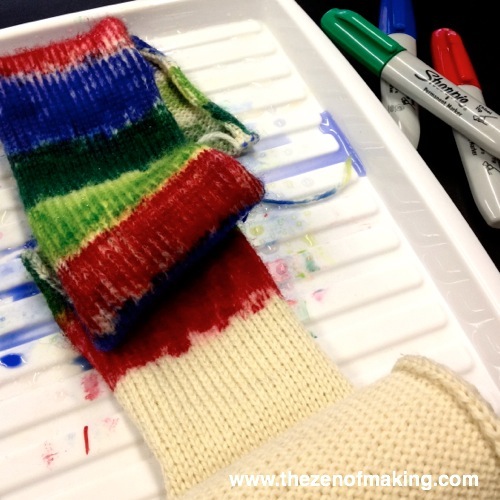 Did you know that you can dye your own custom yarn with Sharpie markers and a little bit of water? If the answer is no, then I'm about to blow your mind!
If you follow me on Twitter or Facebook, then you already know that I spent yesterday afternoon hanging out at Lion Brand Yarn. I, along with a select group of fiber-happy bloggers, got to take a tour of the studio and offices, check out some fancy new yarns, and eat a spectacular dinner at Mesa Grill. (Big thanks to LBY for a fantastic event!) As we wrapped up a delightful afternoon of yarn-tastic goodness, Zontee—whom you may recognize from the LBY video tutorials—sat us down for a little hands-on crafting time. Much to our delight, she showed us an easy way to dye our own yarn using Sharpie permanent markers. (If you've got kids, you'll definitely want to give it a try.) The process is a little bit messy, but the results are totally worth it!
Check out my video of Zontee's demonstration to see how it's done:
Since the audio's a little glitchy in the video (I shot it with my iPhone), here's a quick overview of the process that Zontee described. Please forgive my (very obvious) marker manicure obsession. Turns out, during this part of the day, I mostly took pics of my fingers.
Supplies:
* Yarn blank (In the workshop, we used Lion Brand Yarn Fishermen's Wool
knitted up on their knitting machine. You can hand knit your own or order ready-made blanks from shops like KnitPicks.)
* Sharpie chisel-tip permanent markers
Tools:
* Iron and ironing board
* Plastic tray

* Spray bottle
filled with water
**Please note that the links provided above are affiliate links, and I will be compensated if you choose to make a purchase after clicking through.**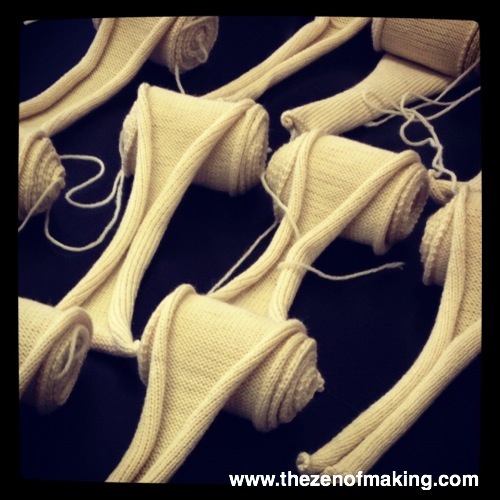 Step 1
Gather a yarn blank, a spray bottle filled with water, and a handful of sharpie markers, then situate the yarn blank inside a plastic tray so you don't get color all over your workspace.
See the full tutorial…