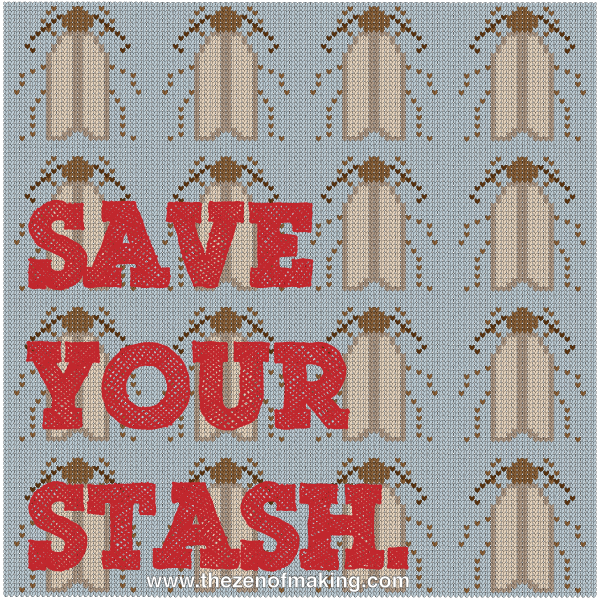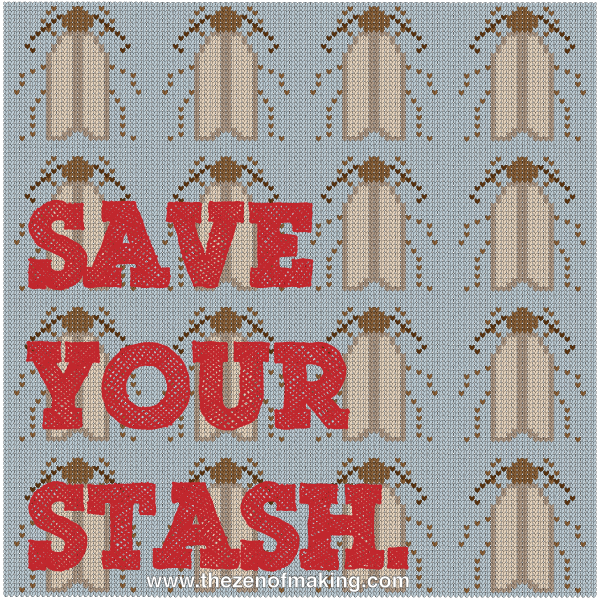 If you follow me elsewhere on the internet, then you already know my heartbreaking tale of woe and destruction. But, for those of you not on the Twitter and the Instagram: In late summer, I lost a third of my wardrobe, a third of my yarn stash, and a sizable portion of both my fabric and felt collections to the dreaded clothes moth. Around my craft studio, this horrifying incident is referred to, in appropriately hushed and reverent tones, as either Moth Hell or The Mothing. And, in sharing my story (spoiler: I defeat the moths and emerge victorious), it is my hope that I can help save other crafters from the same terrible fate.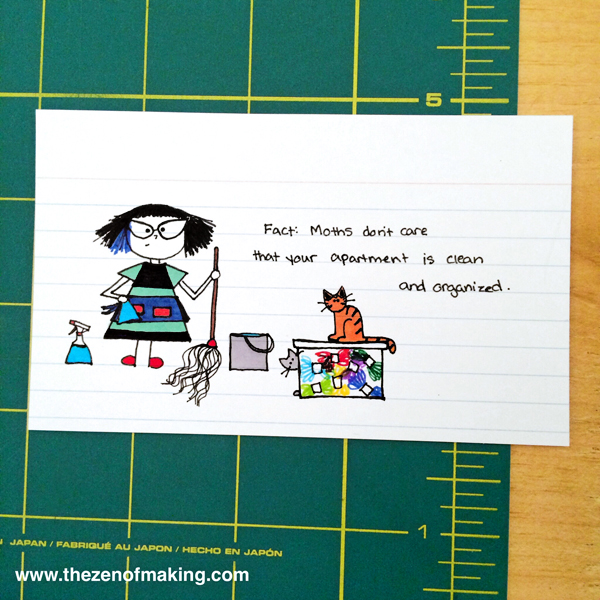 OMG, MOTHS!
At first, I was deeply embarrassed. And I must not be alone in that initial reaction, because, bouncing around the crafty/home-related internet, there's tons of information about how to protect your fiber and fabric from an infestation, and even what to do after you've seen your first moth, but there's precious little reliable information about how to actually save your stuff when a full-blow infestation is already underway. This lack of visible online guidance and commiseration made me feel alone and ashamed. But, then I looked around at my clean apartment and organized workspace (that was still, nonetheless, infested with clothes moths), talked to fellow crafty friends who whispered about their own past infestations, and I got the hell over it. Because, you know what? Moths don't care if your apartment is clean. If they get in, they're still going to eat your yarn, your wool sweaters, your silky underthings, and anything else that might have ever come into contact with sweat, your skin, or pet hair. And they're probably going to be pretty stealthy at first—they'll hide away in your yarn bins, coat closet, or in the back of your drawers where you keep the stuff that you never wear—and it won't matter that you vacuum twice a week and put away clutter, because you won't even know that they're there. The fact is, if you're not specifically looking for signs of clothes moths on a regular basis, you can easily have an infestation on your hands before you even see that first moth fly out of your craft room. And it doesn't matter how those stupid moths got there in the first place—perhaps you brought home an infested skein of yarn, or picked up the wrong wool coat at the thrift store, or maybe one of those little buggers just happened to flitter in through an open window—all that matters is dealing with it quickly and thoroughly and the FIRST time around.
After successfully dealing with my own moth problems, I decided to put together a guide to help other crafters who find themselves in the same situation. I live and work out of my Brooklyn apartment, and I have two very curious cats, so I did not use unnecessary pesticides or chemicals. Instead, I used common sense, good old fashioned white vinegar, and a whole lot of cleaning. These aren't preventative measures. This is the unvarnished truth about what to do when a clothes moth infestation is definitely already happening, and now you have to fix it.
If you've got moths, this is how to save your stuff: