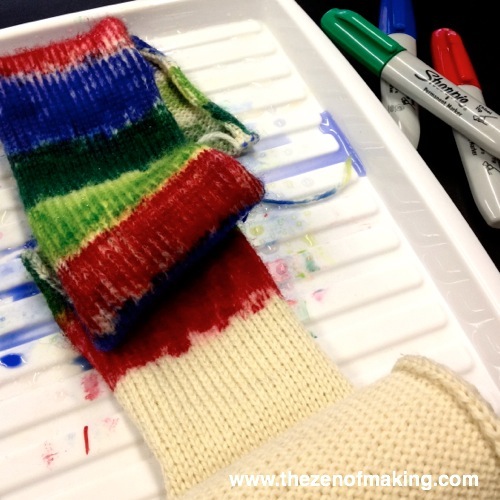 Did you know that you can dye your own custom yarn with Sharpie markers and a little bit of water? If the answer is no, then I'm about to blow your mind!
If you follow me on Twitter or Facebook, then you already know that I spent yesterday afternoon hanging out at Lion Brand Yarn. I, along with a select group of fiber-happy bloggers, got to take a tour of the studio and offices, check out some fancy new yarns, and eat a spectacular dinner at Mesa Grill. (Big thanks to LBY for a fantastic event!) As we wrapped up a delightful afternoon of yarn-tastic goodness, Zontee—whom you may recognize from the LBY video tutorials—sat us down for a little hands-on crafting time. Much to our delight, she showed us an easy way to dye our own yarn using Sharpie permanent markers. (If you've got kids, you'll definitely want to give it a try.) The process is a little bit messy, but the results are totally worth it!
Check out my video of Zontee's demonstration to see how it's done:
Since the audio's a little glitchy in the video (I shot it with my iPhone), here's a quick overview of the process that Zontee described. Please forgive my (very obvious) marker manicure obsession. Turns out, during this part of the day, I mostly took pics of my fingers.
Supplies:
* Yarn blank (In the workshop, we used Lion Brand Yarn Fishermen's Wool
knitted up on their knitting machine. You can hand knit your own or order ready-made blanks from shops like KnitPicks.)
* Sharpie chisel-tip permanent markers
Tools:
* Iron and ironing board
* Plastic tray

* Spray bottle
filled with water
**Please note that the links provided above are affiliate links, and I will be compensated if you choose to make a purchase after clicking through.**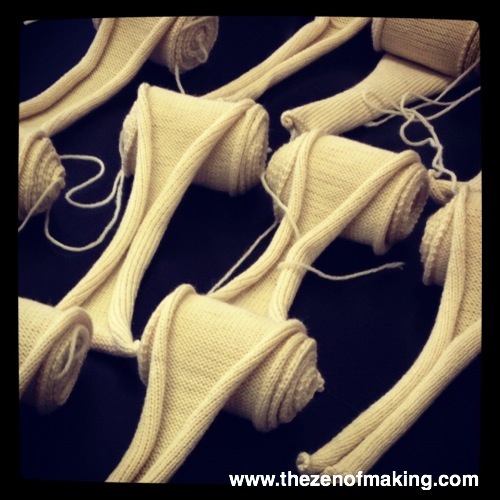 Step 1
Gather a yarn blank, a spray bottle filled with water, and a handful of sharpie markers, then situate the yarn blank inside a plastic tray so you don't get color all over your workspace.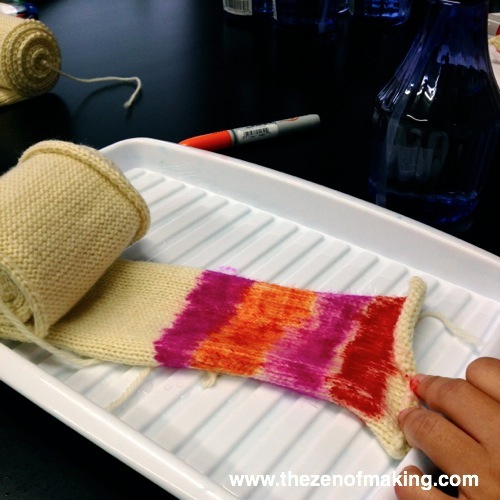 Step 2
Use your marker to apply a heavy layer of color to the yarn.
Stripes generally result in self-striping yarn and less regular patterns create a more spotted look. Experiment with different methods until you find a result that you like.
Tip: Nearby colors will blend together when water is applied. Keep that in mind when deciding which colors to put next to each other. Unless, of course, you're actually trying for brown yarn. :)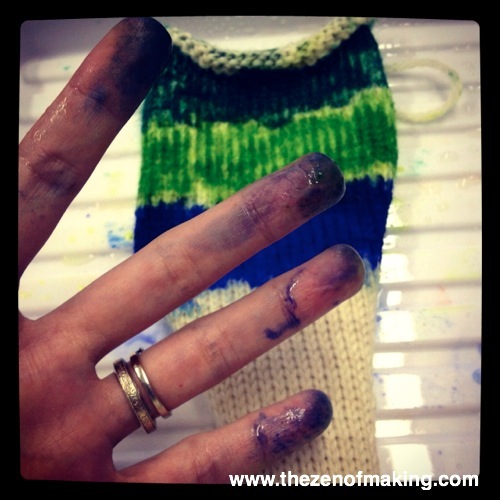 Step 3
As you work your way down the sock blank, periodically spray the colored yarn with water, making sure to saturate it thoroughly so that the ink soaks through to the back.
Tip: If you don't want flecks of white in your finished yarn, you can color both the front and back sides with marker, which will make the colors bolder and the coverage more complete.
At this point, your fingers will start to turn colors. If that's not okay with you, wear a pair of gloves for the rest of the dyeing process.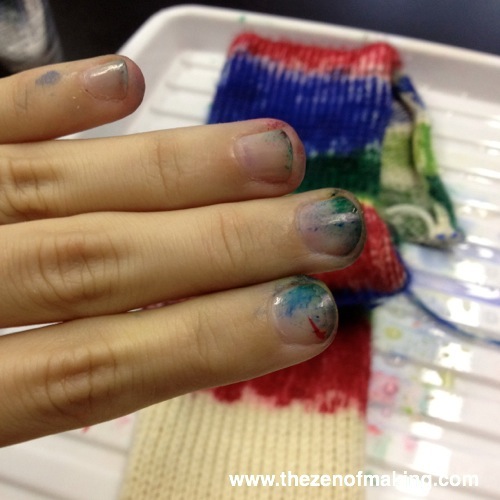 Step 4:
Once you've colored the full blank, allow the yarn to dry completely. When dry, set the color by ironing the blank on high for 3-5 minutes.
Once the blank has been ironed, you can either ball the yarn or knit/crochet right off of the blank.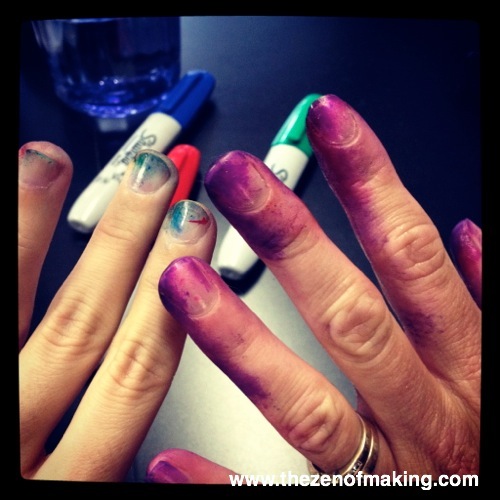 Dyeing yarn with Sharpie markers was a ton of fun, and, as you've definitely noticed from the photos, even my nails got a little color! (For the record, the marker eventually came off of my hands, but my nails are still pretty fabulous.)
I haven't seen my finished yarn yet—we had to head to dinner before the blanks dried—so I don't have any photos yet of the finished product. But, if the examples that I saw in the studio are any indication, once the colors blend, the blanks stop looking like a kindergarten art project and start looking absolutely beautiful. I can't wait to get mine home so I can ball it up and see how it turned out!
Want to hear about the rest of the afternoon? Stop back Sunday for more photos from the Lion Brand Yarn office and event! Want to see more yarn crafting tips, tricks, and how-tos? Check out the Lion Brand Yarn blog!