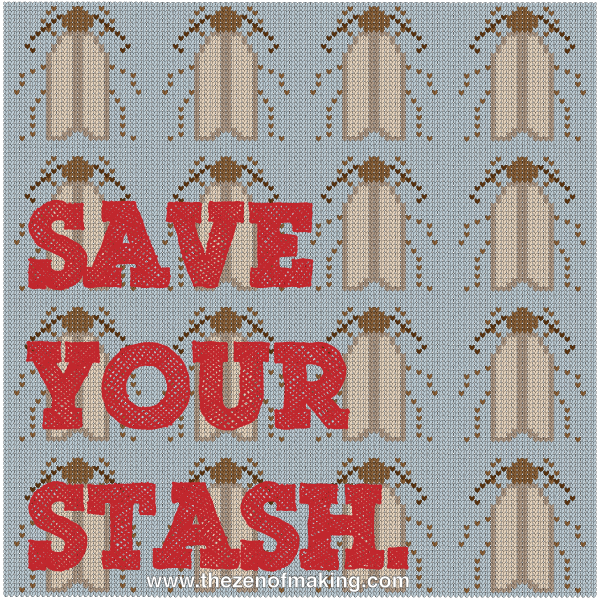 If you follow me elsewhere on the internet, then you already know my heartbreaking tale of woe and destruction. But, for those of you not on the Twitter and the Instagram: In late summer, I lost a third of my wardrobe, a third of my yarn stash, and a sizable portion of both my fabric and felt collections to the dreaded clothes moth. Around my craft studio, this horrifying incident is referred to, in appropriately hushed and reverent tones, as either Moth Hell or The Mothing. And, in sharing my story (spoiler: I defeat the moths and emerge victorious), it is my hope that I can help save other crafters from the same terrible fate.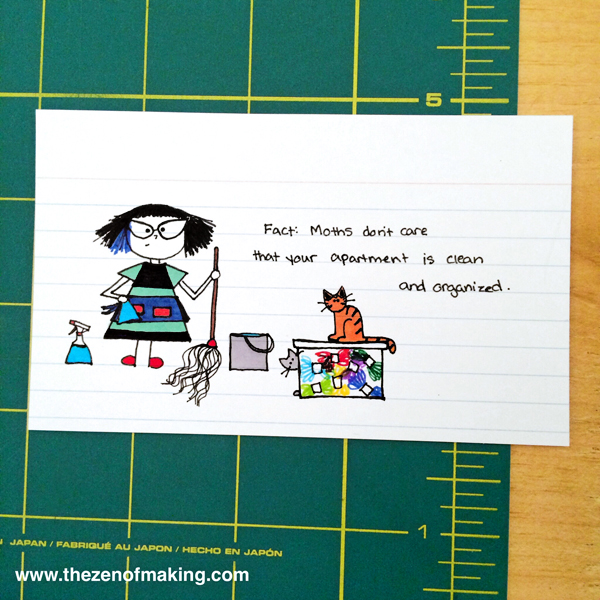 OMG, MOTHS!
At first, I was deeply embarrassed. And I must not be alone in that initial reaction, because, bouncing around the crafty/home-related internet, there's tons of information about how to protect your fiber and fabric from an infestation, and even what to do after you've seen your first moth, but there's precious little reliable information about how to actually save your stuff when a full-blow infestation is already underway. This lack of visible online guidance and commiseration made me feel alone and ashamed. But, then I looked around at my clean apartment and organized workspace (that was still, nonetheless, infested with clothes moths), talked to fellow crafty friends who whispered about their own past infestations, and I got the hell over it. Because, you know what? Moths don't care if your apartment is clean. If they get in, they're still going to eat your yarn, your wool sweaters, your silky underthings, and anything else that might have ever come into contact with sweat, your skin, or pet hair. And they're probably going to be pretty stealthy at first—they'll hide away in your yarn bins, coat closet, or in the back of your drawers where you keep the stuff that you never wear—and it won't matter that you vacuum twice a week and put away clutter, because you won't even know that they're there. The fact is, if you're not specifically looking for signs of clothes moths on a regular basis, you can easily have an infestation on your hands before you even see that first moth fly out of your craft room. And it doesn't matter how those stupid moths got there in the first place—perhaps you brought home an infested skein of yarn, or picked up the wrong wool coat at the thrift store, or maybe one of those little buggers just happened to flitter in through an open window—all that matters is dealing with it quickly and thoroughly and the FIRST time around.
After successfully dealing with my own moth problems, I decided to put together a guide to help other crafters who find themselves in the same situation. I live and work out of my Brooklyn apartment, and I have two very curious cats, so I did not use unnecessary pesticides or chemicals. Instead, I used common sense, good old fashioned white vinegar, and a whole lot of cleaning. These aren't preventative measures. This is the unvarnished truth about what to do when a clothes moth infestation is definitely already happening, and now you have to fix it.
If you've got moths, this is how to save your stuff: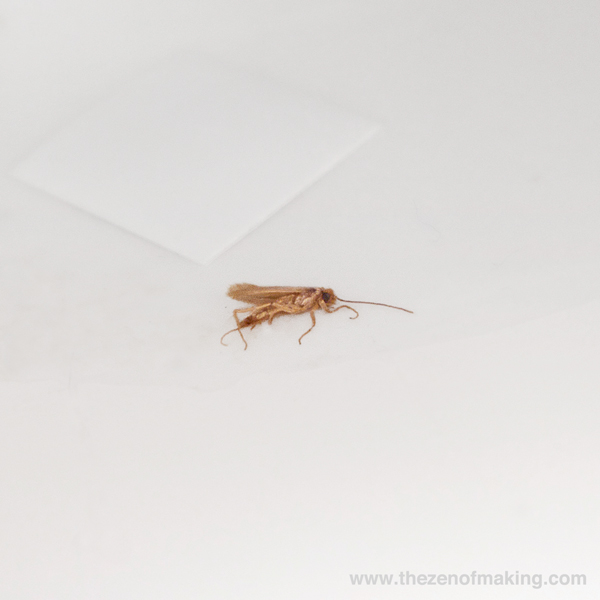 What you're up against:
While the small tan moths fluttering around the room might be the most visible sign of trouble, adult moths aren't actually responsible for eating your delicious, delicious fabrics and fibers. The culprit, as it turns out, is the moth larva. (Read: The caterpillar that hatches from the moth egg, which will, eventually, turn into that fluttering moth.) Moth larvae have voracious appetites, and, though they prefer animal fibers such as wool, cashmere, alpaca, etc., they will also munch on natural plant fibers like cotton, especially if the fabric is dirty/covered in pet hair.
Unlike many pests—and contrary to popular opinion—clothes moth eggs DO NOT lie dormant, only to hatch years later to suddenly reinfest your space. [Sources: Maine state government by way of Colorado State University and buildingconservation.com] They generally hatch within 4–10 days in the summer, but in cooler winter temperatures, it can take up to three weeks or so. That's good news, since you won't have to go around worrying about zombie eggs lurking in your stash FOREVER. [Source: Penn State University]
First steps:
When you spot a moth or moth damage, the first thing you should do is contain the problem. Close off the room, then carefully check the fiber/textiles/furniture/rugs/clothing therein. Take note of any location or item that shows signs moths, moth eggs, larvae, or casings. [Here's what all of those things look like.] Temporarily seal the infested item(s) in a ziplock bag or plastic box with a sealed lid for cleaning or disposal. Go through the rest of your apartment/house room-by-room to see if the problem has spread. Close off any additional rooms that show signs of damage, and seal any additional infested items in bags or plastic boxes. (If you've got a thorough infestation in multiple rooms, you can skip the initial bagging step and go straight to the cleaning.) If you're lucky enough to have caught things early, your moth elimination efforts might be contained to just one room. (Hooray!) If not, I'm not going to sugarcoat it: You've got some serious work ahead of you. But, rest assured, the moth battle is one you can win. Just take my advice: I speak from direct experience when I say that this whole EPIC Anti-Moth Cleaning of Doom thing sucks. You'll only want to do it once, so don't half-ass it.
You've only seen one tiny little moth and no signs of damage? Don't ignore it and hope for the best. That road, I can assure you, will only lead to tears.
Recommended Supplies and Tools:
Please note that the links to supplies and tools that are provided below are affiliate links, and I will be compensated if you choose to make a purchase after clicking through.
Before you start cleaning, you should figure out how best to approach your space, keeping in mind that cross-contamination (putting clean things on or near infested/not yet cleaned things) can and will cause already clean places/items to become reinfested. If ever there was a time to be super-neurotic about cleaning, this is it. I recommend starting the cleaning process by wiping down a table with undiluted white vinegar and using it as a staging ground for plastic boxes with lids, where you can place clean items to keep them separate from not-yet-cleaned items while you're working. This table can serve as a starting point for the whole cleaning process, and you can begin there and work your way out, cleaning as you go until you've finished the entire room/apartment/house. (Jumping around from place to place makes it more likely that you will accidentally re-contaminate an already clean area.) To protect your home even further, spray and wipe down any cleaning tools that you've used—including the vacuum/vacuum brushes/broom/etc—with undiluted white vinegar when you're done with each cleaning session. During the cleaning process, your vacuum and your white vinegar will be the most important tools at your disposal, so be prepared to show them some love.
I'm sorry to tell you that there is no magic solution that makes moths go away, so the key to successfully ridding your home/workspace of them is, alas, being absolutely and tirelessly thorough. I am not exaggerating when I say that I touched and cleaned every single item in my craft studio and apartment during my own moth infestation, and the process took weeks. Not not hours, not days. Weeks. (Think of it as a good opportunity to finally go through and get rid of all of the junk that you've been meaning to toss over the years—that's what my husband and I did.) Alas, if you take shortcuts in your cleaning, chances are good that you'll have another infestation on your hands in a few months. And then you'll have to clean again, and it will suck. Them's the facts. So, just do it right the first time, and then it'll only suck/take over your life/give you nightmares once, okay? Okay.
Why white vinegar? Moth eggs/larvae aren't particularly hardy, and white vinegar is a strong but natural cleaner. While it cleans, it changes the pH of anything on the surface being scrubbed and kills any moth eggs and larvae. And, when diluted with water, it also can be used to set dyes in yarn and fabric, so it's perfect for cleaning your handmade items without risking a mess of running colors.
Ready to get started? Here's how I cleaned ALL OF THE THINGS: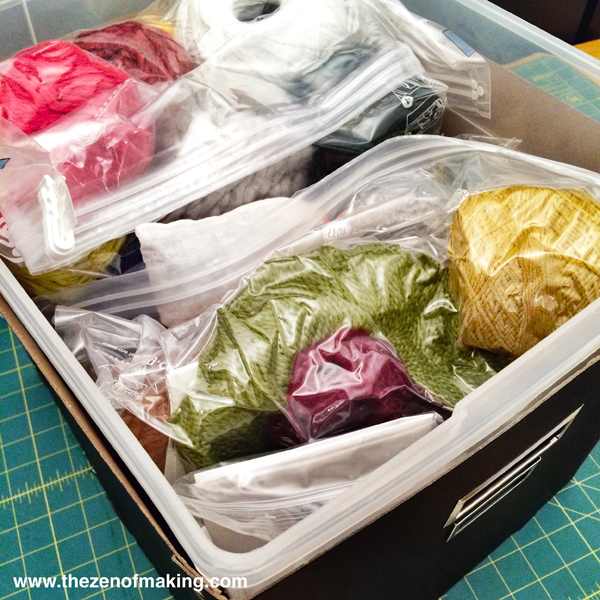 Yarn and Fiber:
Unlike many resources that I found in my own panicked googling, I'm not going to tell you to throw away your entire stash. And, while there might be skeins that are just too far gone, I'll give you some options for saving what you can, and then I'll tell you how to protect your stash in the future. I said at the beginning of this post that I lost ⅓ of my yarn stash during my moth cleaning process, but that number is a bit misleading. It describes real and upsetting losses, sure, but it also includes a much-needed culling of my stash, and a good percentage of the skeins I ended up tossing I *chose* to get rid of, either because they were colors I didn't like or low quality fiber that I was never going to use. It's amazing what an infestation can do to clarify which supplies you do and don't want to keep—when you know that you're going to have to put forth considerable effort to clean something, suddenly it's a whole lot easier to make those hard to-keep/not-to-keep decisions.
How to clean it:
Sort your stash into three trash bags: keep, throw away, and undecided. The keep bag should hold relatively undamaged skeins, the throw away bag should include skeins that you no longer want and skeins that are clearly too damaged by the infestation to save, and the undecided bag should hold anything that you're unsure about to revisit later.
* The oven:
Let's get this out of the way first: This method can be a fire hazard. And, if you must do it, you should only do it for ANIMAL FIBERS. Not acrylics, not cottons, not blends. And you should NEVER, EVER leave it unattended. EVER. (No, seriously.) It should also go without saying that, should you decide to try this, you should have an appropriate fire extinguisher nearby. (Also, I'm not an expert on fire safety, so you should contact someone who is if you have questions or concerns.)
And, with that said, I will now admit that this is the method that I used to save my stash.
Exposing animal fiber yarn to temperatures of 120F for a minimum of 30 minutes will kill moths/eggs/larvae at all stages. I placed my my animal fiber stash on baking sheets and cycled them through my oven on the warm setting (I used my oven thermometer to ensure the proper temperature) for an hour. I watched it like a hawk, and didn't have any problems. And it worked.
Following the oven adventure, I gently vacuumed away any leftover evidence of moths/eggs/larvae on each individual skein. This part took forever. If you've got balls of yarn and a backyard, you might also want to unravel the balls and shake them out vigorously outside, then use a ball winder to re-wind them.
Note: I am told that sealing yarn in an enclosed car in a sunny spot on a hot summer day can do the same thing. This seems reasonable, but I haven't tried it, as I live in NYC and don't have a car.
* The freezer:
If you've got a chest freezer that ISN'T frost-free (frost-free freezers periodically cycle their temperatures above freezing to prevent frost buildup), turn that baby down to below freezing, put your stash in Ziploc freezer bags with the air squeezed out, then freeze them at temperatures consistently below freezing (go with -10F or so) for one to two weeks. Allow them to return to room temperature, then repeat the process. Allow your skeins to return to room temperature one more time, then shake them out/gently vacuum them off to remove any leftover evidence of moths.
Note: If you've got 100% wool felt/100% wool fabric (NOT synthetic, blends, or ecofelt), these are also the methods that you should use to clean that.
How to protect it from a future infestation:
Always store your yarn stash in high quality plastic bins with sealed lids.
Before placing your yarn in the bins, double up on protection (and storage space) by sealing your yarn in reusable Space Bag-style vacuum storage bags with a couple of silica moisture absorbing packets inside to make sure that your yarn stays completely dry.
For yarn that I'm not planning to use right away, I include a couple of oxygen absorber packets in addition to the silica moisture absorbing packets in my vacuum storage bags to create a dry, oxygen-free environment that's completely inhospitable to pests of any kind. In theory, this should also kill anything that I may have missed during the cleaning process. (Be careful–once you open a bag of oxygen absorbers, they start to work right away. They're a one-time-use item and can't be reused once you reopen your vacuum storage bag. Any leftover packets should be sealed in their own vacuum storage bag immediately to keep the oxygen in the air from ruining them.)
When you acquire new yarn, put it away immediately. Don't leave it sitting on your worktable for a month. If you're not using it, keep it safe, sealed, and protected.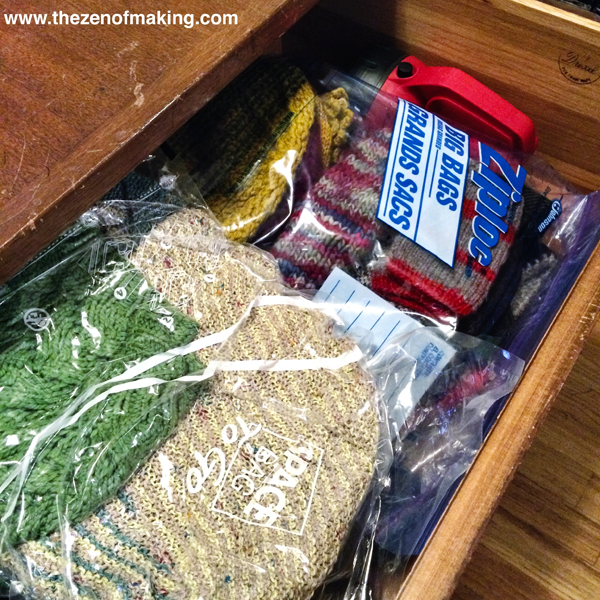 Hand-Knitted and Hand-Crocheted Items:
There are few things more upsetting than finding moth damage on hand-knitted or hand-crocheted items. But, before you mend, you need to clean!
How to clean it:
Fill a bucket or plastic tub with 50% water and 50% vinegar. Submerge the item and allow it to soak for at least half an hour. Gently rinse the item, press it with a towel to remove excess water, and lay it flat to dry.
Optional: Re-wash it with your favorite lanolin and scent-infused wool wash.
How to protect it from a future infestation:
Thoroughly vacuum out any shelves, closets, floors, or surfaces where the items will be stored, then wipe everything down with white vinegar before returning the cleaned items to the area.
When not in use, store your knitted and crocheted items in sealed plastic bins, heavy plastic storage bags (I like Ziploc's L and XL Big Bags), vacuum storage bags, or cedar boxes/chests. (Cedar oil in cedar chests or boxes kills moth larvae that comes into contact with it, protecting the items inside. Lightly sand the wood periodically to refresh the chest/box and release the oil in the wood.)
If you're keeping your handmade items in a drawer, place enough cedar blocks inside that the cedar scent is evident when you open the drawer. Lightly sand the blocks every 6 months or so to refresh them.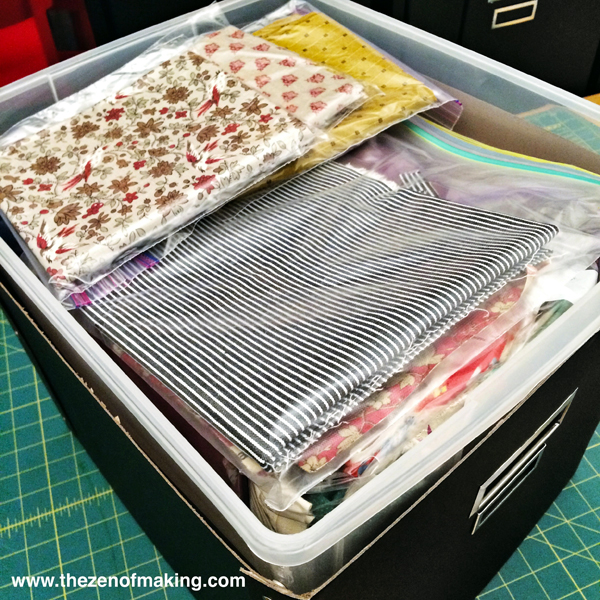 Fabric:
Unless you've got a ton of silk or wool mixed in with your cottons and linens, chances are pretty good that your fabric is faring much better than your fiber. Even so, you'll still want to clean it thoroughly and store it properly.
How to clean it:
*
Wash it:
Wash your washable fabrics in water at temperatures of at least 120F and dry them in a hot dryer. (Yes, this might shrink certain fabrics. Use common sense and your usual laundry/dry cleaning methods for delicate fabrics.)
* Freeze it:
As with yarn, if you've got a chest freezer that ISN'T frost-free (frost-free freezers periodically cycle their temperatures above freezing to prevent frost buildup), put your fabric in Ziploc freezer bags with the air squeezed out, then freeze them at temperatures consistently below freezing (-10F or so) for one to two weeks. Allow them to return to room temperature, then repeat the process. Allow the fabric to return to room temperature one more time, then shake it out/gently vacuum it off to remove any leftover evidence of moths. This is a great option for delicate, shrinkable fabrics that can't be washed.
* Vacuum it:
In some cases, especially when there isn't an obvious infestation, you can thoroughly vacuum fabrics to remove any stray moth eggs, then store this fabric in vacuum storage bags or ziploc bags until you're sure that there aren't any moths or larvae.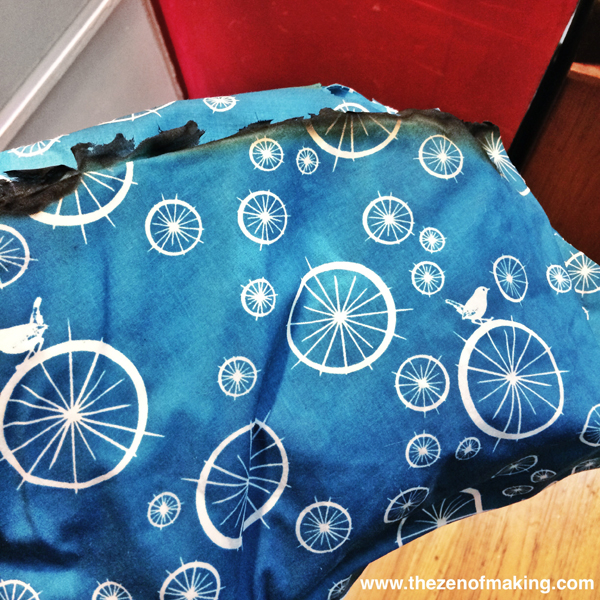 * Do NOT set it on fire:
The oven may have worked for your yarn, but you should NEVER use this method for fabrics. It's dangerous, and it will probably result in burning quilting cotton and evenweave. I know this, because I set some of my own fabric on fire. Twice. Then I stopped being an idiot and took boxes and boxes of potentially contaminated fabric to the laudromat, which is what I should have done in the first place.
How to protect it from a future infestation:
Thoroughly vacuum out any shelves, closets, floors, or surfaces where the fabric will be stored, then wipe everything down with white vinegar before returning the cleaned fabric to the area.
Once all of your fabric has been cleaned, seal the yardage for each design/color in its own large Ziploc freezer bag (or larger storage bag if needed), and then store the bagged fabric in a plastic bin with a sealed lid. This does three magical things: It keeps all of the fabric for each project organized and in one place, and it protects the fabric from dirt, dust, and pests, and it helps prevent any future infestation in one piece of fabric from spreading to the rest. I now do this every time I buy new fabric.
If you have a large stash or tons of fabric scraps, you can also use vacuum storage bags with silica packets and oxygen absorber packets for long-term storage to create an inhospitable environment for pests, just like you did with the yarn.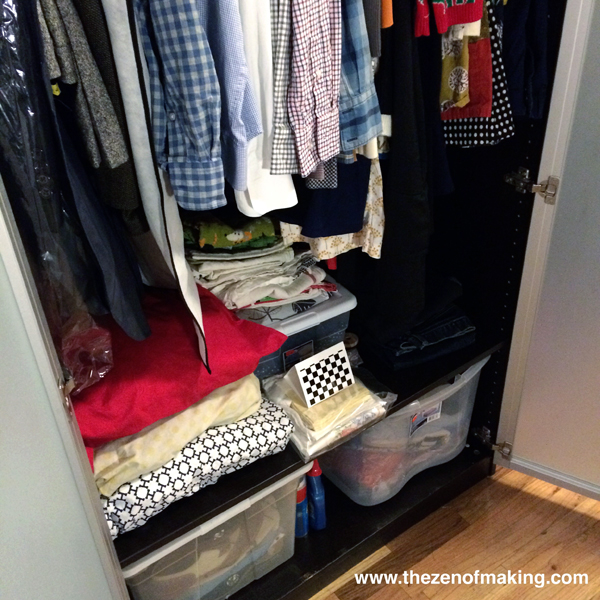 Wardrobe:
Dealing with a moth-infested wardrobe requires nerves of steel. Drink a beer or a cup of coffee while you gather your courage.
How to clean it:
*
Freeze it or wash it:
If your clothes are washable, follow the instructions in the fabric section above.
* Dry clean it: Take all dry clean only garments to the cleaner. It'll be expensive, but you'll want take every garment that needs to be cleaned at the same time so you don't risk reinfesting clean garments or cleaned storage spaces.
* Check your shoes: Shoes don't get cleaned very often, so they can be a perfect breeding ground for moths. Toss any pairs of shoes that are beyond saving, then vacuum out the remaining pairs. Once they've been vacuumed, wash any canvas shoes or sneakers that are washable in a washing machine, and wipe out any shoes that aren't machine washable with white vinegar. If you're cleaning leather/silk/satin shoes, skip the vinegar and brush them thoroughly with a toothbrush or a nail brush, then vacuum one more time. Pay special attention to shoelaces.
* Check your handbags/backpacks/totes: Much like shoes, bags are also items that are used often, but not regularly washed. Follow the shoe guidelines above, or dry clean if appropriate.
How to protect it from a future infestation:
Thoroughly vacuum out any shelves, closets, floors, or surfaces where your clothing will be stored, then wipe everything down with white vinegar before returning the cleaned clothes to the area. This includes any cracks or crevices, the spaces on the sides of shelves, and under and behind any storage unit. Don't forget to remove your drawers from the dresser and wipe out the inside of both the drawers and the empty dresser frame.
Store clean seasonal items in either plastic bins with sealed tops or in vacuum storage bags with silica packets. Keep special occasion garments in sealed garment bags to protect them from dirt, dust, and pests. Store folded sweaters in sealed plastic bins or sealed plastic storage bags year round.
Use cedar blocks in all clothing storage areas, taking care to use enough of them to make the scent evident when the drawer/door is opened. Lightly sand them every 6 months to refresh the scent and oil in the wood.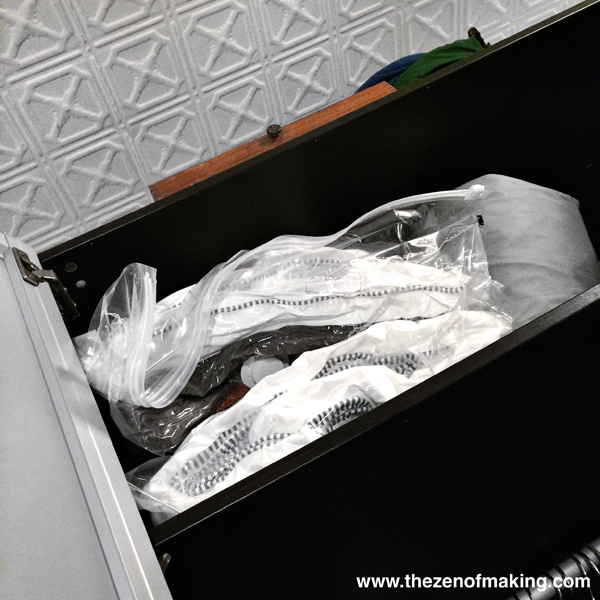 General Tips for Cleaning Your Home and Workspace/Post-Moth Maintenance:
As I said before, the key to success is to be absolutely thorough and to avoid cross-contamination between clean and dirty areas as you work.
How to clean it:
* Furniture: Vacuum thoroughly, removing cushions and using the hose to access any cracks and crevices, taking care to clean the back, sides, and bottom of the furniture as well. If you discover signs of damage, rent or buy a steam cleaner to deep clean the item, then continue to vacuum thoroughly at least once a week until no signs of moths remain.
* Rugs and Carpets: Vacuum thoroughly on both the front and back (where possible). Rent or buy a steam cleaner to deep clean the item. Continue to vacuum thoroughly at least once a week until no signs of moths remain.
* Mattresses: Like furnuture, rugs, and carpets, vacuum your mattress thoroughly on both the front and back, then rent or buy a steam cleaner to deep clean it. Allow for plenty of drying time before you need to sleep on it again. Continue to vacuum it thoroughly at least once a week for a few weeks. Consider encasing it in a protective covering.
* Everything else: Remove every item from every shelf/cupboard/cabinet/closet and wipe down all surfaces, and clean all of the items that you removed before putting them back. If an item can be washed in the washing machine (pet beds, curtains, placemats, potholders, aprons, throw pillows, etc.), wash it. If an item or surface can be wiped down with white vinegar or diluted white vinegar (nicknacks, recycling bins, lampshades, etc.), do it. (A 1:1 white vinegar to water ratio is generally safe for most surfaces, but spot check if you're not sure.) If not, vacuum thoroughly, then use an appropriate cleaner for the item or surface (say, oil soap for wood/wood floors). EVERY SINGLE ITEM OR SURFACE IN YOUR HOME SHOULD BE CLEANED. I cannot stress this enough. If you skip an area because it looks clean, you're probably going to miss something and end up with more moths and another round of cleaning.
How to protect it from future infestation:
* Vacuum and wipe down your craft room shelves monthly, and do the same in your closets and dressers at least once every three months. This will keep these surfaces inhospitable to pests, and will help you catch any new infestations early.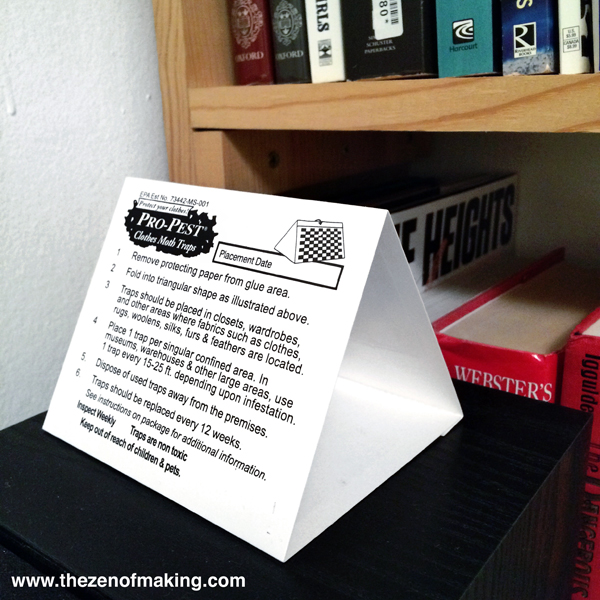 * Place hormone clothes moth traps in places prone to infestation (closets, drawers, linen cabinets, near your yarn and fabric stashes). Replace them regularly, according to the instructions on the package. This does two things: It will alert you to any new moth issues, and it will attract male moths, preventing them from mating with females. The traps that I linked to in the supply list at the beginning of this post are the most effective traps that I've found thus far.
* Pet hair: One of the most important lessons that I learned from this whole debacle was this: moths effing love cat hair. And, despite regular cleaning, I wasn't always doing things like moving the couch or heavy shelves so I could clean under and behind them. So, that's where the cat hair gathered, and that's where the moths did too. (Shudder.) Make sure you're doing a thorough move-all-the-things cleaning every few months.
* Sunlight: You know how your grandma used to air her quilts once a year by shaking them out and then hanging them in the sunshine for a day? Well, sunlight is an extremely powerful natural cleaner. If you've got the backyard and the sun to do it, it's a great way to prevent infestations and rid your textiles of unwanted pests, even before they become a problem.
* Contaminated trash: While you're cleaning, remove any trash/trash bags immediately. Do NOT keep bags that aren't quite full in your home to use the next day.
* Contaminated vacuum cleaner: When you're battling an infestation, make sure you empty your vacuum canister and/or remove the bag from your home at the end of each cleaning session. Also, take care to wipe down the surface of the vacuum with white vinegar to prevent any moth eggs that might be on it from hatching or spreading.
* General cleaning and upkeep: By far the best way to prevent new infestations is to clean thoroughly and regularly. (And behind things and under things!) If used often, your vacuum can prevent most moth-related issues from ever becoming a problem.
Note on pesticides: I've got cats, so I'm not a fan of toxic moth balls or chemical sprays. And, turns out, most of the "natural" sprays aren't any safer for cats and kids. I didn't use them, and I didn't need to.
The above methods are how I handled my clothes moth infestation, but there are tons of additional ways to treat and prevent one. Definitely feel free to share your favorite tips and tricks in the comments below—your fellow crafters will thank you!