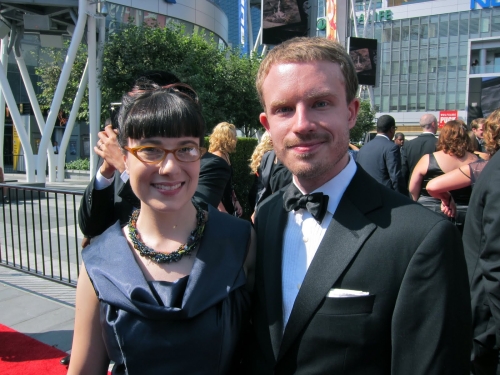 This year, when Jeremy got nominated, I got crafty. I considered it the ultimate handmade challenge to bring DIY to the red carpet in a totally workable way. (In retrospect, it was probably an ill-advised challenge, considering I had about a month to get it all done!) So, with the help of some amazingly talented friends (*cough*Vicki O'Dell*cough*), I set about making the dress, the accessories, and the shoes for me, and the bow tie and the pocket square for Jeremy.
I documented the whole process for CRAFT, including tutorials for making a crocheted lace handbag, a bow tie, and a pocket square. So, if you've got some black tie in your future, here's how to get handmade all up in it!
CRAFT Emmy Post #1: DIY-ing the Emmys: The Gown, Shoes and Accessories
Includes:
• The dress. Good lord, the dress.

• Links to jewelry tips and tricks from Vicki O'Dell, the fabulous designer of my Emmy necklace.

• Downloadable mini-pattern for a crocheted linen lace handbag.
CRAFT Emmy Post #2: DIY-ing the Emmys: The Bow Tie and Pocket Square
Includes:
• Downloadable bow tie pattern and tutorial—perfect for black tie or nerdy goodness!

• Hand-sewn pocket square tutorial with rolled hem diagram.
For those of you who would just like to see the darn pictures already, here's a little Emmy Album: