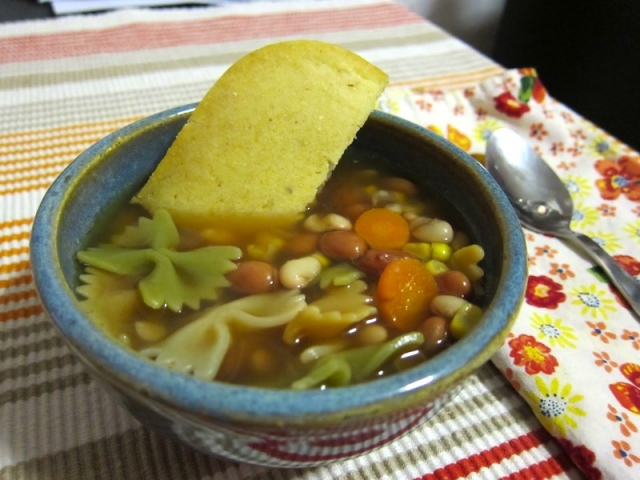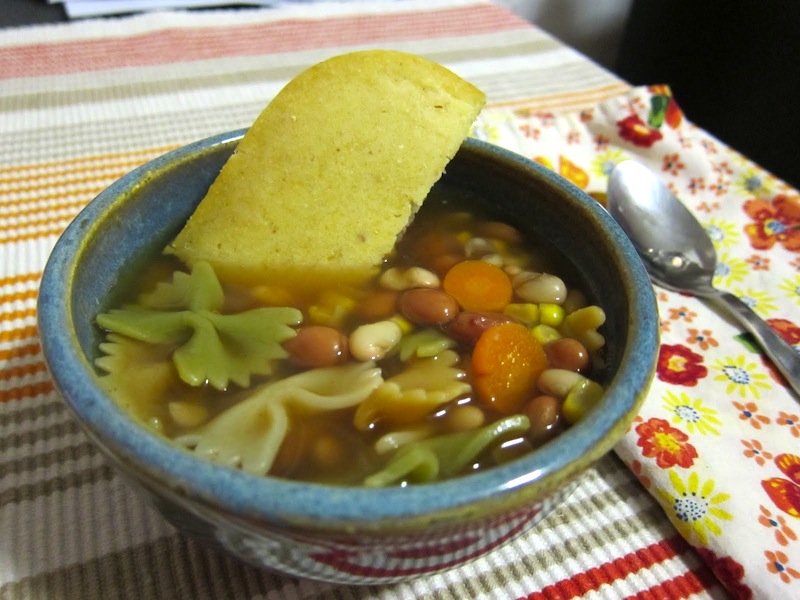 Tonight, I threw together an easy, hearty meal that really hit the spot after a long, chilly Monday: Bean soup with cornbread on the side.
I didn't have an exact plan in mind when I started the soup, but I knew that I wanted it to have more stuff and less broth. With this soup, I'd definitely say that I hit my mark.
Monday Night Bean Soup
Serves 4 with leftovers
Yields 8-10 cups of soup
1 can pinto beans, drained and rinsed
1 can small white beans, drained and rinsed
2-3 large carrots, chopped
1 cup frozen corn
2 cups dried pasta (any shape)
10 cups tomato-based vegetable broth (I love Better Than Bouillon Organic Vegetable Base
)
.5-1 teaspoon dried basil
Cayenne pepper and/or hot sauce to taste (just enough for a little kick)
Several shakes of all purpose spice
Salt and black pepper to taste
In a large soup pot, combine beans, carrots, and broth. Simmer for 15 minutes, then add corn and seasonings. Simmer for 10 more minutes. Add pasta, simmering until tender. Adjust seasonings if needed. Serve immediately with cornbread.
Be advised: The pasta will soak up extra broth pretty quickly. If there's not enough liquid in your leftovers, add another cup or two of broth until you get a ratio that you like.
Because you can't have soup without bread, I also made a batch of Skillet Corn Bread from Veganomicon: The Ultimate Vegan Cookbook to complete the meal.
**If you click through a link to Amazon.com in this post, I will make a little money if you make a purchase. Don't say I didn't warn you.**