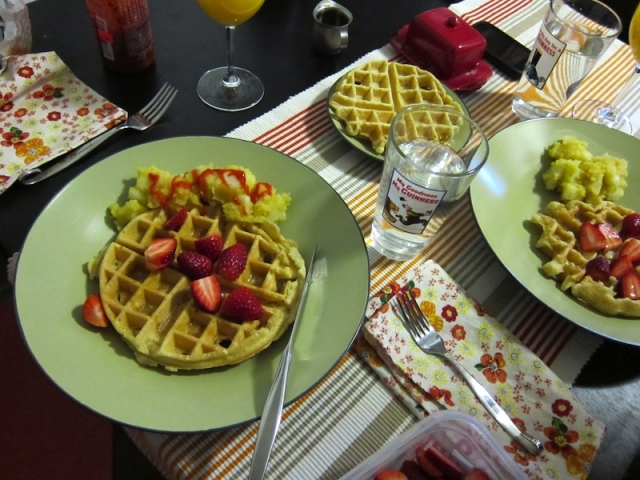 I am on a waffle kick. Delicious waffles. Giant waffles. Vegan waffles. FEED ME WAFFLES!! (Mwahahaha.) This newfound obsession may well revolutionize my brunch plans and dinner party ideas for a long time to come, but, for now, I just want to eat as many as I possibly can.
Every week, Jeremy and I have standing Sunday brunch plans. I look forward to this meal all week, and get very crabby if I don't get to eat it. We generally make pancakes, but, since my mom bought us a fancy new Belgian waffle maker for Christmas, we decided to try it out last weekend.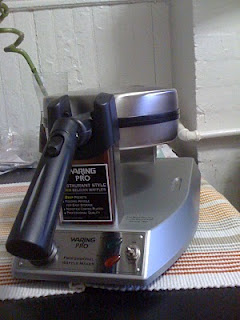 The waffle maker may look like total overkill, but the results were phenomenal.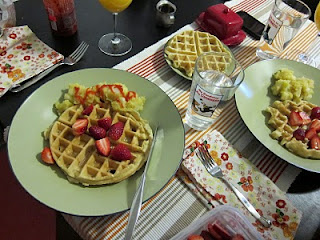 We used the Old-Fashioned Chelsea Waffles recipe from Isa Chandra Moskowitz's Vegan Brunch. (As you may have noticed, I've really been enjoying this cookbook lately.) The consistency of the batter was perfect for use in a waffle maker, and waffles came out golden, fluffy on the inside, crispy on the outside, and with just the right texture.
As you can see, they didn't last long in our apartment.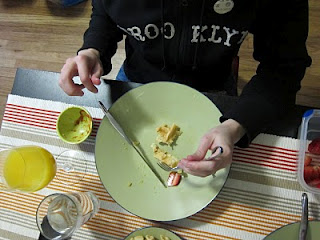 Jeremy told me that his parents used to have dinner parties wherein their friends would all bring different, creative toppings to put on waffles. I think that this is a brilliant idea, and am pretty sure that I'll need to host my own waffle potluck in the near future.
**If you click through a link to Amazon.com in this post, I will make a little money if you make a purchase. Don't say I didn't warn you.**