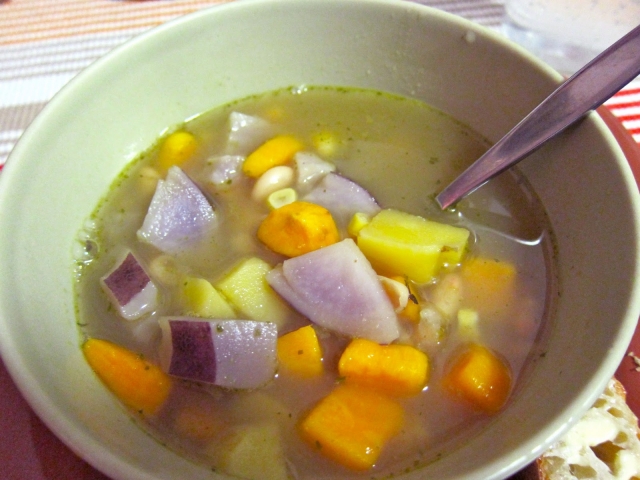 My best friend Melanie refers to this recipe simply as "the soup." For as long as I've been cooking for my pals, it has been my go-to meal, because it's simple enough not to scare picky eaters (of which I'm one), yet flavorful enough to serve as the main course. I love this soup, and make it every few weeks from the very first sign of a nip in the air until I'm back in short sleeves.
I made a batch tonight, and finally remembered to write down the recipe:
Potato and White Bean Winter Soup
* 6 cups of vegetable stock
* 2 cups frozen sweet corn (or freshly cut off of the cob, if available)
* 5 small to medium white potatoes, peeled and cut into 1″cubes
* 2 cups cooked white beans (navy, cannellini or great northern are all fine)
* 1 bay leaf
* 3-5 cloves garlic, minced (Or more–mmm, garlic!)
* 1 teaspoon fresh rosemary
* 3/4 teaspoon dried basil
* 1/2 small onion, minced
* fresh ground black pepper to taste
* sea salt to taste
* olive oil
In a large soup pot, sauté onion and garlic in a small amount of olive oil until the onion is transparent and the garlic is starts to brown. Add vegetable stock to the onion and garlic, and bring to a boil. Add corn, potatoes, beans, and spices. Turn heat down and simmer for 30-40 minutes, or until potatoes are very tender. Remove bay leaf. Add pepper to taste and salt if needed. Serve with homemade bread.
This soup refrigerates and freezes very well, so I usually double the recipe so I can have plenty of leftovers. In my opinion, it tastes even better the next day.
Vegan soup for everyone!
**If you click through a link to Amazon.com in this post, I will make a little money if you make a purchase. Don't say I didn't warn you.**