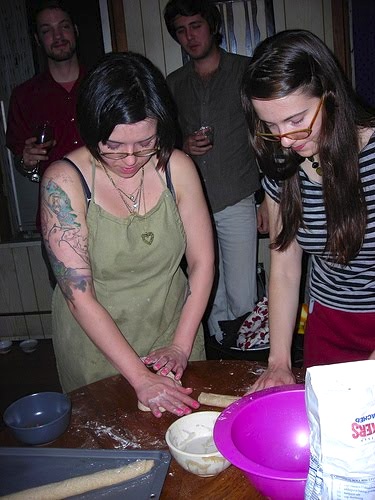 The holiday season is well upon us, and I am finally starting to feel healthy again. Over the past 3 weeks or so, I managed to catch a nasty head cold from my husband, which morphed into an upper respiratory infection that culminated in laryngitis over Thanksgiving weekend. After weeks of poor health and listlessness, I finally strode into my yoga class this morning feeling a little weak, but definitely on the mend. Now that I have a bit of energy–and significantly less snot–in my life, I'm slowly getting caught up on the things I've been neglecting. I know that Thanksgiving was last weekend, and that everyone's already moved on to the Christmas/Solstice/Hanukkah/Kwanzaa/Festivus season, but I still think it deserves a post. Our Thanksgiving was a wonderful celebration of friends, and I'm excited about the good food and good company that came together for a very memorable meal.
This was Jeremy's and my first Thanksgiving as a married couple. Because we had recently spent time with our families at our wedding, we opted to stay in Brooklyn this year and co-host Thanksgiving dinner at our pal Amanda's house. I was in charge of the vegan portion of dinner, and Amanda, who loves cooking with butter and cream, was in charge of the more traditional version of the meal. We fed 15 or so people with the following menu (vegan items in green):

Salad & Cheeses
Turkey &Gravy;
Tofurkey & Country Gravy
I baked the tofurkey in my Le Creuset, and found that adding an inch or so of vegetable broth to the bottom before putting it in the oven really helps to keep it moist and tender.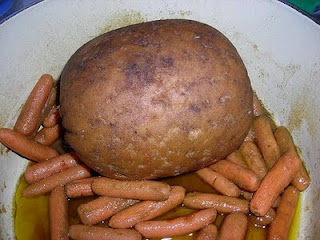 Sage Stuffing
Mashed Potatoes a la Melanie
Macaroni and Cheese
Broccoli with Garlic and Almonds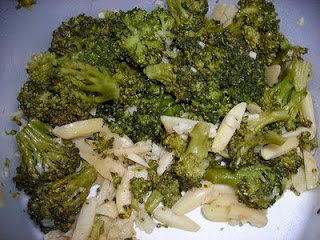 Sesame String Beans
Baked Acorn Squash with Maple Syrup and Brown Sugar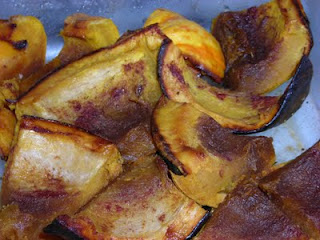 Acorn Squash Risotto
Sweetcorn
Baked Sweet Potatoes
Corn Bread
Homemade Breads from Haley & Amanda
Below, Amanda (L) teaches me how to (R) make baguettes.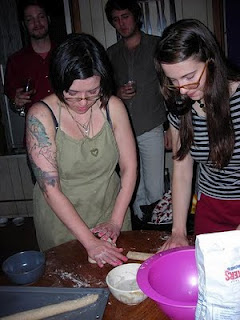 Buttermilk Brandied-Cranberry Cake with Caramel
Pumpkin Pecan Tart
Apple Pie
Two of my favorite things: Baking and right angles!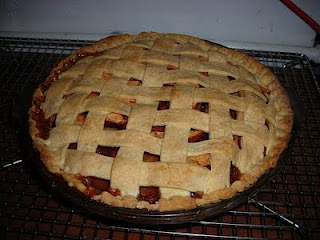 Marshmallow Mud Cake
I got this recipe from My Sweet Vegan
, a vegan dessert cookbook by Hannah Kaminsky. I didn't have the 9-inch pan that the recipe called for, so I doubled it and tried for a layer cake using my 7-inch springforms
. The cake was beautiful for all of 30 seconds. Unsurprisingly, the heavy, gooey marshmallow layers made for epic structural integrity failure in the moist cake layers. By the time I was done frosting, it looked as though a mudslide had ripped right through the top layer. It was ugly, but it was still one of the most delicious cakes I've ever made.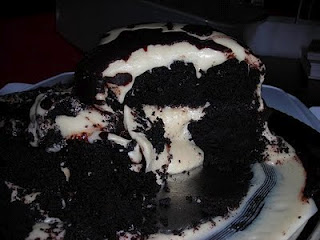 Apple Cider Cocktails
Needless to say, we all stuffed ourselves silly. I pronounce Thanksgiving a success.
**If you click through a link to Amazon.com in this post, I will make a little money if you make a purchase. Don't say I didn't warn you.**