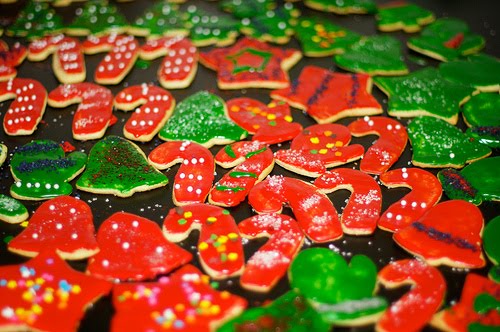 The kitchen was a mess. Red and green spatters were on the walls and our faces, edible glitter and sprinkles were underfoot, and every surface had a light dusting of flour. You guessed it: we made Christmas cookies.
This year, I was on a mission to make vegan Christmas cookies that tasted like the ones I remembered from my childhood. I wanted crisp sugar cookies with royal icing and decorations, and I wanted them to taste like the cookies that my dad used to get at (now closed) Hinkle's Bakery in my hometown. It was a pretty tall order, but I was determined to get it right.
The first thing I needed was a good vegan royal icing recipe that would properly harden–a goal that has, admittedly, eluded me for years. After checking out what other folks had tried, I came up with a recipe that I'm pretty pleased with. It fully hardens and, from what I remember, tastes like royal icing should.
Vegan Royal Icing
2 cups confectioner's sugar
2-3 tablespoons of soy milk (I used plain Silk to keep the recipe from getting ridiculously sweet)
4 teaspoons of light corn syrup
1/2 teaspoon of almond or vanilla extract
a pinch of corn starch (I didn't measure, but .5 teaspoons is the high end of my estimate)
Food coloring
Stir soy milk into confectioner's sugar until smooth. Using your electric (or manual) hand mixer, add corn syrup and extracts, beating until well combined and glossy. Still using hand mixer, beat in corn starch until fully combined. Mix in food coloring. Cover immediately if you're not ready to use it, as it will quickly start to set.
To frost cooled cookies, hold a cookie between two fingers and dip the front into the frosting, evenly covering the surface. Tip the cookie up, allowing excess frosting to drip back into bowl. On a flat, covered surface, add any additional decorations, and allow to dry for several hours before serving or packing.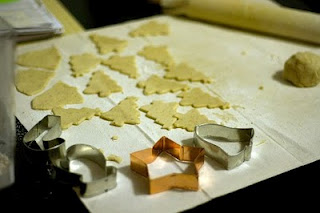 For the cookie portion of the evening, I modified a family recipe that my grandmother passed down to me a couple of years ago. We always had these cookies at holiday gatherings, so it felt especially appropriate to veganize the recipe.
Grandma Joyce's Sugar Cookies
.5 cup vegan margarine (Buttery Sticks!)
.5 cup non-hydrogenated shortening (Earth Balance Shortening is really easy to use)
2 cups vegan white sugar
.5 cup vegan sour cream (Use 1 cup for drop cookies. I like Tofutti Sour Supreme)
4.5 cups unbleached white flour
3 tablespoons ground flax seeds mixed with 5 tablespoons water (combine and set aside)
2 tsp baking soda
1 tsp vanilla extract
1 tsp nutmeg
1 tsp salt
In a stand mixer, combine the sugar, shortening, and margarine. Add the vegan sour cream, and mix until fully integrated. Beat in the vanilla extract and flax/water mixture. In a separate bowl, combine the dry ingredients. Gradually add dry ingredients to mixer bowl until fully combined.
Be warned: this recipe will not be as thick as most roll-out cookie recipes. If needed, add up to 1 cup of additional flour to get to the dough to a barely sticky consistency.
Scoop half of the batter at a time onto a liberally floured pastry cloth, and roll to about .25″ thick. Cut with your favorite cookie cutters, and carefully place shapes on a baking sheet lined with a silicone baking mat or parchment paper (to keep the cookies from burning before fully baked). Bake at 350 F for 10-11 minutes or until the edges are golden. Allow the cookies to cool on a wire rack before frosting.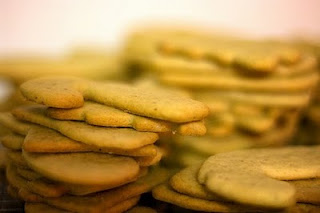 Additional resources for vegan royal frosting and sugar cookies:
http://www.johnandkristie.com/archives/2005/10/perfect_sugar_c.html
http://veglicious.blogspot.com/2008/07/royal-icing-decorations.html
**If you click through a link to Amazon.com in this post, I will make a little money if you make a purchase. Don't say I didn't warn you.**