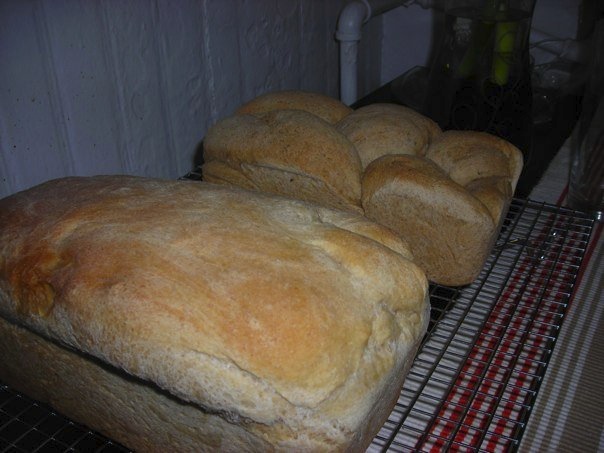 I'm the kind of gal who needs a project. If I don't have something concrete to show for my weekend, it seems like I've been wasting time. This Sunday, I saluted the crisp arrival of autumn to Brooklyn by sashaying around my kitchen, listening to Billie Holiday, Frank Sinatra, and Ted Nugent (What?), and baking some of my cool-weather favorites. Hooray, bread and cookies!
I love bread. I love the stress relief of kneading, talking to the cats while the dough rises, the smell of a loaf coming out of the oven, the way it looks cooling on a rack, and, most of all, the taste of a still-warm slice smeared with a touch of earth balance. Needless to say, my husband and I rarely buy bread, because homemade is so easy to make, and tastes so much better than store-bought (and it nicely warms up a chilly NYC apartment). This weekend, I made Amish bread with my usual 2-loaf white bread recipe (http://allrecipes.com/RECIPE/Amish-White-Bread/Detail.aspx). This is, by far, my favorite sandwich bread—it's tender, a little bit sweet, fast, and very simple. For those inclined to tinker, this recipe is very forgiving—I usually substitute whole wheat flour for half of the white with no ill effects.
Because I make Amish bread every week or two, most of the preparation is done on auto-pilot, but I always double-check the temps and times to avoid Catastrophic Bread Fail. This time, as I innocently thumbed through the bread section of my recipe binder, Hannah Kaminsky's Garlic Lovers Bread from Bitter Sweet Blog jumped out at me (http://bittersweetblog.wordpress.com/2008/12/05/garlicky-goodness/). I'd been meaning to try it since last winter, but hadn't gotten around to it because of the extra time and effort required. This bread is serious business: There are two heads of garlic in one loaf of bread. Two heads of roasted garlic.
I was torn. The yeast was already proofing for the Amish bread, and it would take at least half an hour to roast the garlic for the Garlic Lovers recipe. I hesitated for a moment, but then did what any lady of the kitchen would have done in my place: I tossed the garlic into the oven and decided that I'd just have to make 3 loaves of bread.
While I waited for the Amish bread to rise and for the garlic to cool, I strolled around the block to enjoy some of the beautiful fall weather (and to buy more yeast). Back inside—following a particularly satisfying Nuge solo and some air bass—I put the Amish bread into the oven and got to work processing the roasted garlic with margarine to make a paste for the Garlic Lovers. I barely resisted the urge to toast the closest carbohydrate and dig in.
After talking myself out of stopping the recipe at garlic "butter," I gathered the rest of the ingredients for the dough. I'm a little snobby about hand-kneading (okay, really snobby), so the recipe's suggestion to use my stand mixer and bread hook was met with a measure of suspicion, but I poured everything into the mixer bowl anyway. I was curious to see how the bread hook worked, and was pleased by how evenly mixed and texturally consistent the dough came out. It was definitely faster than kneading by hand.
With the Garlic Lovers dough mechanically mixed and rising on the counter, I moved on to my next task: Grinding up graham crackers for a batch of Vegan Cheesecake Thumbprint Cookies (a Hannah Kaminsky recipe from her book My Sweet Vegan). I usually don't have time for such a labor-intensive cookie, but, with the afternoon stretched out ahead of me, I decided to go for it. Undeterred by the by the 3-step baking process and my unevenly heating gas oven, I managed to burn neither the cookies nor the filling. On a roll, I also made mini chocolate flower candies for decoration. Well worth the effort, this recipe manages to completely nail the ever-elusive vegan cheesecake. Yes, my friends, the "cheesecake" actually tastes like cheesecake.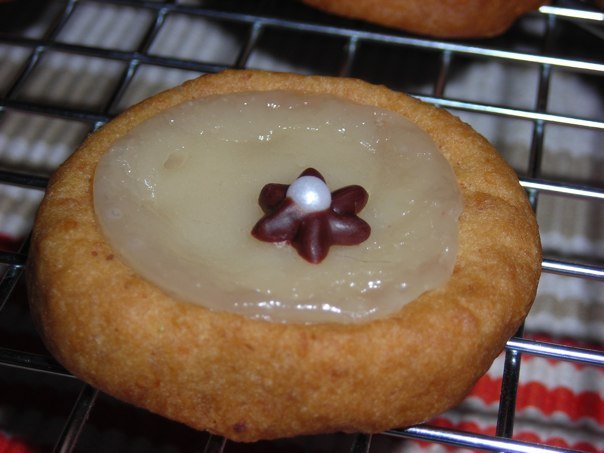 As the cookies cooled, I revisited the Garlic Lovers dough to have my first bread-braiding experience. I used the three rope method, which looked great, and rose perfectly to fill a standard bread pan. Quite pleased with myself, I put the loaf in the oven, and declared my Sunday a success.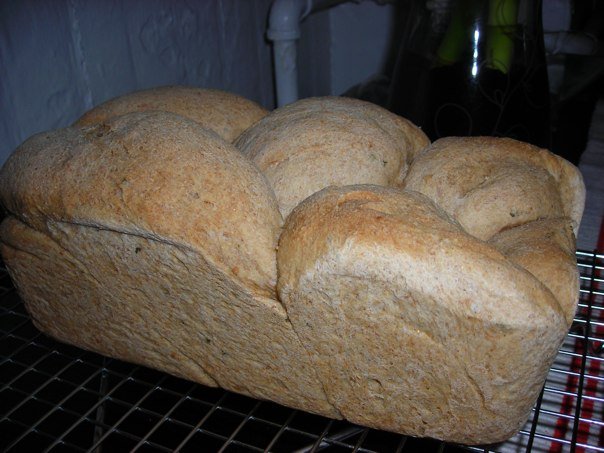 A word to the wise: Do not make the Garlic Lovers bread with whole wheat flour. The whole grain will overpower the garlic, leaving you with a fragrant, but slightly bitter and not very flavorful bread. It'll work just fine for sandwiches, but you won't want to eat it plain. Consider yourself warned.
**If you click through a link to Amazon.com in this post, I will make a little money if you make a purchase. Don't say I didn't warn you.**