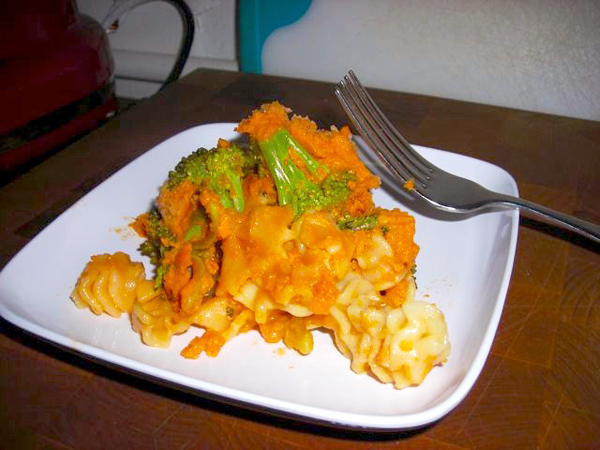 Every vegan gal has a longed-for favorite food from her pre-vegan days. You remember how it smelled, how it tasted, how your mother used to make it, how you ordered it from your favorite restaurant every year on your birthday, and how you can't have it anymore. The problem isn't simply finding a substitute, it's finding a substitute that lives up to the memory.
As a kid, my primary food groups were Orange and White. I liked bread, potatoes, pasta, and cheese. I would gladly eat Orange and White in any combination, but the undisputed king of them all was macaroni & cheese. I loved it from a box, I loved it homemade, I loved it cold, I loved it hot, and I probably ate it at least once a day from kindergarten to college.
When I went vegan in my early 20s, I desperately missed my macaroni, and made it my goal to find a vegan mac & cheese recipe that actually tasted real. So, after years of trying, mixing, testing and tinkering, I present to you my potluck secret weapon:
Mac & "Cheese" Broccoli Bake
1 pound of the pasta of your choice, prepared
1 head broccoli, chopped and steamed
bread crumbs
Sauce:
1.5 blocks of Follow Your Heart Vegan Gourmet cheese flavor of choice, crumbled
1 can condensed tomato soup
soy milk to desired consistency
black pepper to taste
salt/seasoned salt to taste
1 tbs margarine
generous handful of nutritional yeast
In blender, combine Vegan Gourmet cheese, nutritional yeast, margarine, and tomato soup. Add soy milk until texture is smooth and thick, but not runny. Add black pepper and salt to taste.
In a large, greased baking pan or casserole dish, toss pasta with broccoli. Pour sauce evenly over the top, making sure that pasta and broccoli are evenly covered. Sprinkle bread crumbs over the sauce.
Bake at 350 F (325 if you're baking in glass) for 30 to 45 minutes, or until cheese mixture bubbles and the top browns slightly.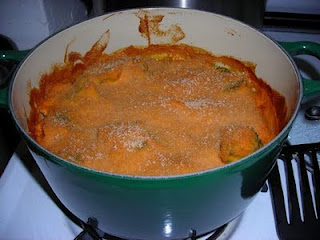 Eat it. It's delicious.