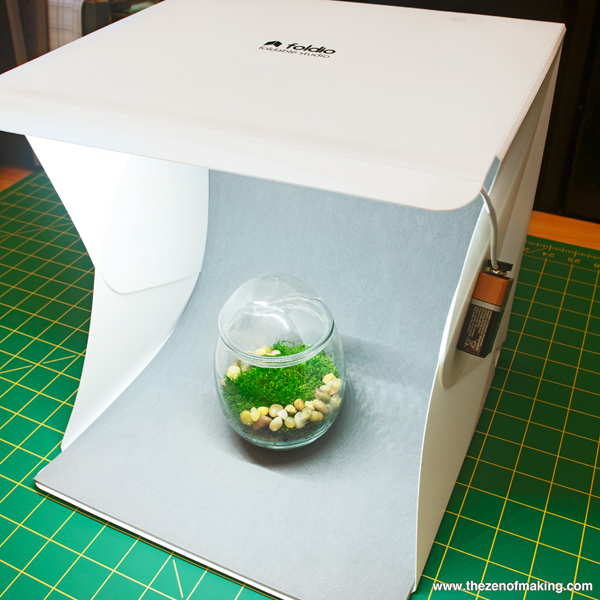 As a professional craft blogger, good photographs are one of the most important elements of my job. And, while I didn't begin blogging with the intention of becoming a better photographer, it's definitely a skill I've honed out of both necessity and the desire to share. Because, as it turns out, whether I'm capturing finished projects or creating step-by-step tutorials, images that are clear, sharp, and well-lit are every bit as important as my written instructions and descriptions—especially now that Instagram, Facebook, Pinterest, and Twitter image posts are the new go-to places for DIY inspiration.
Now, here's where the utterly magical Foldio portable mini photo studio from orangemonkie enters the scene.
You know that moment when you see a gadget on the internet that's so brilliant that you exclaim in joyful bursts of expletives while frantically scrambling for your credit card? Yeah, the Foldio was one of those. I mean, a fully-functional light box with built-in LED lighting that requires only a few seconds of setup time AND can fold up small enough to fit in my shoulder bag? My, but the world is filled with miraculous things! (Also miraculous: No longer needing to constantly wrestle with my giant light box and three unwieldy lights.)
So, presented with with this glorious object, I did the only logical thing. I threw down my $50 and waited [im]patiently for the UPS guy to arrive.
Here's what I thought: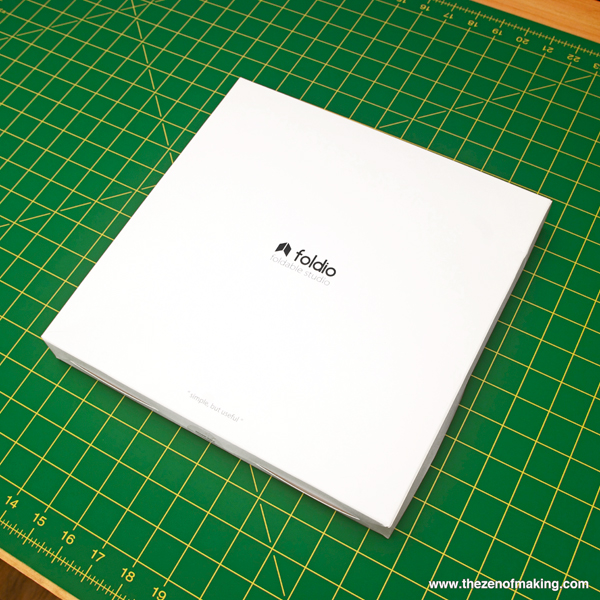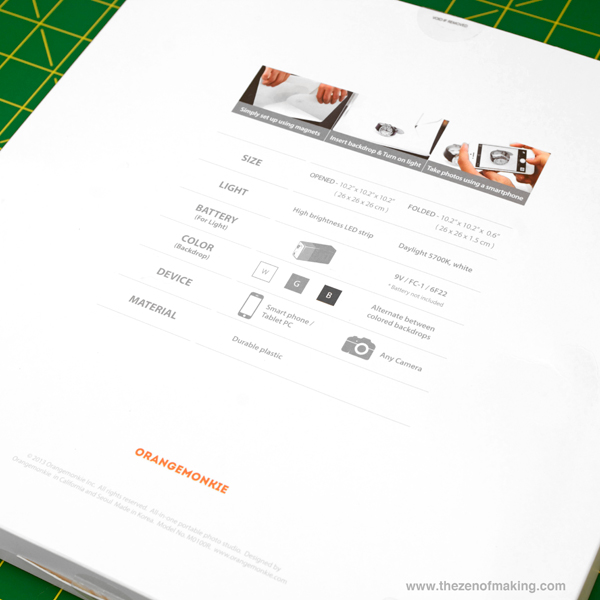 Product details:
According to the Foldio page on the orangemonkie website:
Overview
Foldio is the world's 1st smartphone photo studio with foldable design which is unfolding a whole new level of possibilities in smartphone photography.

It enables everyone to take awesome, studio-quality pictures with a smartphone using a simple setup. Don't worry about taking high quality pictures for your online shop products anymore. Foldio will help you to solve the problem.

Feature
– Magnetic structure. Simple assembly.
– Foldable design. Carry it anywhere.
– All-in-one portable studio Easy to use.
– Share your pictures with worldwide Foldio users on Instagram
– Take high quality pictures for your online shop products
– Compatible with other digital camera device

Components
– Foldio body
– LED light strip
– White pouch
– 3 backdrops(White, Gray, Black)
– Instructions
– Package box

Specifications
Size (opened): 10.2" x 10.2" x 10.2" (26 x 26 x 26 cm)
Size (folded): 10.2" x 10.2" x 0.6" (26 x 26 x 1.5 cm)
Material : White color plastic sheet
Device : Smart phone / Tablet PC / DSLR & Compact camera
Battery : 9V / FC-1 / 6F22

Option
Single LED version / $49 USD
: Basic foldio option
Dual LED version / $59 USD
: Advanced foldio option for a brighter studio atmosphere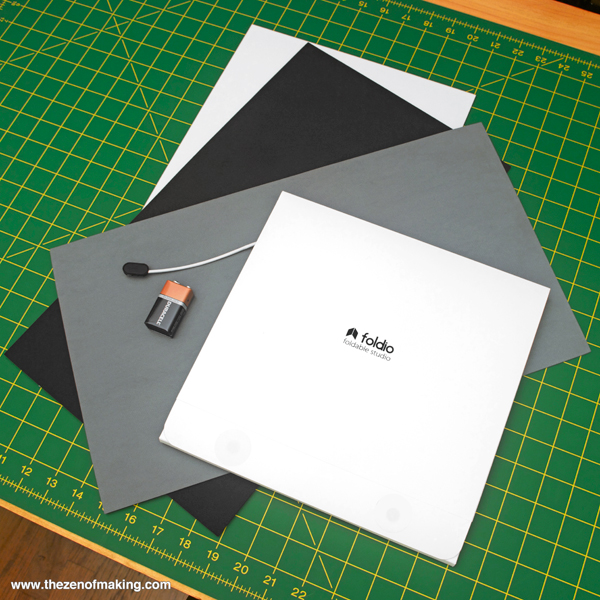 I purchased my Foldio after being introduced to its many wonders via the rather mesmerizing gif from Photojojo that's embedded below.
When it arrived, the box included the Foldio, three matte foam backgrounds in white, grey, and black, a battery (added by Photojojo), and a fabric pouch for storing everything when the light box is not in use.
---
How it works:
Buy the Foldio at the Photojojo Store!
---
Pretty hypnotic, no?
I own the single LED version of the light box that's pictured above. (I found out about a dual LED version today while doing my research for this review, but I don't see it on Photojojo yet.)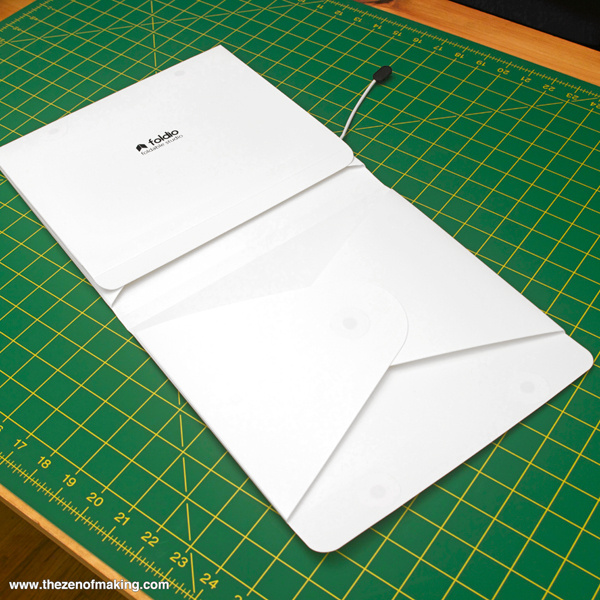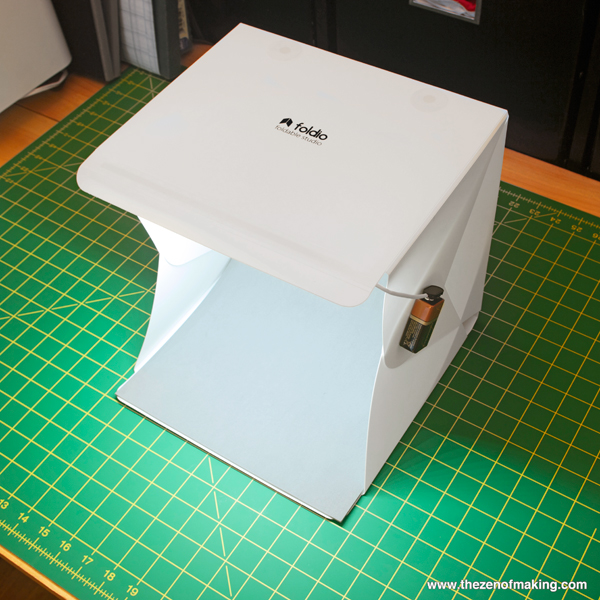 Trying it out:
By the time it was delivered, I had pretty high hopes for my Foldio, so I was really excited to finally have a chance to put it to the test. And, do you know what? Starting with the very first time I snapped it together, it has been every bit as fantastic as I thought it would be. (Hooray!)
Does it fold and unfold easily, and in a matter of seconds? Yes! And no futzing with lights!
Is it sturdy? Yes! The magnets hold the sides securely in place when the light box is in use. Then, when it's time to pack up, they also keep the Foldio in its folded position.
Are the built-in LEDs really bright enough? Yes! While they're not bright like studio lights, they're definitely more than adequate for taking nice photos of small items and projects. (I have the single LED version. Apparently, there's a dual LED version that's even brighter.)
Does it actually fold up small enough to carry along with you? Yep—when folded, it's just over 10" in length on each side, and around half an inch thick. It fits perfectly in my tote bag, laptop bag, and carryon bag. (It's also very light, so it won't hurt your back or shoulders.)
Will it replace my traditional light box? Yes and no. While it's certainly replaced my traditional light box for daily snapshots and small projects, at just under a square foot in size, it's simply not big enough for some of my larger projects. So, if you can imagine a time when you'll need more than 10" of space to work with, you should probably keep your traditional light box around as well.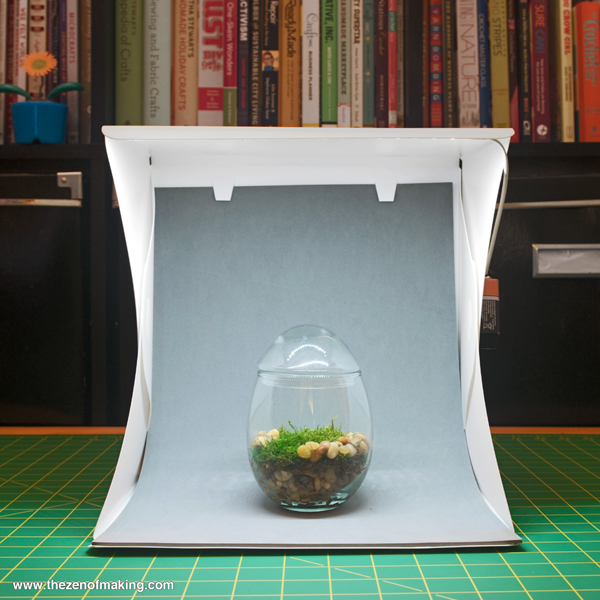 The downside:
Because the Foldio has a strip of LEDs mounted on the inside of the top panel of the box, you do get some of the light reflections and shadows on shiny surfaces that would be otherwise be avoided in the diffused light of a more traditional light box, where multiple light sources are filtered through fabric or vellum. I haven't found this to be much of an issue in my day-to-day photography, but if I specialized in glass or highly-reflective items, it could certainly be a problem.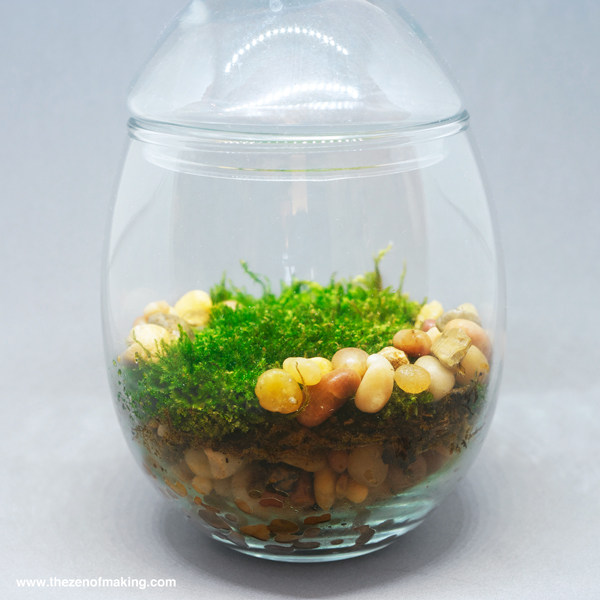 Overall impressions:
The Foldio is one of those rare and wonderful items that does exactly what it's supposed to do, and does it really, really well. I think it's a great tool for bloggers and makers at any level who want to step up their photography game without making a huge monetary investment.
Already have a solid photo setup? You still might want to give the Foldio a second look. Having a light box that I can assemble in seconds has proven to be a much-appreciated convenience during my busiest days, and it has really helped cut down on my setup and photo editing time for smaller projects. Bottom line: For the convenience alone, I think it was well worth the $50 I shelled out to buy it.