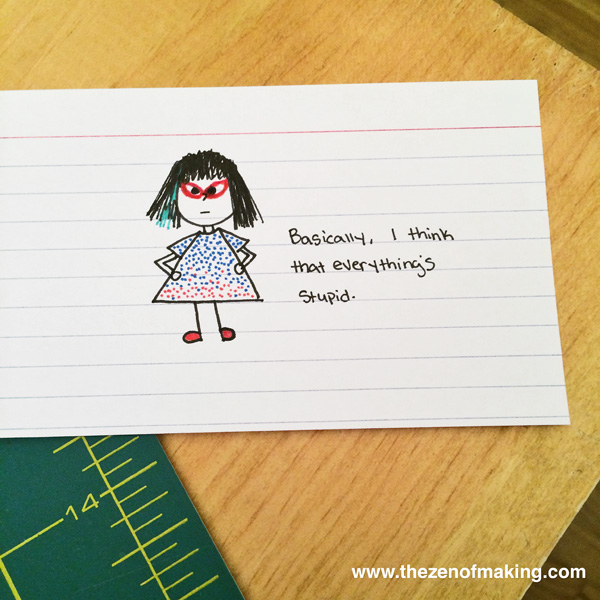 The Tiny Cranky Haley series. Because, turns out, the internet likes it when I post tiny cartoon drawings of me saying very cranky things.
My Tiny Cranky Haley series began on Tuesday with an afternoon filled with irritations, a micron pen that hadn't been put away properly, and the giant stack of blank notecards that I always keep in my studio workspace. It did not, however, begin with me having any actual drawing skills. (I am a woman of many talents, but, despite owning may solid how-to books on the subject, drawing has never really been one of them.) So, when I drew the first sketch, I was just as surprised as anyone to find that tiny cartoon me actually did kind of look like human me. (Hooray!) Then, to my delight, I also discovered that drawing my complaint had made it funny, and suddenly I wasn't feeling so cranky anymore. (Even more hooray!)
Pleased and amused, I decided to share that first drawing. And, when it seemed to cheer you guys up too, I decided to keep going. I finished out the last work week with a new drawing each afternoon, and I think I'll keep it up for a while. (I mean, we all know how much I like to complain on the internet!) You can follow me on Instagram to join in on future cranky fun.
In case you need to catch up, here are last week's Tiny Cranky Haley cartoons on Instagram:
---
This is how it started. I think the caption pretty much says it all.
Just for the record, that's supposed to be a laptop in my hand, not a weapon. (See? I never said I could draw well.)
Rug and cat barf not pictured. (You're welcome.)
There's something very soothing about drawing individual knitting stitches.
---
Now, tune in next week, when it's entirely possible that I'll attempt to draw a sewing machine! (Which will, in all likelihood, end up looking like a hibernating bear/a boat/your father-in-law.)