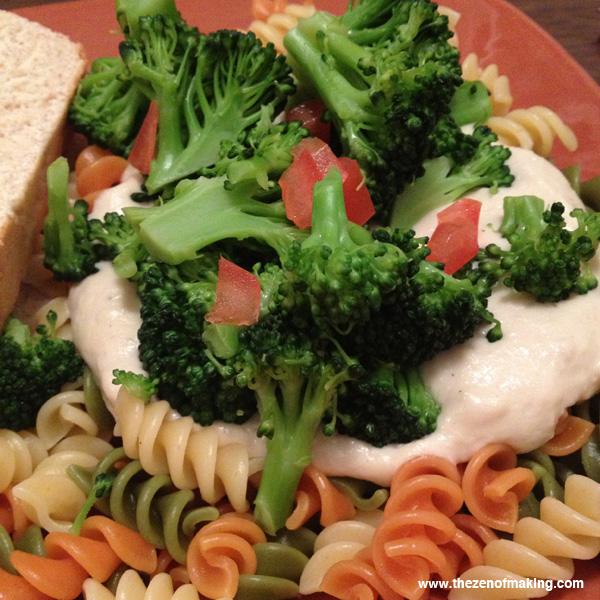 I don't generally post about food, but after receiving tons of requests on Facebook and Twitter, I've finally decided to share my recipe for vegan alfredo sauce! (I hope you're hungry!)
Skeptical about vegan alfredo? Don't be. I'd serve this recipe to my meat-and-potatoes-eating Midwestern family any day. It's also tasty on its own, with bread, or spread on crackers. Even better: it only takes a few minutes to make!
Prep Time: 10 minutes • Cooking Time: 10 minutes
Ingredients:
Special Tools:
Instructions:
Step 1: Combine all ingredients in a large food processor, adding the water a little bit at a time until your preferred thickness is reached. Continue to process until the mixture is completely smooth.
Step 2: Pour the mixture into a large skillet and heat through on the stove, stirring continuously as the sauce warms up. (When it starts to bubble and thicken slightly, you're good to go. If it thickens too much, add some extra water to the skillet.)
Step 3: Serve vegan alfredo sauce over pasta and garnish with broccoli or diced tomato.
Enjoy!
This recipe was inspired by Alisa Fleming's vegan alfredo sauce.
**Please note that the links provided above are affiliate links, and I will be compensated if you choose to make a purchase after clicking through.**