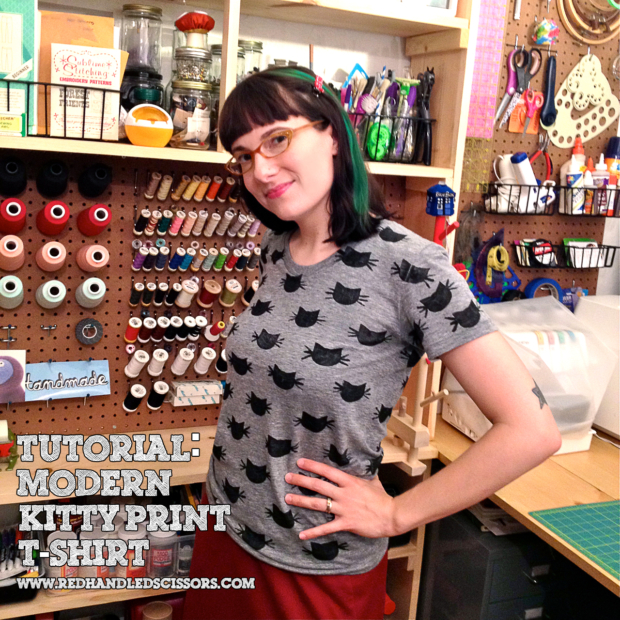 This simple printing method is fun, easy, and won't make a big mess, so it's perfect for crafters of all ages. Ready to get started? My free downloadable cat pattern template will make carving your block a snap!
Supplies:
* Printed cat pattern template PDF
* Speedy-Carve block

* Cotton t-shirt
* Fabric paint

* Scotch tape
* Scrap cardboard or paper (to put between fabric layers)
* Small piece of scrap fabric
Tools:
* Speedball Stamp Making Kit
or stamp carving tool with both a wide and a fine u-shaped gouge
* Pencil

* Large quilter's ruler

* Water soluble fabric marker

* Craft knife

* Paper scissors

* Small sponge brush
* Iron and ironing board
**Please note that the links provided above are affiliate links, and I will be compensated if you choose to make a purchase after clicking through.**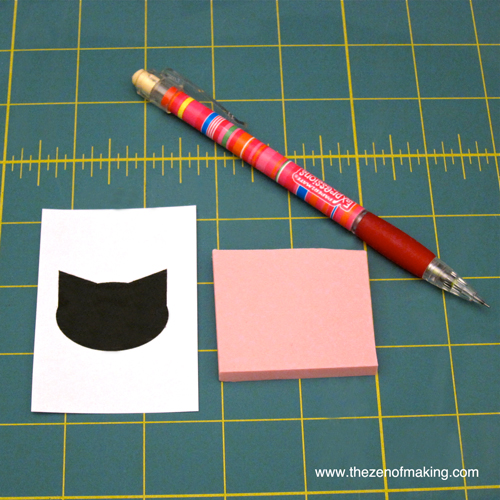 Step 1
Print the cat pattern template PDF and trim away the excess paper from around the shape. Next, use a craft knife to cut a piece of Speedy-Carve block that's slightly larger than the template.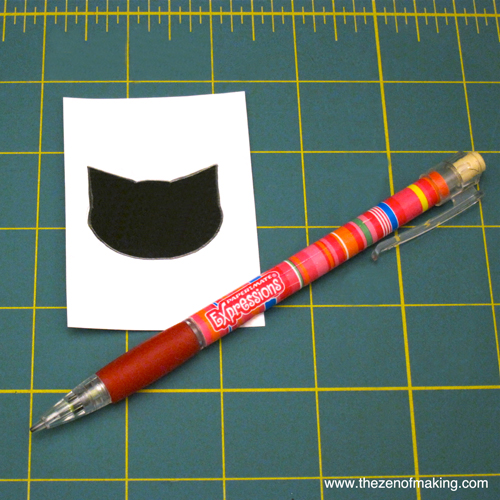 Step 2
Use a pencil to carefully trace a line around the outer edge of the shape. Go over this line several times to ensure that the marks are dark enough to make a good transfer.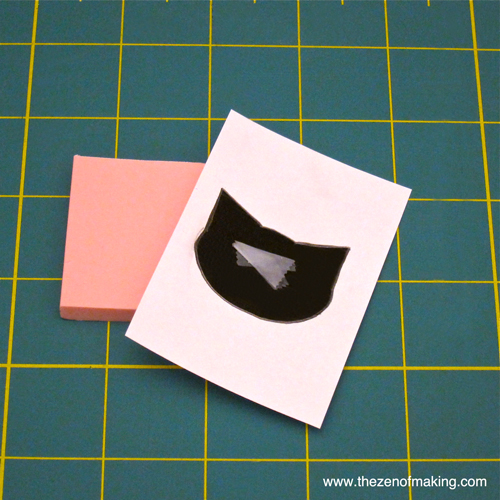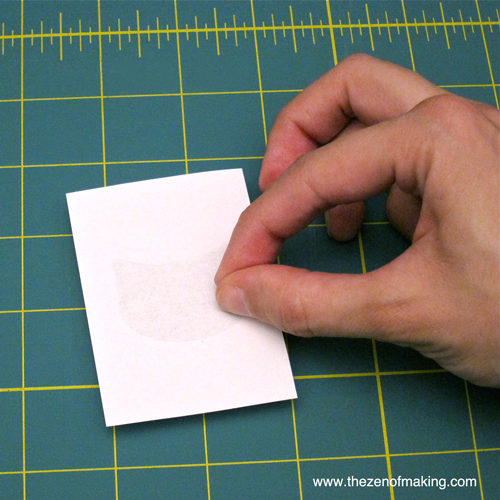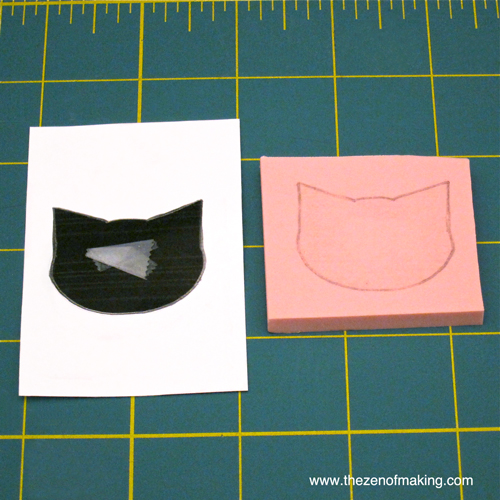 Step 3
Use a piece of scotch tape to attach the template (face down) to the carving block, then rub your thumbnail gently over the marks you made in step 2 to transfer the pattern to the block.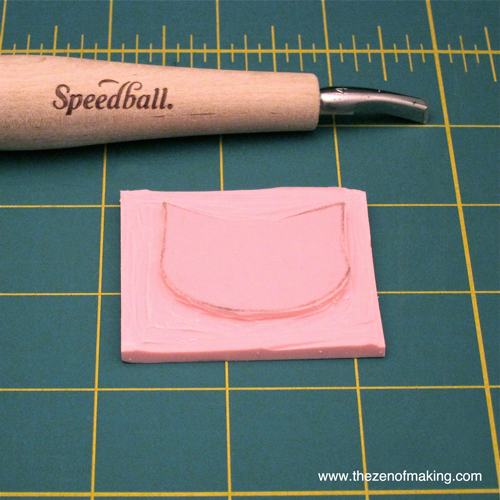 Step 4
Once the pattern has been transferred, use a carving tool with a wide gouge to remove around 1/8″ of material from around the shape, then use a fine gouge to refine the edges until you have a clean, symmetrical cat stamp. (For more information on carving stamps, check out my mini cross-stitch stamp tutorial.)
Before printing on your t-shirt, make sure you test the stamp on a scrap piece of fabric to ensure that you're happy with the shape.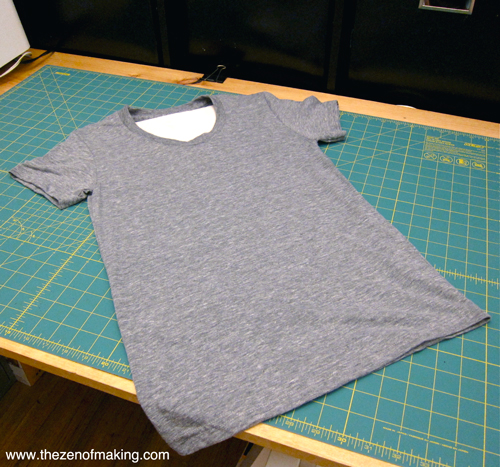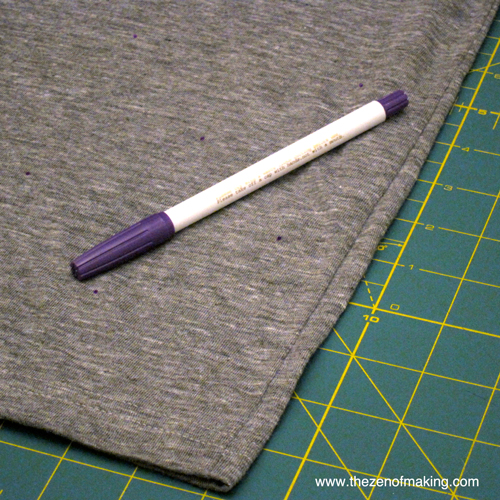 Step 5
Press your t-shirt if needed, then use a large quilter's ruler and a water soluble fabric marker to mark the places where you will stamp the pattern.
I wanted my stamps to line up diagonally, so I created an offset grid with 4″ between each stamp in a row, and 2″ between each row.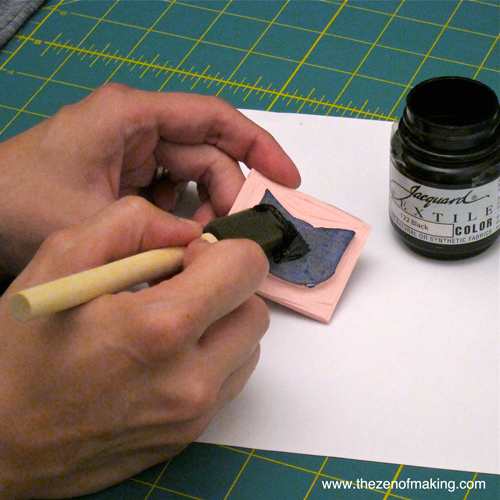 Step 6
Once your shirt is marked, you're ready to start printing. Place a layer of cardboard or scrap paper between the fabric layers of the t-shirt to prevent the ink from bleeding through, then use a sponge brush to apply a thin layer of fabric paint to the raised cat shape on the block.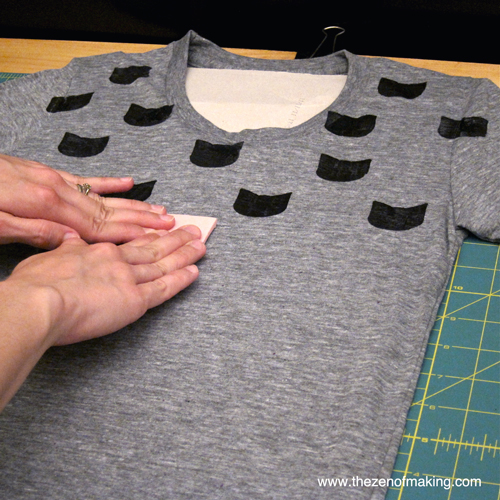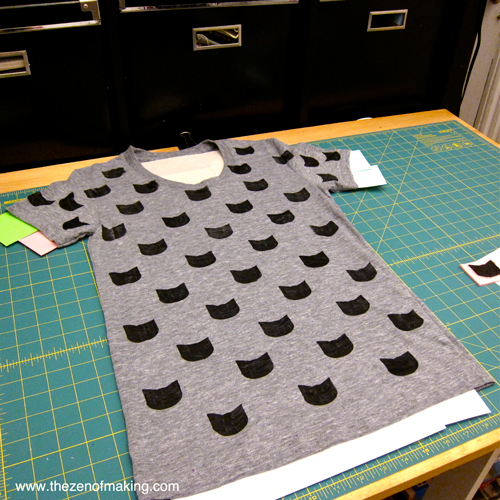 Step 7
To print, center the inked stamp on the first mark (from step 5) in the upper left hand corner of the shirt. Press the stamp down firmly on the fabric to transfer the paint, then lift it straight up to avoid smearing. Continue printing cat shapes in horizontal rows from top to bottom, reapplying the fabric paint between each stamp.
Tip: If you're having trouble getting a complete shape, press the block down firmly, then rock the stamp very gently from front to back and left to right before lifting. Be careful not to move the stamp during this process, or your shape will come out smudged or distorted.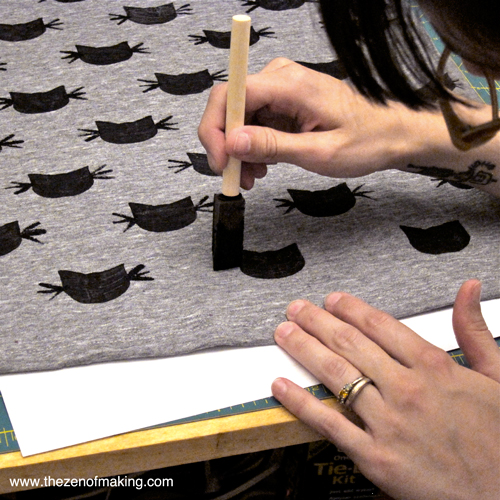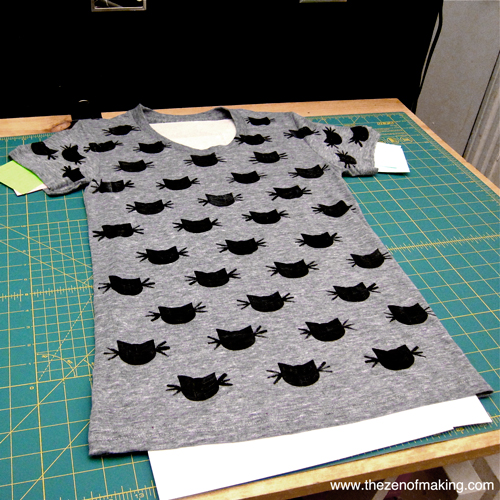 Step 8
To add whiskers, you'll use the tapered tip of the sponge brush as a stamp. To do this, lightly dip the tip of the brush in fabric paint, then press the tip down gently onto the fabric, creating three horizontal lines on both sides of each cat-shaped print.
Tip: Practice making whiskers on a scrap piece of fabric until you get a feel for the proper thickness and placement.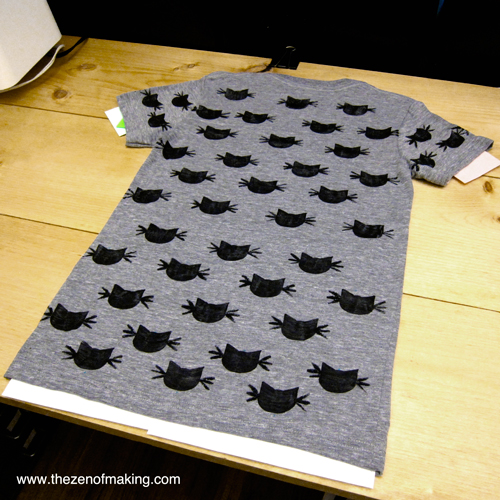 Step 9
When the paint on the front of the t-shirt has dried completely, repeat the printing process on the back side.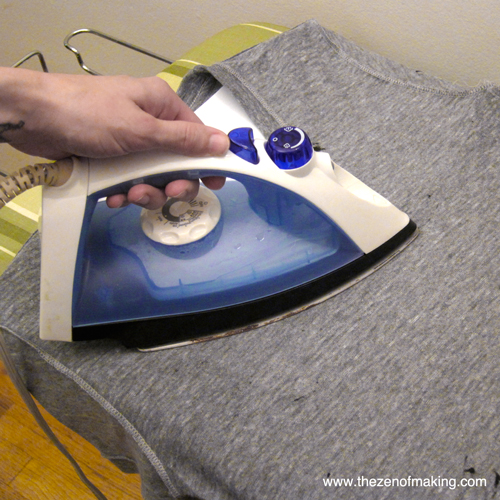 Step 10
If you're using a fabric paint that requires heat setting, turn the t-shirt inside out and place scrap papers between the layers of fabric, then press according to the instructions on the paint package.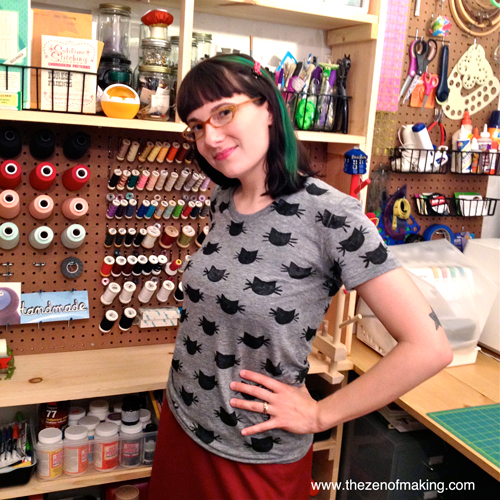 This might be my favorite project to date! Now that we've done kitties, what other patterns would you like to see?