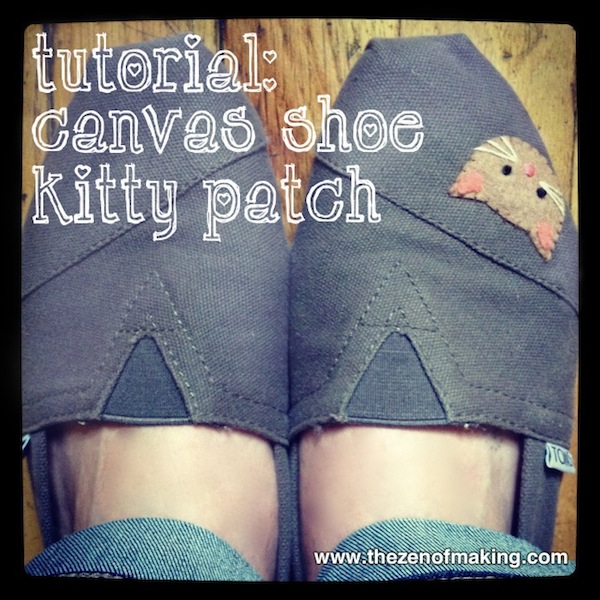 Last Wednesday, I was crossing the street and didn't notice that a misshapen piece of metal was lying in the crosswalk ahead of me. Of course, I stepped on it, causing it to swing around and slice a clean, angular hole in the top of one of my brand new TOMS. (Ugh.) So, since I hadn't even had them long enough to get them dirty—and since canvas shoes are notorious for developing unsightly holes ahead of their time anyway—I decided to look at the accident as a great opportunity to try my hand at making patches.
So, if you've got a hole-y pair of canvas shoes, don't toss them in the trash, fix them up! In this tutorial, I'll show you how to make a quick custom kitty cat patch that will repair your shoes and look super-cute doing it!
Supplies:
* Canvas shoes with a hole in them
* Wool felt sheet, brown (sized to fit the hole in your shoe)
* Wool felt scraps, pink
* Embroidery floss, pink, cream, brown, and black
* Fray Check
* Fabric adhesive
* Cardstock, 1 sheet
Tools:
* Fabric scissors with detail tip
* Paper scissors with detail tip
* Embroidery needle
* Pencil
★Please note that the links provided above are affiliate links, and I will be compensated if you choose to make a purchase after clicking through.★
Step 1
Using fabric scissors, trim away any loose strings or fraying around the hole or tear.
Step 2
To prevent the hole from getting bigger, use an anti-fraying product like Fraycheck to seal the cut edges. Allow it to dry completely before applying the patch.
Step 3
While your shoe is drying, make a cat-shaped template out of cardstock. To do this, draw an oval that is large enough to completely cover the hole, then add two triangles on top for ears. Once you're happy with the shape, cut out your pattern with paper scissors.
Step 4
Place the paper kitty template on top of your brown felt, then cut around the edges with fabric scissors to make the felt patch.
Step 5
Place a few small dots of permanent fabric adhesive on the back of the patch, then press it into place over the hole in your shoe. Allow the glue to dry completely before sewing the patch in place.
Step 6
Thread your embroidery needle with 2-ply brown embroidery floss, then straight stitch around the edge of the patch.
Note: If your patch is in a tight, hard to reach spot like mine, you'll want to leave extra long tails on your floss so you can knot off more easily when you're finished with each color.
Step 7
Cut two small triangles out of the pink felt scraps, then straight stitch them inside each ear.
Step 8
Make two large french knots using 3-ply black embroidery floss for the eyes, then make a rounded nose in 2-ply pink embroidery floss using satin stitch.
Step 9
To finish the face, make three large straight stitches on each side that begin just below each eye, then fan out evenly across the cheeks.
Step 10
Make sure your knots are secure, then trim any extra floss ends.
If you're worried about your toes snagging or pulling on the stitches, you can use your fabric adhesive to glue a piece of wool felt over the knots on the inside of the shoe. It's also a good idea to dab a drop of Fraycheck on each eye to make sure that they maintain their shape.
I think they actually look better now than before they were ripped. What do you think?
Shared on Skip to My Lou!