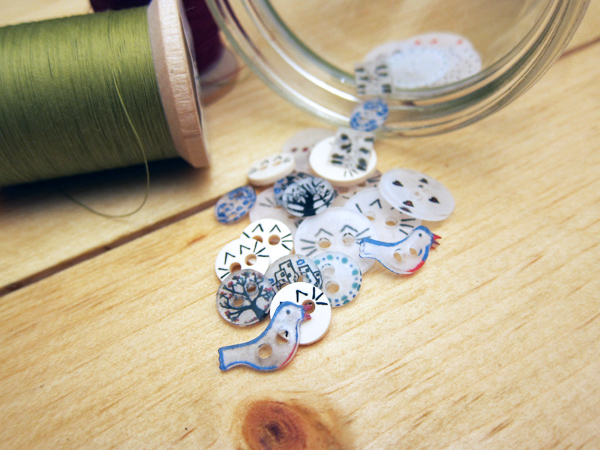 Did you know that you can make your own custom plastic buttons for just about any project, any time you need them, and for super cheap?
After seeing this awesome button tutorial from Scissors.Paper.Wok, I've been dying to make some buttons of my own. Mine aren't quite as artistically beautiful as Kimanh's—I erred on the side of simple kitties and polka dots—but I had a great time trying out different sizes, shapes, and shrink plastic colors and textures.
A confirmed sewing nerd, I'm a teeny tiny bit obsessed with buttons. If you are too, then this is a project that you don't want to miss!
Supplies:
* Shrink plastic sheets or #6 plastic food containers (I used Shrinky Dinks sheets.)
* Scrap paper
* Parchment paper (baking paper)
Tools:
* High quality permanent pigment pens (I used Pigma Micron pens.)
* Circle cutter or punches in various sizes (I used the Fiskars circle cutter and the Paper Source 2 1/8″ punch.)
* Paper hole punch
* Paper scissors
* Oven or toaster oven
* Baking sheet
* Pencil
* Die cutting machine and dies (Optional—only if you want to cut special shapes.)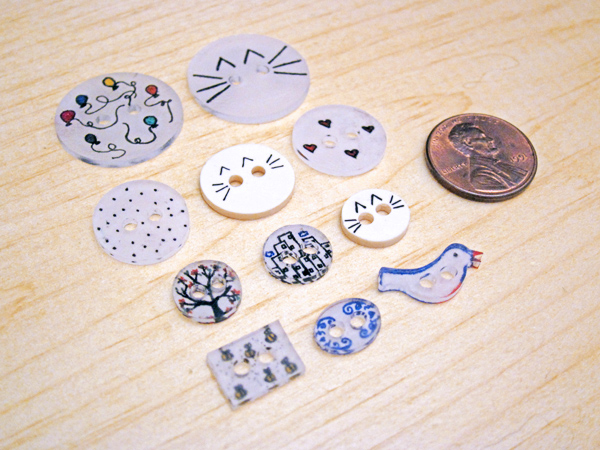 Things to keep in mind before getting started:
• If you're using frosted plastic, cut with the glossy side up—it will keep the sheet from sliding around while you cut.

• I tried the process with both a convection toaster oven and a conventional gas oven. With the toaster oven, my buttons were consistently slightly warped and not-quite-round. My results in the conventional oven were significantly better and produced much rounder shapes.

• Small buttons held shape better than large buttons.

• For this project, I used both frosted plastic (textured) and almond plastic (non-textured). Frosted plastic is sanded on one side, so it's much easier to work with and produces more consistent color results than non-textured sheets.
Step 1
Using punches or a circle cutter, make paper paper patterns for each size and shape that you will be cutting.
I used a 2 1/8″ circle for my largest buttons, a 1 1/2″ circle for my medium buttons, and a 1″ circle for my smallest buttons.
Starting Size vs. Finished Size
2 1/8″ = about 7/8″ after shrinking
1 1/2″ = about 1/2″ after shrinking
1″ = about 3/8″ after shrinking
Step 2
To place the button holes, fold the circle template in half twice to create a plus-shaped crease. Open the second fold and use your paper hole punch to punch a centered hole about 1/8″ or 1/16″ (depending on circle size) in from the center fold.
Step 3
Cut the shrink film using a punch or circle cutter.
Step 4
Using your paper pattern, mark the button holes onto the shrink film.
Step 5
Draw your designs on the shrink film with a permanent pigment pen and allow to dry. If you are using frosted plastic, draw on the textured side of the sheet.
Step 6
Using your hole punch, punch the button holes in the shrink film.
Step 7
Line a baking sheet with parchment paper and arrange your cut buttons flat on the tray.
Step 8
Preheat your oven or toaster oven to 325° and bake your buttons for 1-3 minutes. Remove when they are finished shrinking and have settled flat on the backing sheet. If your buttons aren't completely flat when they come out of the oven, immediately and carefully press them flat with a folded piece of paper.
Allow the buttons to cool completely before removing them from the baking sheet.
Your buttons are now ready to be sewn!
As long as you've used high quality pigment inks, you should be able to launder buttons that are attached to clothing without losing color.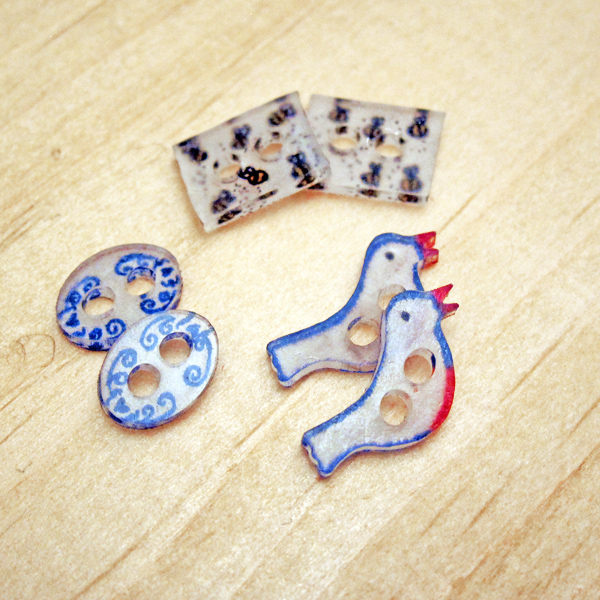 Bonus Points
If you have a die cutter or shaped stamps, you can also make shaped buttons. I made mine using my Spellbinders Grand Calibur die cutter and dies.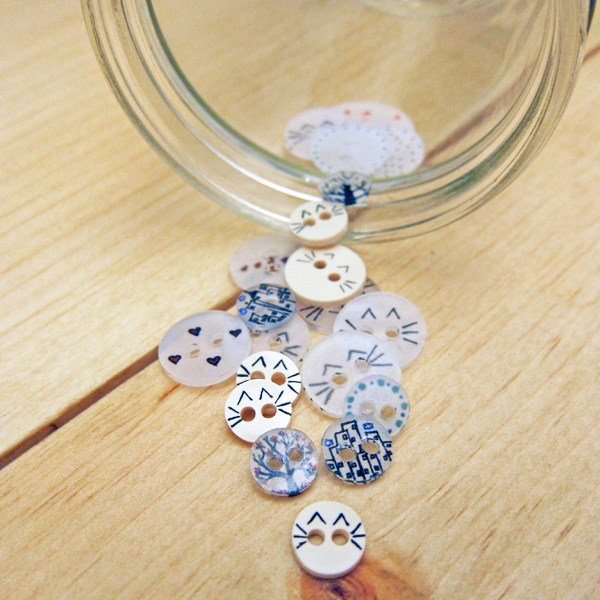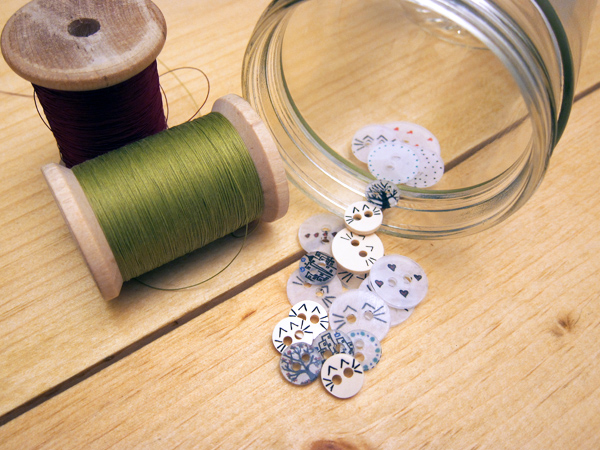 I ♥ buttons, don't you?