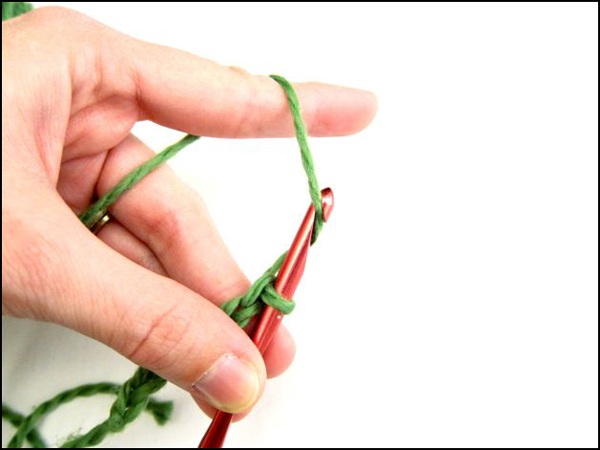 Were you excited about my crocheted snowflake ornaments or double sided dish scrubbers, but totally intimidated by the idea of learning how to crochet? Well, even if you've never picked up a crochet hook before, have no fear! Check out my Crochet 101 video tutorial on CRAFT, and I'll show you everything you need to know to get hookin'!
Welcome to Crochet 101! In this post, I'll introduce you to the basics of crochet and give you all of the information that you'll need to select your tools and get started. In the video above, I'll show you how to attach the yarn to the hook and make your foundation chain, then I'll teach you three basic stitches: single crochet, double crochet, and slip stitch. After that, I'll show you how to fix mistakes and finish off your work. Below, you'll also find a glossary of the crochet vocabulary words that I use in the video, plus brief overview of how hook sizes and yarn weights work so you'll know what you're looking for when you first visit the yarn store. When you're done, you'll have the skills that you need to complete your own basic square or rectangular projects, and a solid background that you can take with you as you move on to more complex stitches and patterns…
Need more information? Head over the post on CRAFT, where you'll find the video, a glossary of the crochet terms that I used in the video, and a brief explanation of hook sizes and yarn weights. That's everything you need to get started, all in one easy to find place!