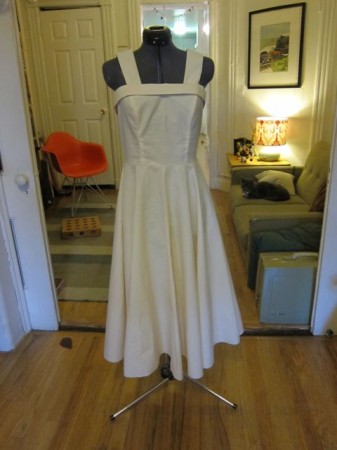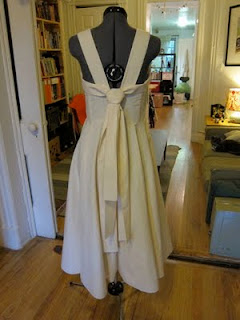 I know my Emmy dress looks a little wedding dress-tastic right now, but that's pretty unavoidable when you're working with unbleached muslin! (Also, please ignore the deflated boobs. I decided not to put a padded bra on the dress form just for the photo shoot.)
For the actual dress, I've settled on a navy faux silk fabric with a sheer, metallic copper lining, both of which I'm really excited about. It's kind of hard to get muslin to flow nicely, so the neckline on the final dress should drape better and look less structured. I'm getting started on cutting the real fabric today, so I'm hoping to have an update to share soon!
My biggest frustration thus far: I wish pattern designers understood that petite does not necessarily mean skinny. I'm a short girl, I'm a small girl, but I'm not a *skinny* girl; I've got boobs, and butt, and legs, and my small stature doesn't cancel those out. And, even though I do have the skills required to customize my patterns, doing so adds so much time to the process. Maybe I'm just dreaming, but I feel like large/small bust, waist, and hip adjustments should be built into printed patterns, because I don't know any ladies who are actually perfectly proportioned!
Okay, I'm getting off of my soapbox now. ;)
What do you think?