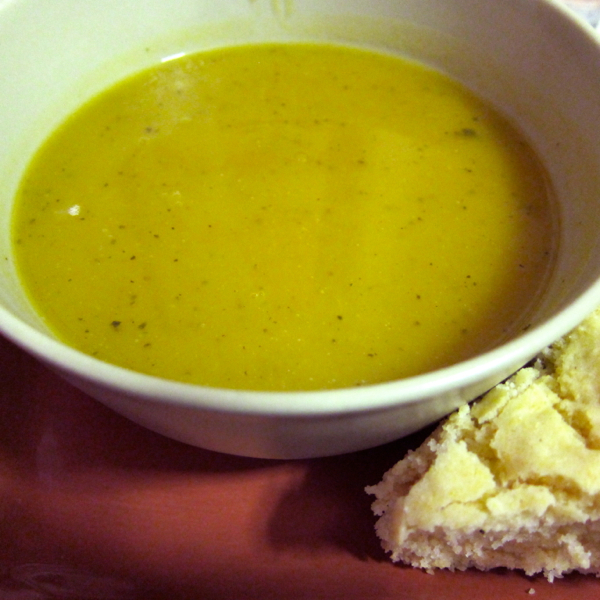 Since my vegan gal pals and I went to Natural Gourmet's Friday Night Dinner, I've been dreaming about pumpkin soup. I have no pumpkin soup-making experience to speak of, but I bravely bought my very first sugar pumpkin this weekend to give it a try.
Pumpkin Goo!
As it turned out, scooping the goo out of the pumpkin was the hardest part about making this soup. The rest of the recipe was all luck and leftovers from last week's CSA share. This soup is pretty forgiving, so definitely feel free to substitute ingredients or add extra things that sound tasty to you.
Autumn-tastic Pumpkin Soup
Ingredients:
6-8 cups vegetable stock
1 medium-sized sugar pumpkin (baking/pie pumpkin), steamed and diced (Use about 2 cans of pumpkin instead of fresh if you're in a hurry.)
2 medium leeks, chopped
1 small handful of dried sage, to taste (fresh is even better)
2 tbs olive oil
1/4 cup plain soy creamer (optional)
Fresh ground black pepper, to taste
Preparation:
In the bottom of a large stock pot, sauté the dried sage and leeks in olive oil until the leeks are soft and just start to brown. Add the vegetable stock to the pot and bring to a boil, adding the pumpkin. Using an immersion blender or blender, puree the soup until completely smooth. Add soy creamer if desired. If soup needs to thicken, bring it to a simmer until desired consistency is reached. Garnish with black pepper and serve.
Potatoes of Many Colors
Jeremy and I couldn't decide between making pumpkin soup or something a little more hearty, so we also made a very colorful batch of my very favorite Potato and White Bean Soup. You can find that recipe here.