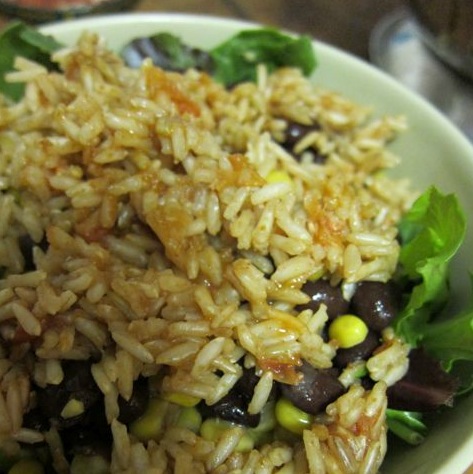 To be honest, the first 3 days of the 30 WHOLE Days Challenge have been mixed for me. I didn't wake up on Saturday morning feeling excited to meet the challenge head-on. Instead, I woke up on Saturday morning wanting to have waffles for brunch, and feeling irritated that I couldn't. Grumbling, I made a smoothie using a banana and some frozen fruit that I already had in the freezer. I was actually surprised by how good something as simple as banana, mixed berries, peaches, flax, and a splash of soy milk could be, even with no added sugar. On Saturday afternoon, two friends came over, so I threw together a giant salad with greens, sweet yellow peppers, avocado, and garbanzo beans, and my husband whipped up some homemade dressing. Having the four of us sitting around my kitchen table, eating a quick, satisfying meal filled with ton of flavor and nutrition, made me feel great. Full disclosure, there was olive oil in the dressing, and I sprinkled a bit of Diaya vegan cheese on top, but the salad was delicious anyway. Saturday evening brought and unexpected trip to the Brooklyn Lyceum Spring Food and Craft Market and an unexpected meal out. At the market, I definitely bought and ate a delicious handmade doughnut from a vegan vendor, but I also chose a mostly raw, mostly vegetable dinner at V-Spot later.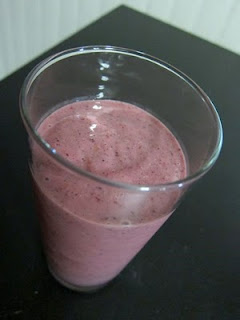 On Sunday, I started the day out with a smoothie, finished up some leftover homemade chickpea soup for lunch (it had a bit of pasta in it), and made a huge taco salad for dinner with my husband. Today, my life got a little crazy, but with a breakfast smoothie, leftover taco salad for lunch, and salad with beans and fruit for dinner, I'm feeling pretty good. I'm definitely hungry all the time–as illustrated by the fact that I just downed my second Peanut Butter Cup Smoothie of the day–but I'm really happy to be actively incorporating more fruits and vegetables into every meal. However, I have noticed that I definitely need to eat more snacks than usual throughout the day.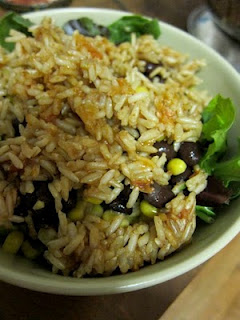 What I learned more than anything from the first 3 days of the challenge is that, while the goal of eating exclusively whole, unprocessed foods for 30 days is absolutely possible, it simply isn't my goal. My goal is to be mindful of the foods that I'm eating, to really understand what I'm putting into my body, and to enjoy my meals because they are nutritionally dense and filled with whole foods, but not to feel guilty because they aren't completely pure. For example, to me, olive oil isn't a problem (as long as it's used in moderation), and I don't plan to cut that out of my diet. I feel the same way about reasonable servings of homemade bread made with organic whole wheat flour. What I really want to avoid is salt, refined sugar, additives, and packaging. And, now that I've defined my personal goals, I feel like I will approach the coming days of the challenge with more enthusiasm and a better attitude.