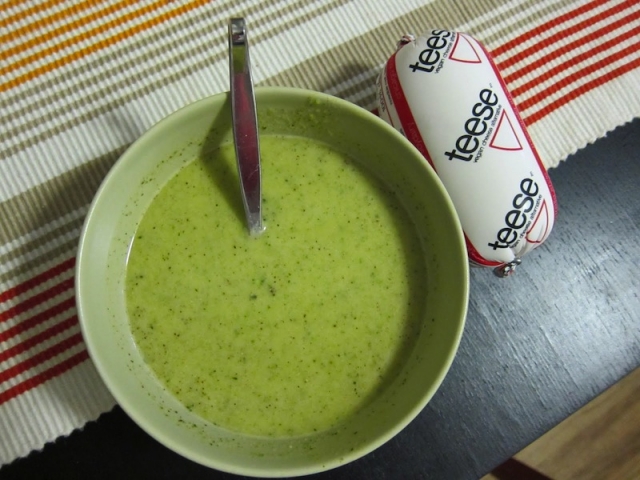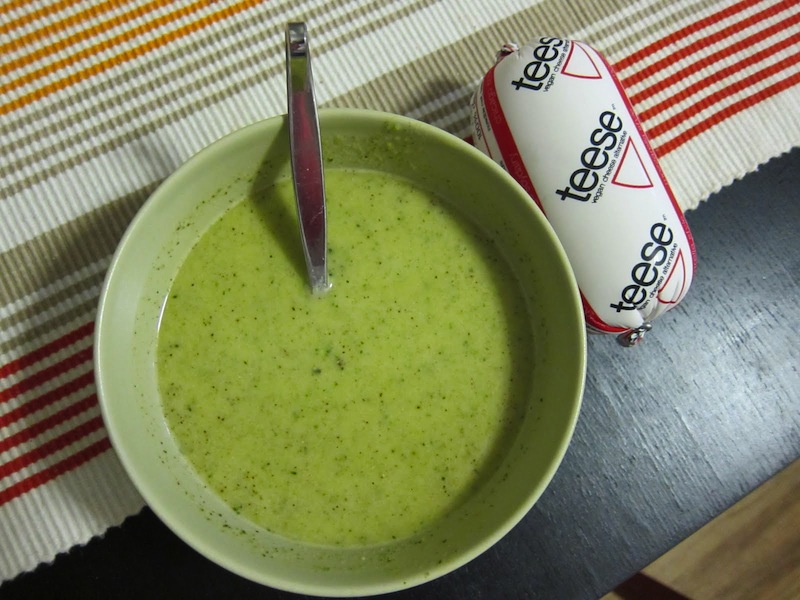 As part of the Teese Vegan Cheese Challenge, the awesome folks at Chicago Soy Dairy sent me not one, but two kinds of Teese vegan cheese to try. As a relatively new blogger, this was my very first opportunity to test out a product and write about it, and, truth be told, I was more than a little bit excited!
When deciding what kind of recipe to create, I knew that I wanted to shy away from the usual suspects of vegan cheese: pasta and pizza. I definitely wanted to make a warm and hearty dish, but I didn't want to spend hours in the kitchen. Soup has always been my standby for an easy, satisfying meal, so I got to work on my own interpretation of a classic: Broccoli and Teese Soup.
Broccoli and Teese Soup
* 6 cups vegetable broth
* 4-5 cups broccoli, chopped and steamed
* 1 medium white potato, peeled and diced
* 3/4 tube cheddar Teese vegan cheese
* 2/3 cup plain soy milk
* 1 tablespoon margarine
* 2 teaspoons tomato paste
* black pepper to taste
Bring vegetable stock to a boil and add the potato, cooking for 10 minutes until soft. Add the Teese, soy milk, margarine, and tomato paste. Using an immersion blender, blend until smooth. (If you don't have an immersion blender, transfer the soup into a regular blender, blend until smooth, and return to the pot. Do this in batches if necessary.) Add the broccoli. Blend until most of the broccoli has been processed, leaving a few chunks. Simmer for 5 minutes, stirring occasionally. Pepper to taste. Serve with bread.
Makes about 8 cups of soup (serves 4).