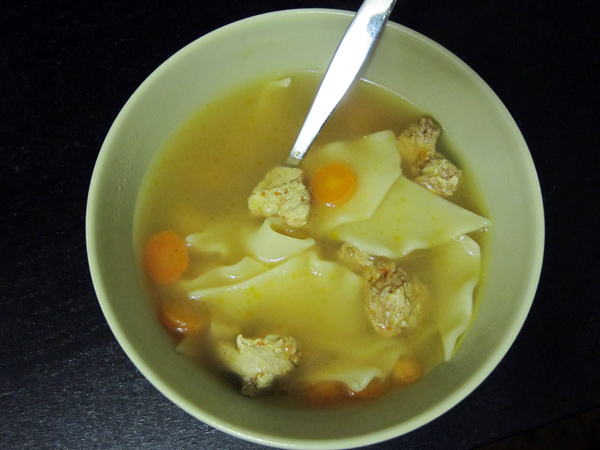 For me, vegan chicken noodle soup is one of those recipes that seems like such a good idea in theory, but always ends up being a disaster in practice. Every single time I attempt to approximate this cold season-standard, I am left with only a string crock pot mishaps, stove top snafus, tofu fails, and TVP blunders to show for my troubles. But, now that Gardein has waltzed into my life, it's a whole new story!
Get Well Vegan Chick'n Noodle Soup
10 cups water
10 teaspoons Better Than Bouillon No Chicken Base (or replace with any no-chicken broth)
1 package Gardein Chick'n Scallopini, diced
2-3 raw carrots, washed, peeled, and chopped
.5 to 1 teaspoon dried basil
2 cups Rombi pasta (instead of egg noodles)
Salt/Pepper to taste
Combine water and bouillon in a large soup pot and bring to a boil. Add carrots and chick'n scallopini. Sprinkle in the basil, and simmer for 15 minutes. Add pasta, and continue to cook until just tender (about 10 minutes). Serve with fresh bread or crackers.
Serves 4 (with some leftovers).
**If you click through a link to Amazon.com in this post, I will make a little money if you make a purchase. Don't say I didn't warn you.**