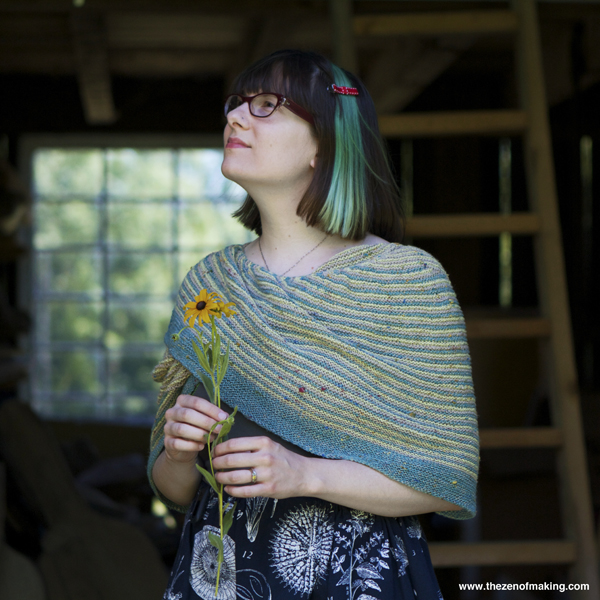 You know that moment when you're walking around your LYS, minding your own business, and suddenly you spot the perfect yarn? It's magical yarn that pulls you in like a tractor beam. Yarn so great that it doesn't even matter that you're not sure what you're going to do with it, exactly, because you already know that you're not leaving the store without it. Yarn that will make you spend an utterly stupid amount of time on Ravelry when you get home, looking for the perfect project to show it off. Well, it turns out that that kind of yarn—in this case, Bigarelle yarn in the Vert colorway by Bergere de France—is where baby Color Affection shawls come from.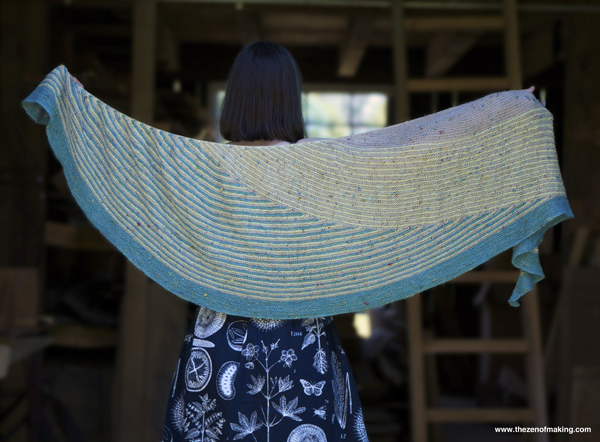 Project details:
Yarn:
Brand and type: Bigarelle, by Bergere de France
Fiber: 55% Organic cotton, 36% Linen, 9% Viscose)
Colorways: Vert (blue), Anis (yellow), and Beige (tan)
Yardage: One ball (427 yards) of each color
Weight: Heavy lace/light fingering
Needles:
Pattern:
Pattern name: Color Affection, by Veera Välimäki
Pattern version: Lace weight version
Price: €3.90 EUR
Skills required:
cast on/bind off
garter stitch (knit every row)
color changes
increases
short rows
weaving in ends
blocking
Skill level: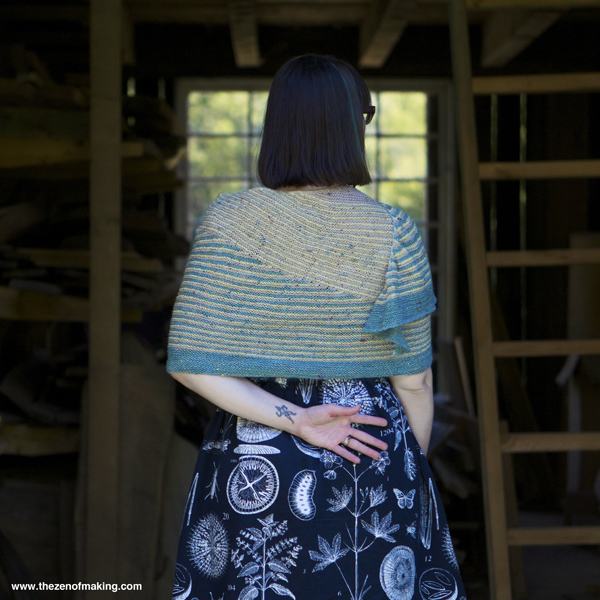 Pattern notes:
As you might expect from a striped garter stitch pattern, once you've got the increase/decrease row counts down, this pattern is gloriously simple, and perfect for those times when you just need to relax with a mindless project. The design is straightforward and predictable, and the color changes and short rows add just enough variation while you work to keep things from getting boring.
But, just because it's easy, that doesn't mean it's quick—especially if you're following the lace weight version of the pattern. I knit at what I'd describe as a steady medium speed, and it took me a few weeks of picking up the project for an hour or two each evening to finish it.
Pattern tips:
I'm a girl who likes to check the stitch count after each row to be sure that I haven't made a mistake, and I found it frustrating that the striped section in this pattern didn't include the stitch count after each pattern repeat. So, for my own peace of mind, I did a little math in advance, and jotted down the stitch count for all 16 of pattern repeats in the striped section. I'm so glad I did—having the stitch counts really helped me stay on track, and kept me from getting lost in the pattern.
If you're working on a Color Affection shawl right now and want to sort out the stitch counts, start with the 127 stitches that you should have on the needle at the beginning of the striped section (in the lace weight version of the pattern), then add 10 stitches to that number to get your stitch count for the first pattern repeat in the striped section – 137 stitches. Each pattern repeat adds a total of 10 stitches to the width of your shawl, so continue adding 10 more stitches to your previous stitch count total to get the stitch count for each additional pattern repeat (147 at the end of the second repeat, 157 at the end of the third repeat, etc.). This process only takes a couple of minutes, and it can prevent tons of unnecessary headaches and frogged rows.
For ALL OF THE INFORMATION EVER about staying on track while knitting and crocheting, go here: Knitting and Crocheting with a Plan
Note: I didn't work out the stitch counts in advance for the short rows section—there were plenty of visual cues to keep me from getting lost in the pattern, so I didn't feel like I needed to.
Changes I made:
The lace version of this pattern calls for a 3mm circular knitting needle and the fingering version calls for a 4mm circular knitting needle. I chose to knit the the project using the instructions for the lace version, but, because my yarn was right between lace weight and fingering weight, I sized up to a 3.5mm needle because I wanted a slightly looser stitch.
Note: Because I sized up slightly, I used more yarn while I was knitting and just barely avoided running out of my main color on the last short row. You'll want to keep increased yardage in mind if you decide to make the same change.
What I'll do differently next time:
When changing colors, the strands of yarn from the unused colors are twisted together and carried along the side edge of the shawl instead of being cut after each change. And, while this creates a lovely wrapped edge and saves about a million years in weaving-in-ends time, it's really easy to pull those strands a bit too tight, creating some mild puckering along the edge.
The edge on my finished shawl ended up being a little bit tighter than I'd like it to be, so, next time, I'll take care to leave some additional ease when carrying the colors along the edge. (This is a really, really common issue with this shawl, and it's not always obvious that you've done it until you're blocking the finished project, so definitely keep it in mind.)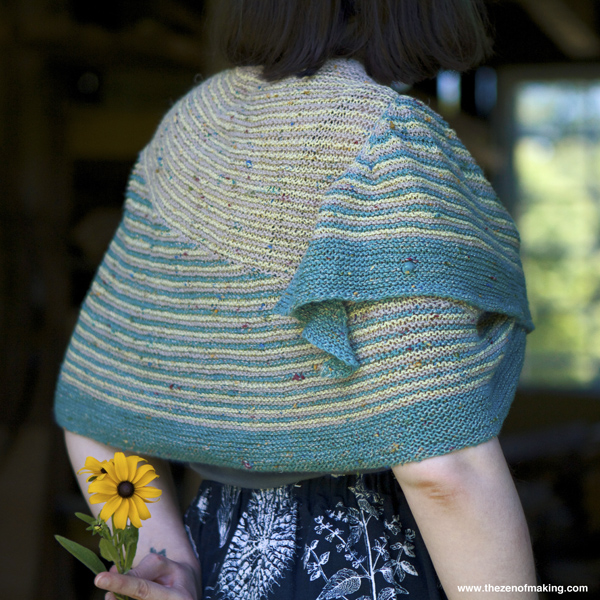 Yarn notes:
I have not-so-affectionately referred to linen as the Devil's own fiber in the past, so I was a little bit hesitant when read the fiber content on my beloved ball of gorgeous blue Bigarelle. But, I shouldn't have worried. This linen/cotton blend is easy to work with, and doesn't tangle/hurt my hands/stick to the needles like other linen yarns that I've used in the past.
Washing:
When I finished the shawl, I gently washed the garment by hand with a drop of wool wash.
A small amount of color was released at the beginning of the process, but after rinsing until the water ran clear, there was no visible bleeding or staining.
Blocking:
Instead of blocking the finished shawl flat like I would with a wool garment, I tossed it into the dryer, fluffing it on low heat until it was completely dry.
When it came out of the dryer, the yarn felt amazing—it had that luxuriously soft, lightweight, and breezy linen feel—and no additional blocking was needed. (Hooray!)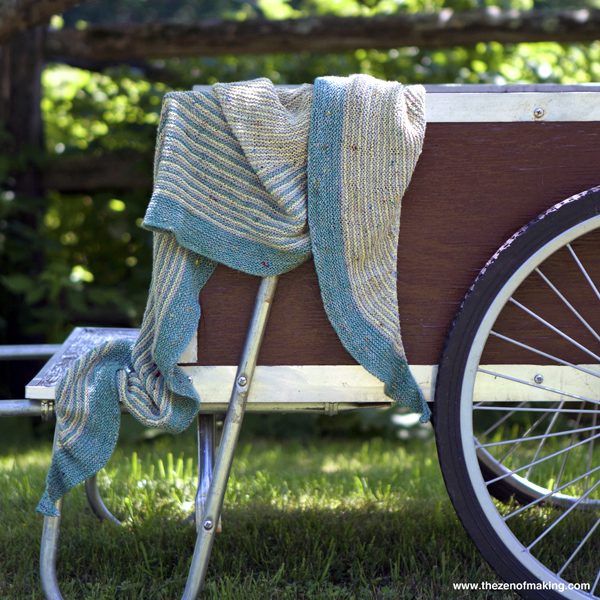 Overall project impression:
Pretty much every knitter I know has made the Color Affection shawl, and now I totally understand why. It's soothing, easy to make, and beautiful when finished, and, because its simplicity won't distract from the fiber, it's an ideal pattern for showing off the most gorgeous yarns in your stash. If you ask me, the price feels like quite a bargain for a knitting pattern that I'm sure to use again and again, and I would absolutely recommend it to both beginners and experienced knitters alike.