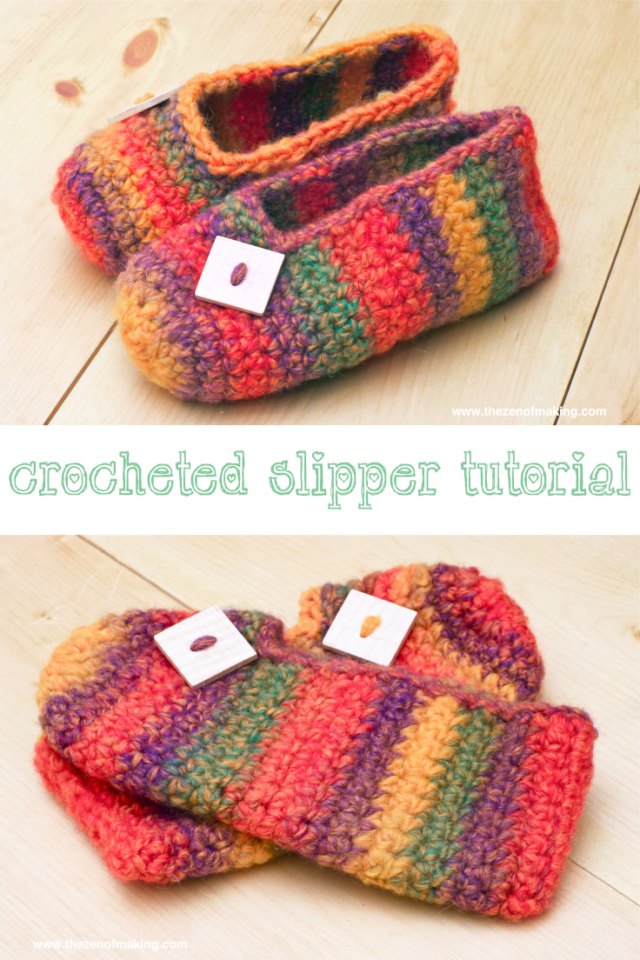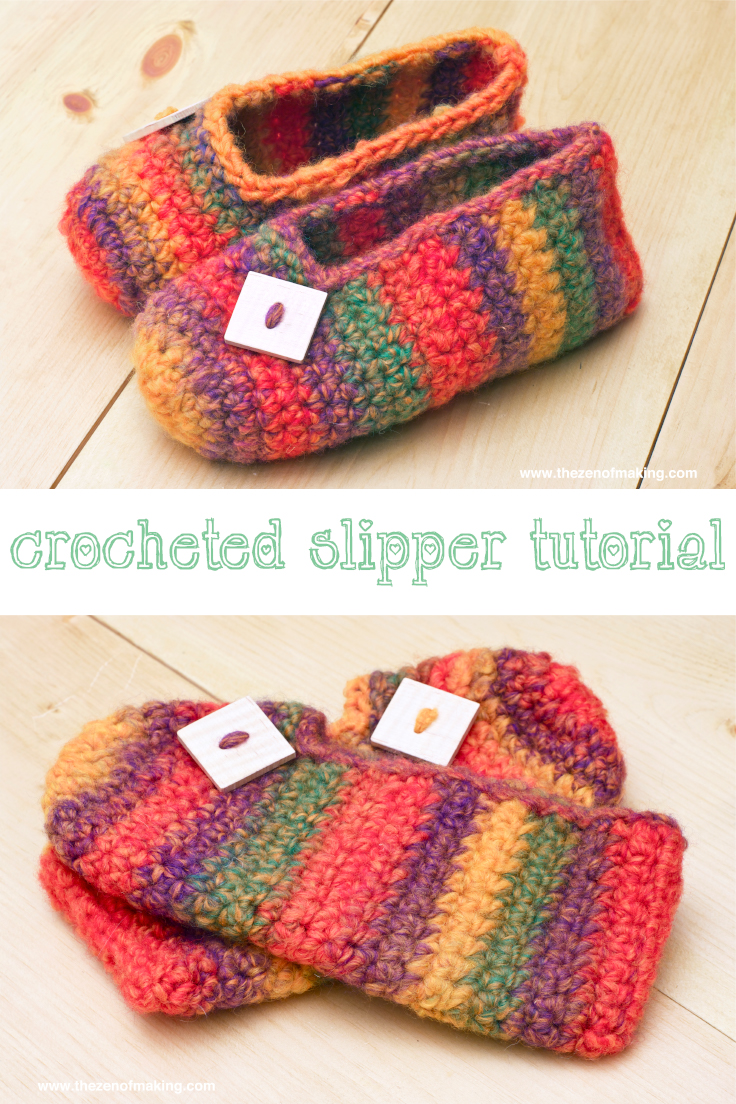 Make a cozy pair of crocheted slippers with this quick and easy rainbow striped slipper tutorial!
In the photo above, the finished rainbow slippers were each completed using one skein of self-striping Da Vinci yarn from Lion Brand Yarn. If you use this yarn, you will not need to make color changes as you crochet. (Different yarn colors in the tutorial photos below indicate different parts of the pattern. Do not change colors in your own project.)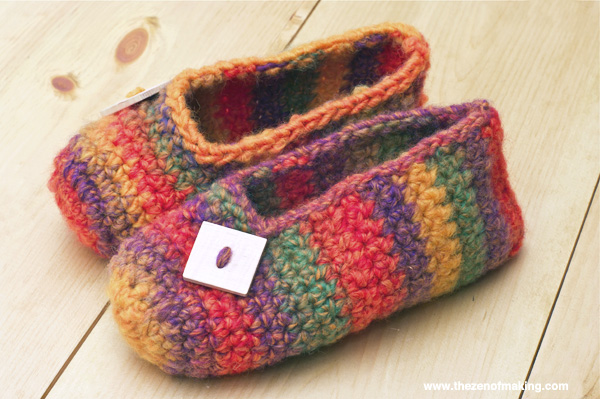 Pattern notes: This pattern makes one pair of crocheted slippers in women's size 7-8 US/men's size 5-6 US. Instructions are included below for lengthening or shortening the pattern for other adult shoe sizes. The slippers are designed to be wide enough to accommodate thick socks, and they will stretch slightly with wear. To get a snugger fit, try sizing down or using a smaller hook and adjusting the pattern as necessary.
Supplies:
* 2 skeins Da Vinci by Lion Brand Yarn (super bulky)
, Autumn colorway
* 2 wooden buttons, 1" square
Tools:
* Crochet hook
, 9mm (US size M)
* Darning/yarn needle
, large
* Scissors
If you're ready to learn the basics of crochet, check out the Crochet 101 video tutorial that I made for CRAFT!
**Please note that the links provided above are affiliate links, and I will be compensated if you choose to make a purchase after clicking through.**
---
CROCHETED RAINBOW STRIPED SLIPPERS
Pattern abbreviations:
ch: chain
sc: single crochet
sl: slip stitch
st: stitch
The Toe of the Slipper
The first part of the pattern is worked in the round.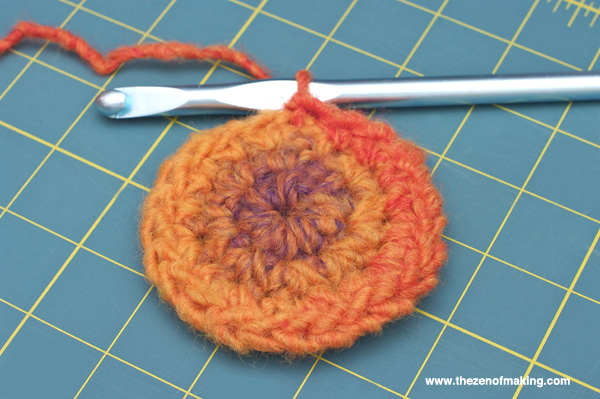 Ch 3 and join with a sl st in first ch.
Round 1: Ch 1, work 8 sc in ring, sl in first sc to join. (8 sts.)
Round 2: Ch 1, work 2 sc in each sc, sl in first sc to join. (16 sts.)
Round 3: Ch 1, *work 2 sc in sc, sc in next sc; repeat from * around, sl in first sc to join. (24 sts.)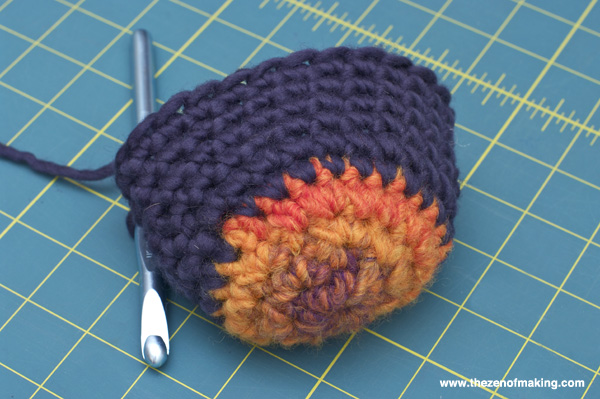 Round 4-9: Ch 1, sc in each sc, sl in first sc to join. (24 sts.)
The Foot and Heel of the Slipper
This part of the pattern is worked flat in rows (back and forth) instead of in the round.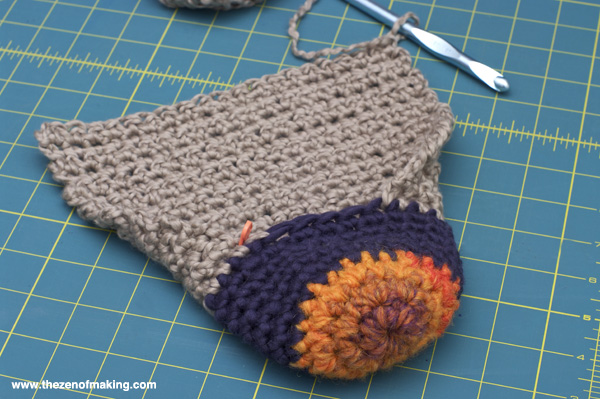 Row 10-26: Ch 1, sc in 20 sc, turn. (20 sts.) Fasten off and weave in the end.
This pattern creates a slipper that will fit a women's 7-8/men's 5-6 shoe size. For larger or smaller sizes, increase or decrease the number of rows as needed. When making adjustments to the length, keep in mind that the slippers will stretch out a bit when they are worn, so the final length should be an inch or two shorter than the actual length of your foot.
| | |
| --- | --- |
| | Pattern adjustment: To make a pair of ballet flat-style slippers (like the ones seen in my crochet embroidery and felt slipper soles tutorials), sc in 16 or 18 stitches in rows 10-26 to make a wider foot opening. |
Finishing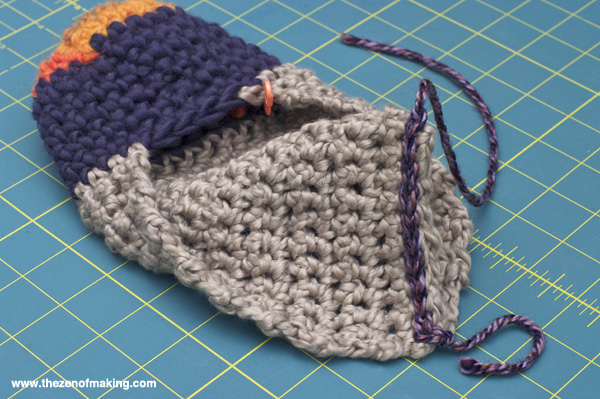 Join the two sides of the heel together with sl stitches from bottom to top. Fasten off and weave in the ends. (You can sl on either the outside or inside of the slipper.)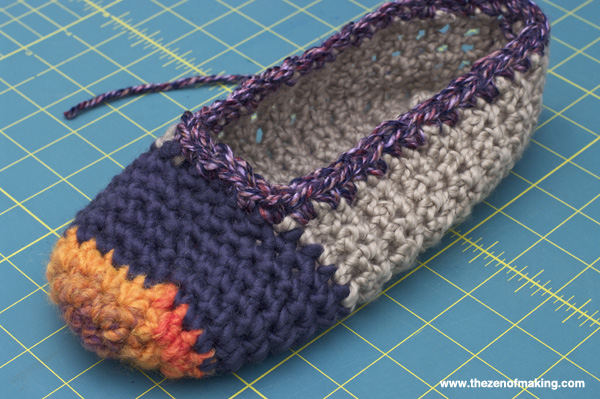 Once the heels are joined, sc all the way around the top edge, starting at the center of the heel and working your way around the slipper opening. Sl into the first sc to join. (You can also sl all the way around the edge if the top is getting too bulky.) Fasten off.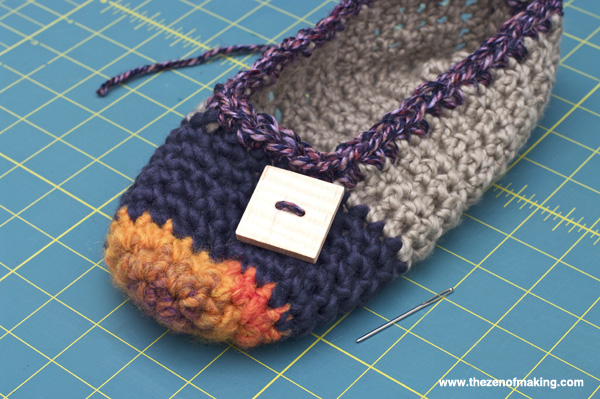 Cut a 6" length of yarn, then use a darning needle to sew the button in place on top of the slipper.
To finish the slippers, weave in all ends.
---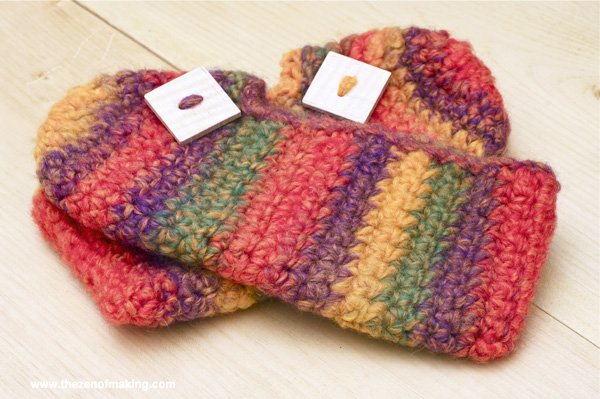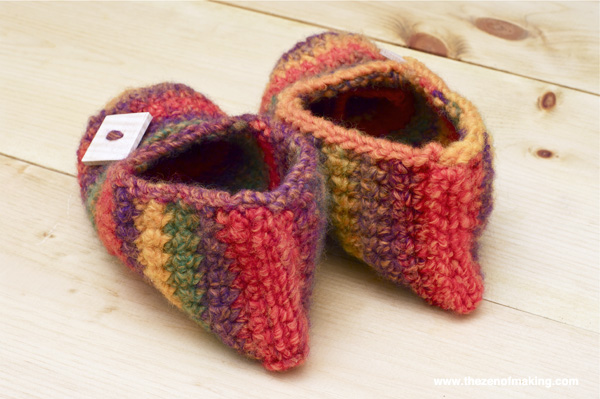 Enjoy!
Want to make a an even fancier pair of slippers?
Here are the tutorials that you'll need to get the job done: