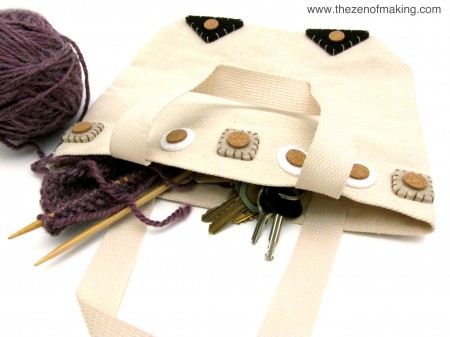 Next time you're in the mood for a quick applique project, look no further than the felt and cork pad aisle at your local hardware store!
For CHA Winter 2012, I designed a whole series of craft-meets-hardware-store projects for Waxman Consumer Group using their surface protection line. When I started brainstorming ideas for the self-adhesive felt and cork products, easy appliqued embellishments seemed like a natural fit. The shapes are ideal for crafting—you can pick up circles, squares, and triangles in many different sizes and colors—and you don't need stick pins to hold them in place while you're sewing.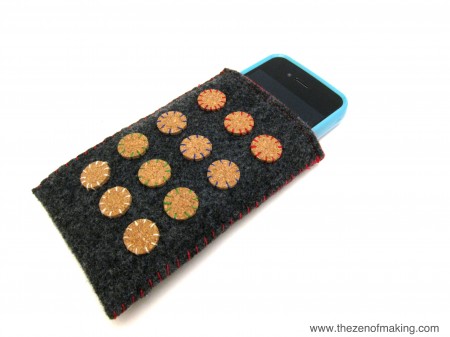 Tips and tricks for crafting with self-adhesive felt and cork pads:
Even though the felt pads are thick, don't use your lowest gauge sewing needle. A thick needle is hard to pull through and will get coated in adhesive easily, so resist your urge to break out the chenilles. A size 5 or 6 embroidery needle should do the trick.
If you're working with cork, use a size 7 or 8 needle to prevent crumbling and breaking.
Use a quilting thimble with a good grip to make pulling the needle through the felt easier and to keep your fingers from getting sticky.
Keep a bottle of rubbing alcohol and a cotton ball handy in case your needle gets too sticky.
When sewing, bring the needle up from the back on outside edge of the pad, then stitch into it. (See my straight stitch video below.)
Felt and cork add padding to a project, so they can be used as both decoration and an extra layer of protection for electronics sleeves and cases.
Felt and cork shapes aren't washable, so they work best on accessories and fabrics that won't be laundered.
For quick and easy no-sew projects, you can attach the pieces with a high temp hot glue gun instead of sewing.
In my designs, I used straight stitches to sew the shapes in place. To see how it's done, check out the video above or head over to my Perfect Straight Stitches photo tutorial.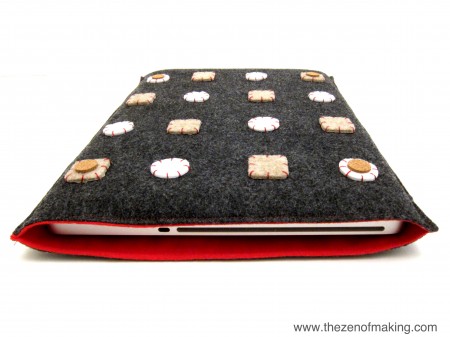 Ready to start your own project? Here are some of the products that I used:
Waxman 1″ Self-Stick Round Felt Pads, Oatmeal

Waxman 1″ Square Felt Pads, Oatmeal

Waxman 1″ Round Felt Pads, Brown

Waxman Cork Pads
For even more options, check out the surface protection aisle in your local hardware store!
**Please note that the links provided above are affiliate links, and I will be compensated if you choose to make a purchase after clicking through.**
What are your favorite crafty hardware store finds?