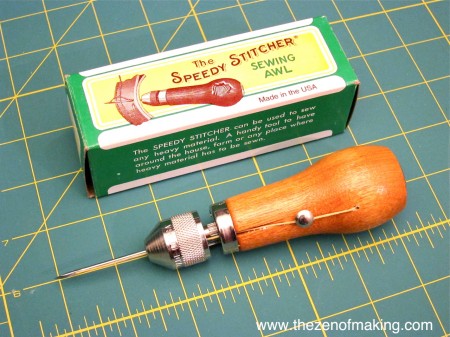 Have you ever used a stitching awl? If not, fair warning: you're about to need one.
A stitching awl is a specialized tool that's basically a hand-held manual sewing machine that's made to sew through thick materials like canvas, leather, and wool. It comes with both a curved and a straight needle and a spool of heavy-duty waxed thread. (According to the package, you can also purchase a smaller needle and fine thread for thinner materials.)
If you want to check one out for yourself, I have the Speedy Stitcher Sewing Awl 120
, which is pretty easy to track down online.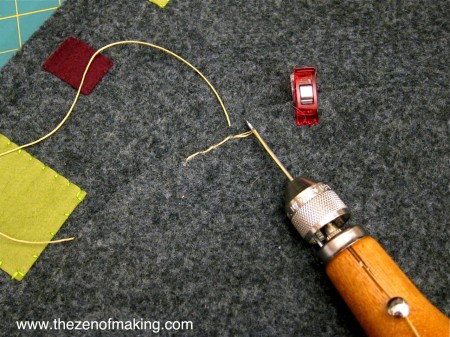 There's a bit of a learning learning curve for getting the stitch spacing and tension right, but once you get the hang of it, the sewing awl makes nice lock stitches just like a sewing machine.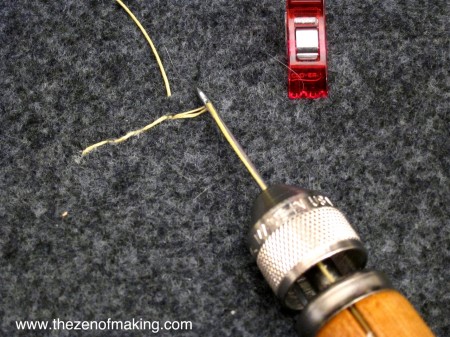 I used mine to finish stitching a cat bed. And, while it wasn't any faster than hand-sewing, it made stitching through four full layers of thick felt incredibly easy.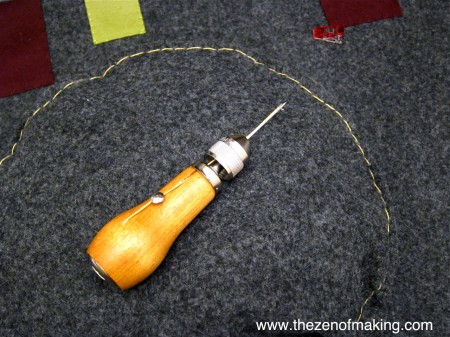 Because the sewing awl is hand-held, I felt like I had complete control over my stitch placement. It was also really easy to finish sewing the bottom cushion of the cat bed shut after I added the padding. I never had to cut the thread, so I could pick up the awl and continue sewing right where I left off, which made for a much cleaner, more continuous line.
(Kindly ignore how lopsided the stitching looks in this photo. It was taken post-stuffing, so the shape is stretched. Also, my first few inches weren't exactly pretty.)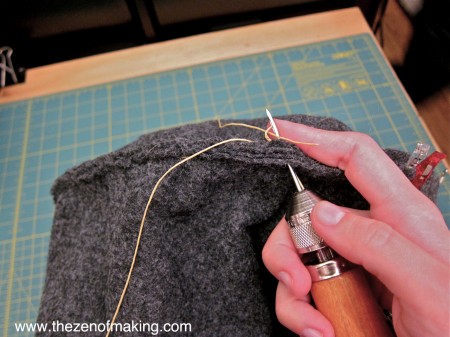 See that massive needle? That's why four layers of felt ain't no thang. It's also why you should invest in a good thimble. (I'll spare you the finger prick photos.)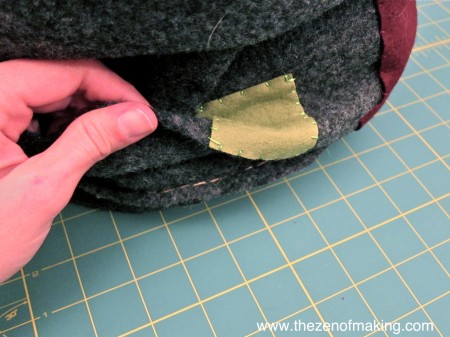 The lock stitches from the awl are way more secure than my hand-stitching, so it was the perfect choice for my cat bed project. I tugged and yanked to it into shape after I was done sewing, and there was absolutely no sign of loosening or unraveling.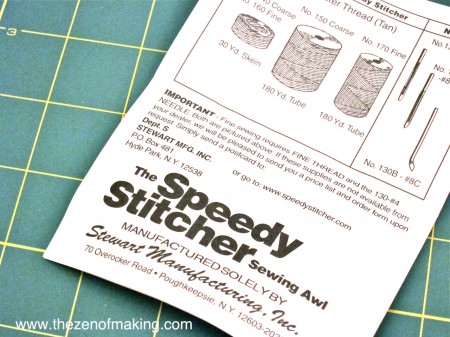 I'd definitely recommend the Speedy Stitcher
—especially for thick fabrics and awkward shapes. It's also nice that it's portable, so projects that once required a sewing machine can now be done on the go.
Next steps: Ordering more needles and additional spools of thread so I can test it on other things. I'm really curious about using it on shoes or in home decor projects, so I'll let you know what happens!
Unrelated: Is it wrong that I'm more than a little bit in love with this company because they request that I send a postcard for a price list?

What do you think? Is a sewing awl now on your crafty must-have list?
**Please note that the link provided above is an affiliate link, and I will be compensated if you choose to make a purchase after clicking through.**