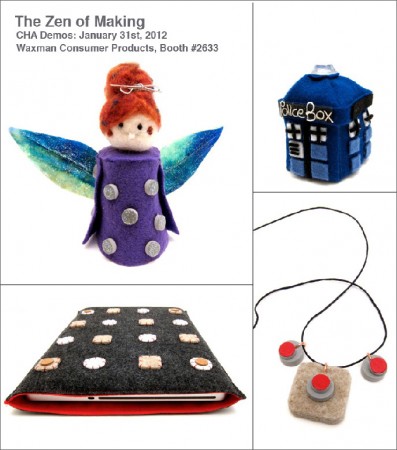 Day three of CHA is upon us! While you're running around trying to make it to your meetings on time, don't forget to stop by the Waxman booth (#2633) for a quick crafty demo break!
Demo #1: Fairy Finger Puppet, 10:00-11:00am
Three words: rubber chair tips.
While I was at it, I also made a TARDIS finger puppet. Alas, it won't be part of the demo, but you can still check it out in the booth!
Demo #2: Felt Pad Laptop Sleeve, 1-2pm
Learn how to make a modern laptop sleeve using pre-cut felt pads.
Demo #3: Bumper Necklace, 4-5pm
This necklace has definitely been a hit on the show floor this week, so drop in and see how quick and easy it is to make your own!
See you in the booth!