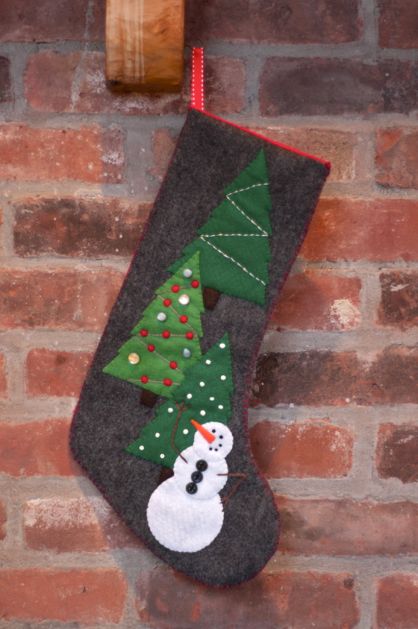 My Snowman Stocking Tutorial with Printable Pattern is now available for download on CRAFT!
Project: Snowman Stocking With Pattern

There are many ways to DIY your holiday celebration this year, but handmade stockings are one of my absolute favorites. When I see the time and care put into every single detail and stitch on a handmade stocking—no matter how old and worn it is—I just can't help but feel the love behind it. For me, nothing brings forth more happy holiday memories than unpacking my childhood stocking, so I can't think of a more perfect way to share joy of the season, year after year, with someone you love!

Materials:

Thick gray felt, ½ yard
Red flannel fabric, ½ yard
Craft felt, 1 sheet each of dark green, light green, orange, white, red, brown
Embroidery floss, dark green, light green, orange, white, red, black, brown, gray, silver metallic
3 Small black buttons, ½" or ¼" in diameter
12 White seed beads
5 small decorative buttons, ¼" in diameter
Red decorative ribbon, 8″ length
Embroidery needle
Fabric scissors
Paper scissors
Tailor's chalk
Fine point marker
Scotch tape
Straight pins
Fabric clips (optional)
Paper hole punch
Sewing machine (optional)

Step 1
Download the pattern PDF, then print and cut out the pieces. Assemble the stocking pattern pieces with scotch tape…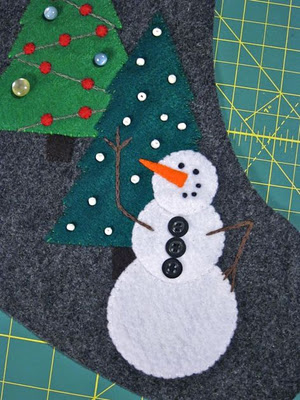 Head on over to CRAFT to see the full tutorial!