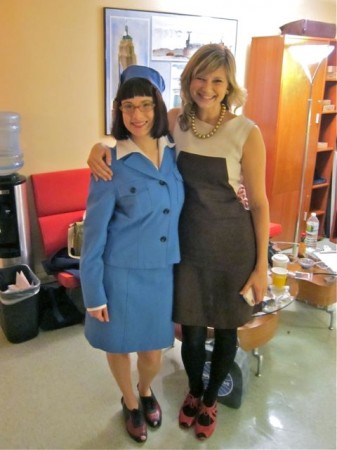 Meg and Me Representing CRAFT in the Green Room
This morning, I got to rock the vintage Pan Am look on Fox & Friends in Craft colleague Meg Allan Cole's DIY Halloween Costume segment!
I know, I know, I look a little awkward. I was nervous, and I didn't want to fall off of my shoes on live TV! I mean, I was wearing wedges and I'm the girl who wore flats to the EMMYS. It was a distinct possibility.
Check out all of Meg's crafty awesomeness at Nest and the Meg Allan Cole Crafts channel on YouTube!
Speaking of how awkward I am, who wants to give me tips on crafting a more comfortable video and photo presence? No amount of being cute is going to help me if I continue to look like a deer in the headlights every time I'm on a screen or in front of people! I'm really pretty sure that I used to be able to work it…