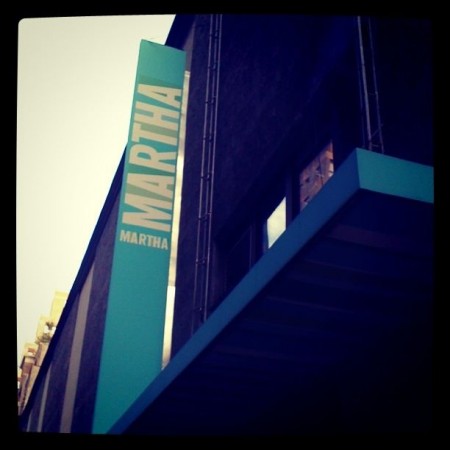 Today kicked off Craft Week on the Martha Stewart Show, and I, lucky gal that I am, got to live tweet and Facebook from the show this morning with Jenny of Craft Test Dummies fame!
There will be much more Martha Stewart goodness to come, but I just couldn't resist giving you a little photo preview tonight.
First off, we got the studio tour. That look on my face translates roughly to "OMG, I'm in Martha's Kitchen!!" (For the record, the drawers all work and the fridge is actually full. We checked!)
Being in the craft blogger section meant that I got to hang out with other awesome crafty folks like Jenni from I Spy DIY and Simone from Fave Crafts. (If you haven't checked it out yet, Fave Crafts featured me last week for their Meet and Make!)
In case you didn't catch the show, Simone live blogged it here.
We learned very quickly that everything on the set is functional, including a full potting shed and greenhouse filled with real plants that were grown right in the studio. (The MS grow light is setup is pretty impressive.) Jenny had to duck down a lot so we would be the same height in the photo, but I think we look pretty darn adorable!
And, of course, no Martha Stewart Craft Show photo roundup would be complete without a picture of the women herself! For the record, Piper, the kid next to her, is probably going to grow up to be a crafting genius. The kid's already silk screening, for goodness sake!
You can see Jenny's post on the show over at Craft Test Dummies!