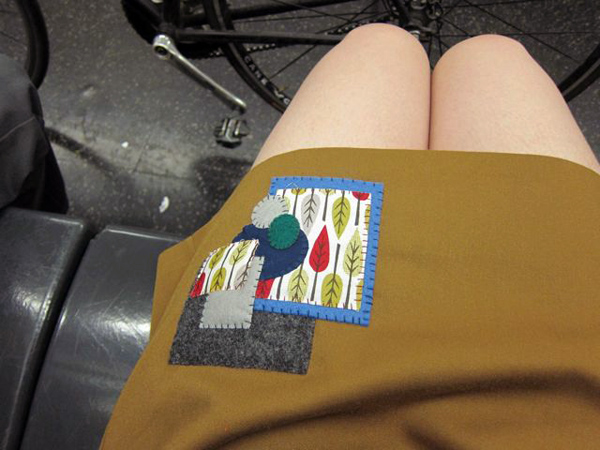 To wrap up National Sewing Month, I wrote a fabric crafting-specific review of the Spellbinders Grand Calibur die cutting machine on Craft Test Dummies! So, if you've got a die cutter (or think you might want one), and are dying to try it out on fabric, check out my review for tips and tricks on getting a good cut when using a die cutter on fabric: Cutting Fabric with Spellbinders Grand Calibur
After I finished testing the Spellbinders machine and dies, I wanted to share a tutorial that would show off a practical, stylish way to incorporate a die cutting machine into a sewing project. So, I cut out some basic shapes using the Spellbinders Nestabilities line, then layered them to create a mod-inspired applique to spice up one of my old pencil skirts. Below, I'll show you the basic method for creating a layered applique using die cut fabric. Don't worry if you don't have the same shapes—you can design your own applique using the dies that you already have on hand!
Supplies:
* Light or medium-weight fabric
* Streight pins
* Hand-sewing needle
* Thread
* Cover stock paper (At least 4 sheets.)
Tools:
* Die cutting machine (I used the Spellbinders Grand Calibur.)
* Dies in simple shapes (I used the Spellbinders Classic Ovals and Classic Rectangles Nestabilities.)
Step 1:
Once you've cut out your shapes, assemble them on your skirt in the way that you would like them to appear in the finished applique, then take a photo so you can refer to it as you assemble and sew.
Step 2:
Place the very bottom piece of fabric on your skirt, then pin it in place.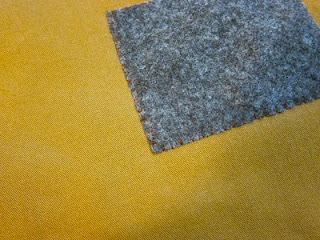 Straight Stitch Front View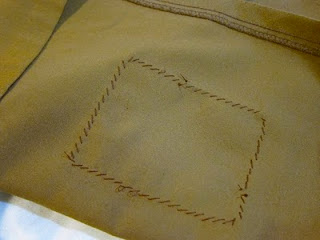 Straight Stitch Back View
Step 3.
Using evenly spaced straight stitches, secure the applique in place.
Step 4.
Position and pin the next level in place, then secure with a straight stitch.
Step 5.
Continue layering pieces and stitching into place until you have secured all pieces.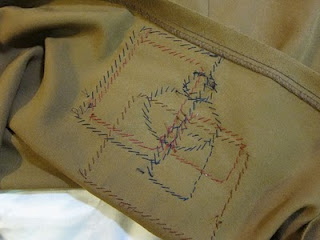 Finished Applique Back View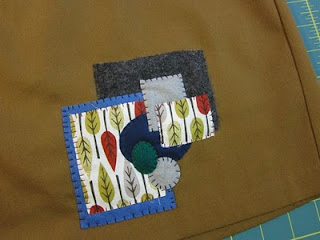 Finished Applique Front View
Check out your hip new appliqued skirt! (Of course, if you're not the skirt wearing kind, you can use the exact same method to add an applique to any piece of clothing.)
My skirt needs to be dry cleaned, so I'm not worried about the threads starting to fray a bit. But, if you'll be washing yours, you may want to carefully dab some Fray Check around the edges to seal them in place.