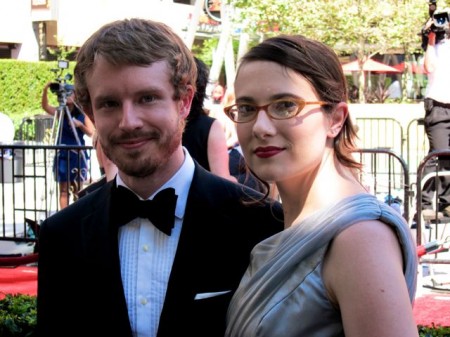 Last Year's Emmy Adventures
My very talented (and totally awesome) husband is, once again, Emmy-nominated Jeremy Cox! And I, not being one to run from a challenge, have decided to make my dress and accessories for the big event. You know, the one that's happening just slightly more than a month from now? Yeah, that one.
There's just one little problem with my plan: I'm not an expert in making everything. (Shocking, I know.) But, I'm betting that, where I don't have the know-how, you do. Or you know someone who does.
So, I'm looking for other crafty folks who want to partner with me on this year's Emmy adventure, and teach me how to make something that I haven't made before. (Serious bonus points if you want to go all out and make a tutorial with me during the process!) I've got jewelry covered, thanks to The Creative Goddess, but I could use some help with the following:
* Evening gown. I can certainly sew, but I've never made black tie-wear. Any tricks of the trade and/or vintage-inspired pattern resources would be much appreciated.
* Clutch/handbag/purse. I wouldn't even know where to begin with anything classier than an envelope-shaped clutch. Halp?!
* Shoes. I don't plan to make my own, but I do plan to customize. I'm definitely wearing flats (learned that lesson last year), but I don't have a style in mind yet.
* Hair barrette/fascinator. Last year, I had very, very long hair, so I got a simple, elegant up-do. This year I have a bob that won't be tamed, so we'll need to decorate it!
Want to be part of the fun? Let me know!
Not an expert, but have a good idea? Get in touch and we'll see if we can figure something out!
I'll be writing an article about my Emmy adventures for CRAFT, so the more zany and fun the process, the better!
SO EXCITED!