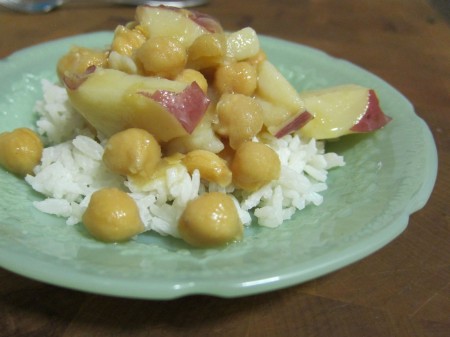 I don't know if I can really call this a recipe—it's so easy to prepare, you won't actually feel like you're cooking. I threw this together for the first time a couple of days ago so I'd have something on hand when my friend Whitney came into town. I didn't know exactly when she was going to arrive, so I wanted something that would warm up well whenever she made it to my apartment. This meal totally fit the bill. (Plus, it was a delicious addition to today's lunchbox.)
Seasoned Chickpeas and Potatoes
2 cups dried chickpeas, soaked overnight (2 cans of canned chickpeas will work in a pinch)
6-8 cups of water (add more as needed)
3 tablespoons of Better than Bouillon Organic Vegetable Base
4 medium red potatoes, cubed
Add water, soaked chickpeas, and bouillon to a large stock pot. Cover and bring to a boil, then simmer for about 2 hours, stirring regularly, adding water as needed so the chickpeas are always completely covered. (If using canned chickpeas, skip right to the next step.) When chickpeas are tender, add cubed potatoes. Add more water if necessary to cover chickpeas and potatoes, then simmer for half an hour, or until the potatoes just start to fall apart.
Coconut Rice
2 cups jasmine rice
1 can coconut milk
2 cups of water
.5 tsp salt
Splash of vegetable oil
Combine all ingredients in rice cooker, stirring once or twice to make sure everything is well combined. If you don't have a rice cooker, cook rice per your usual method.
It's a little monotone, so make sure you serve with something green. I found peas or kale chips to be a particularly good fit for the flavors.
That's it. Super easy, right?