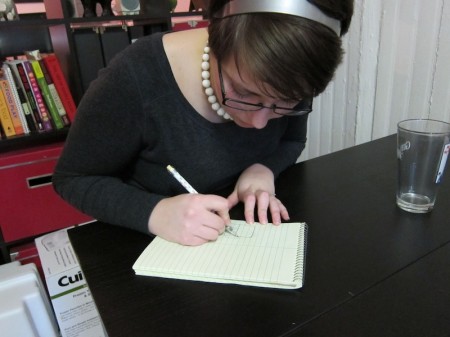 Whitney Sketching the Design
Over drinks last night at the bar downstairs, my pal Whitney, who is on loan this week from the Mitten State, told me about a great idea that she had for a colorwork project bag for knitters and crocheters. As we continued to talk (and drink another beer), the design continued to grow and evolve. Finally, we decided to spend all day Sunday making the bag a reality.
Haley and Whitney Cutting the Pattern Pieces
We had a plan, but we didn't have a pattern. So, we decided to make our own. Neither of us had any pattern-making experience, but, as reasonably experienced seamstresses, we were able to wing it pretty well. (Though, truth be told, it took us quite a while.)
Simon is Helping
By the end of the day, we definitely didn't have a finished bag, but we had the fabric and lining cut and pinned, a plan for construction, and fancy new pattern that we can totally use again.
Not bad for our first try.