We have a winner! Click here to see if it's you!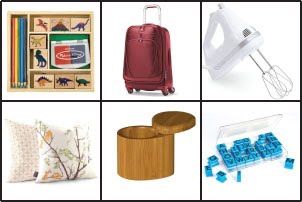 Photos care of CSN Stores
Once again, the fine folks at CSN Stores are showing their love for the crafty kids by offering a $35 dollar gift code to one lucky reader at Red-Handled Scissors!
Need an extra-large suitcase or two to lug around that sewing machine and *slightly* out of control fabric collection? Don't bother with luggage stores, check out CSN! (The same goes for educational toys, kitchen appliances, bedding, shower curtains, and a chair for that fire escape that you call a roof deck.)
To enter, leave a comment below, then check out the extra-credit options for 4 additional chances to win. The winning comment will be drawn at random on Friday, February 11th at NOON EST.
To enter:
1. Leave a comment below. Be sure to include your email address or leave a link to your blog so I can contact you if you win. *required
2. Add Red-Handled Scissors to your RSS feed and leave a comment below.
3. Become a fan on Facebook and leave a comment below.
4. Follow me on Twitter and tweet about the giveaway. (Please mention @thezenofmaking in the tweet, and don't forget to leave a comment below, or your tweet won't be counted!)
5. Blog about the giveaway, linking back to this post. Add link in the comments below.
If your comment is chosen, I will send you the $35 gift code, which is good at any of CSN's many sites.