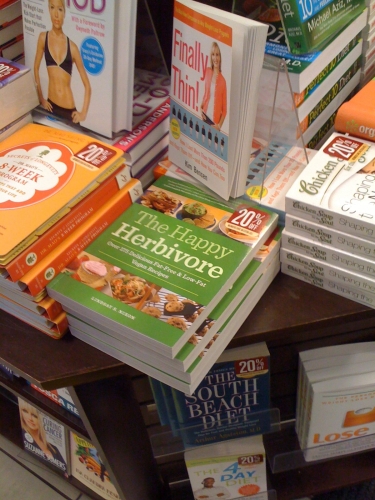 It's real! It's real!
I work with books in my day job, but that doesn't mean that the magic of book publishing is lost on me. When I walked into the Barnes & Noble near my office and saw Lindsay's book in a front-of-store promotion, I immediately squealed and snapped a photo to send to her. (Then, of course, I bought the book.)
If you haven't had a chance to try Happy Herbivore Nacho Cheese Sauce, rest assured that you are spectacularly jealous that I now have the recipe. Once you come to terms with your feelings, you should probably just buy the book. Or, even better, you can ask your local independent book store to order it for you. :)
If you absolutely must have some vegan goodness now, you can check out a similar recipe, Low Fat Vegan Nacho Cheese, on the Happy Herbivore website.
(Full disclosure: As you may have gathered, Lindsay is a pal.)
Buy the book:

**If you click through a link to Amazon.com in this post, I will make a little money if you make a purchase. Don't say I didn't warn you.**