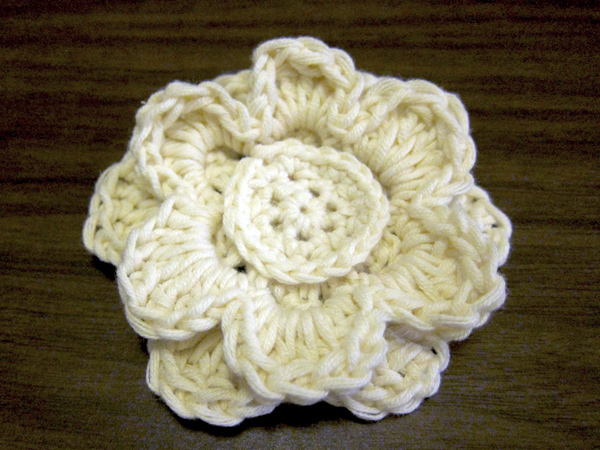 For Christmas, I crocheted flower brooches for most of the ladies in my family, and I made this flower especially for my Grandma Joyce. I didn't get to give it to her in person, so I sent it—along with the rest of my Christmas projects—to my mom for holiday delivery. A few days ago, my grandma sent me a letter telling me how surprised she was that I could crochet.
Now, I make many different things using many different crafting methods, so crochet skills don't seem out of the ordinary to me. I mean, my grandma can also crochet, sew, and embroider, and that doesn't strike anyone as weird. But, after reading her note, it occurred to me that, while my grandma learned these skills from her mother, and my mom and aunt learned them from her, my mom didn't teach them to me. In fact, almost all of my craft skills are either self or book-taught. When I have a crochet question, I don't call my mom, I ask the ladies at the yarn store or my friends on twitter. When I have a sewing question, I look it up in a Built by Wendy book, or I ask my friend Amanda. I was never expected to be able to sew my own clothes or make my own knitwear, so, understandably, nobody thought it was important to teach me. (It was the 80s. We were busy!)
Even so, handicrafts still managed to play an important role in my childhood. I remember going to my great grandma's house as a little kid. She always made braided rugs, and I asked her to show me how to make them too. She taught me, and, to my knowledge, I am the only member of my family who learned. Though I was very young, I still remember the basic methods and stitches, and the memories of that time spent with her are priceless. I wish that I'd asked her to teach me more things, like how to quilt using the treadle sewing machine she had upstairs and how to crochet fine lace doilies. She passed away a long time ago, so I'll never have that chance.
As an adult, I find domestic skills to be incredibly valuable. I don't live near my family in Michigan anymore, but If I did, you can bet that I'd be spending quite a few evenings sitting next to my grandma, stitching and chatting, and learning the skills that I don't think should be forgotten.