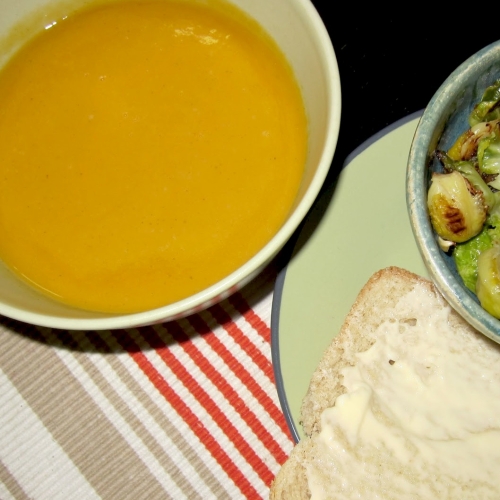 Autumn in the CSA can only mean two things: sweet potatoes and apples. I always end up with more of each than I can ever hope to use between picking up shares. (Luckily, apples freeze well in the form of apple pie filling, and sweet potatoes stay mighty tasty in a cool, dry NYC apartment.) A couple of weeks ago, I found myself with a mountain of sweet potatoes and some leeks on the verge of being thrown into the worm bin. So, instead of letting good food go bad, I made this very simple (and surprisingly delicious) soup. To be sure it was actually tasty, I made it again for my BFF's birthday dinner. She wholeheartedly approved.
CSA Sweet Potato Leek Soup
* 8 cups of vegetable broth
* 6 medium sweet potatoes, peeled and chopped
* 3 leeks, diced (white portion only)
* 2 tbs olive oil
* sage to taste
In a large stock pot, sautée the leeks in olive oil until slightly browned. Add the vegetable stock and bring to a boil. Add the potatoes, then simmer for 15 minutes, or until the potato pieces break apart when tested with a spoon. Using an immersion blender (or regular blender), puree the soup until completely smooth. Simmer the soup to thicken if needed. Add sage to taste.
I used herbed broth for this recipe. If your broth isn't seasoned, you may want to add additional seasonings to taste.