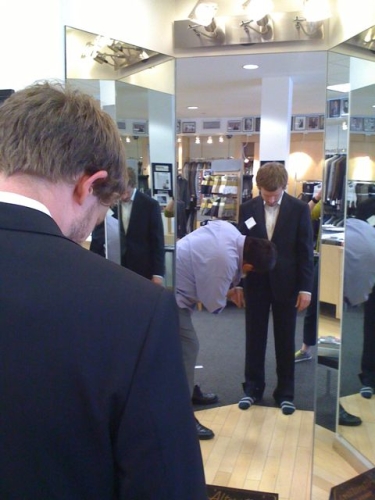 Our Emmy adventure started on Thursday with an early morning Virgin America flight from JFK to LAX. Not only were there outlets built into every seat and wireless internet available, a very patient flight attendant went through all of the food on board to help me find the vegan options.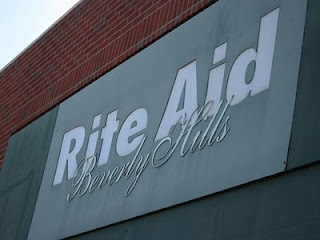 It's totally unrelated, but check out the ridiculous Beverly Hills Rite Aid sign!
Upon landing, we immediately headed to Beverly Hills to get Jeremy's tux fitted. (It's impossible to find a tux in Jeremy's size anywhere in NYC, so we had to special order it from a designer in LA, then have it fitted on-site when we arrived.)
We spent the next several hours at Jimmy Au's for Men 5'8″ and Under, where they altered Jeremy's tux while we waited, then managed to sell us a sport coat, two pairs of pants, and two dress shirts. (Okay, so it wasn't really a hard sell. Everything fit!) Jimmy and his son provided absolutely excellent customer service, and somehow still managed to tailor everything else we bought during the hour we spent having lunch at a sidewalk cafe. Next time we need nice clothes for Jeremy, we won't bother trying anywhere else first—we're calling Jimmy.
While Jeremy shopped, I befriended another Jimmy Au customer—a kooky old guy with amazing glasses who used to know Frank Sinatra. (Like ya do.) He was a decade-long vegan and told us where to get good food in Beverly Hills. At his suggestion, we went to M Cafe, where I had my first tempura of the day.
After our shopping spree, we headed to The London to check in. We're staying in a Sunset Suite, which may be the fanciest hotel room I've ever been in. Our room has a balcony with a view of the Hollywood Hills.
We also have a full service wet bar. I don't even want to know how much a bottle of booze would cost, so, needless to say, we're leaving it alone.
Not entirely unexpected, we have a giant bathtub .
But, notice the shower behind it. It looks normal from this angle, but it's actually a walk in stall with TWO SEPARATE SHOWER HEADS on opposite walls. (What? In case one of them breaks?!) One is a fancy rain shower head, the other is an adjustable pressure massage shower head. There's also a hand-held shower nozzle, in case you decide you'd rather use that. No word yet on why in the world you would need two showers in one room, but I kind of like it.
On top of all of our other adventures, last night was also the Title Design Peer Group cocktail and ping pong party at the Mondrian.
The party was Grey Goose vodka-sponsored, so drink vodka we did. This particular drink was a delicious combination of muddled lime, simple syrup, tonic, and vodka. It was one of those dangerous cocktails where you can only have one because they're so easy to drink. We had two, and then we played ping pong. (Video to come, as soon as I have time to edit.)
After the party—and after a short stop at a rooftop bar where I really wanted to jump into the empty pool—we realized that I hadn't had dinner yet. (Jeremy had been eating appetizers all night.) On the short walk between the party/bar and our hotel, we found a cute little sushi place, and I had my second tempura of the day, this time in roll form. Clearly, it was serious business.
Travel weary, but with our bellies once again full of fried vegetable goodness, we went back to the hotel and immediately crashed.