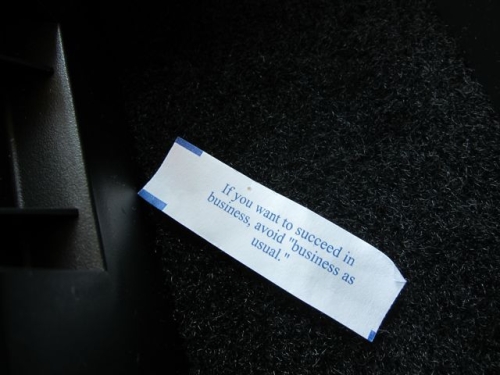 Jeremy and I are back in the city after spending a relaxing weekend in Vermont with Jeremy's parents, celebrating their 25th year of living on their beautiful farm. In the spirit of our mini-adventure, we found this fortune in our rental car.
A weekend in Vermont wouldn't be complete without a trip to the Farmers' Market. (Also, I wanted a princess hat!)
I really wish these had been vegan.

Guy in a man-skirt=typical Vermont. I love Utilikilts!
One of several vegetarian food booths.
The Orchard Hill Breadworks booth.
Jeremy trying the focaccia. Ignore the look on his face—the bread was actually delicious. We bought a loaf, which lasted less than an hour once we got it back to Jeremy's parents'.
Inspired by the signs at the market, we stopped at the food co-op (food co-op!) to bring home some authentic Vermont maple syrup.
Brooklyn, you really need to step up your Greenmarket game!