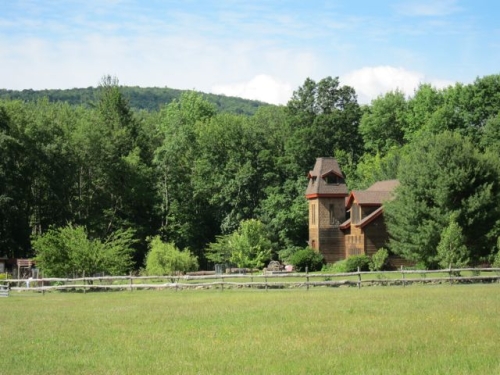 Stevie and I arrived at the farm bright and early this morning to help set up for the June Jamboree. The forecast threatened rain at some point, but, clearly that was a bunch of nonsense.
Upon arrival, we were immediately greeted by Clover. Stevie has been talking her up for years, and she more than lived up to her charming reputation.
During a lull in the afternoon, we volunteered to head over to Bread Alone to pick up 35 donated loaves for the weekend. While we were there, we also got two ridiculous slices of chocolate spelt cake for the road, which were so huge that they lasted most of the day.
The trip to Bread Alone was the first time that Stevie had driven in 5 years, and nobody died.
Back at the farm, I got up close and personal with a turkey. For him, it was love at first sight. I don't know how I'll break it to him that I'm married.
As you can see, I was a popular lady with all of our feathered friends. The white turkeys followed me around all day, "helping" set up the merch area.
Tired and pleased after a good day's work, Stevie and I grabbed some leftover vegan pizza from lunch (Thanks, Jenny!), and took in the scenery for a while before leaving.
We were done with the day, but the day wasn't quite done with us. On the way to our motel, we learned that it's never a good idea to try to find a gas station on your own when the gauge is on "E." Out of gas and with no cell phone service, we remained surprisingly reasonable. Instead of panicking, we walked to find a pay phone and sang some Janis Joplin (loudly). When we were rescued by Doug from the farm (Our hero!), we were still in pretty high spirits, and had coined a new pseudo-curse after the town that had trapped us: "SHANDANKEN!"
Use it in a sentence with me: "The Shandanken truck ran out of Shandanken gas!" or "Aw, Shandanken!"