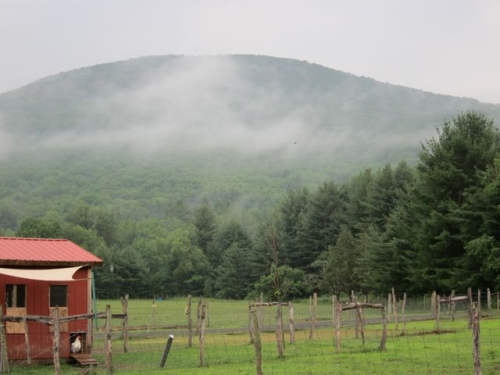 True to forecast, day one of the June Jamboree started out very rainy and very foggy (and very beautiful).
By early afternoon, it cleared up a bit, and we were able to get everything set up in the merch area.
The rain came and went throughout most of the day, but the food tent provided shelter and sustinence to the many generous souls who braved the wet weather and came to the farm anyway.
Ella (of Regal Vegan) was our chef for the day.
She whipped up an amazing array of salads and sandwiches for everyone.
I had the egg-less salad sandwich, some roasted corn, and a fruit kabob for lunch, after which I was so full that I never did manage to try all of the salads.
For dessert, we had ice cream from the wonderful folks at Coconut Bliss, which was some of the best vegan ice cream I've tasted in a long, long time.
There were more neat things going on all day than I can possibly fit into a blog post, so I'll just leave you with some dancing cows.