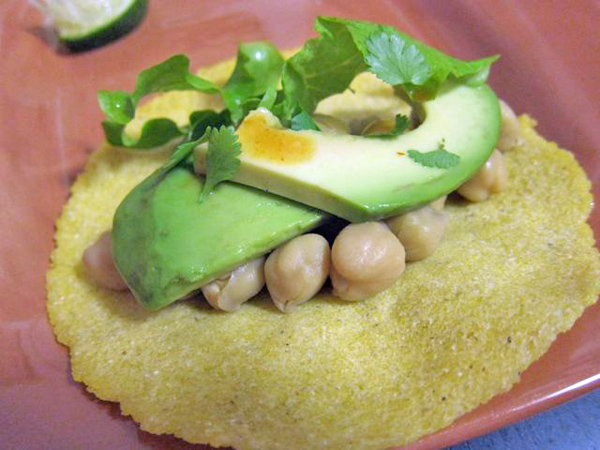 Jeremy and I have been trying to cook together more often, so we've been focusing on building a collection of fast, simple meals that we can throw together without much notice. Tonight, with half an avocado left over from the summer rolls I made for lunch, lettuce from the CSA in the fridge, and a the cilantro from our fire escape garden starting to come in, tacos were the obvious choice. These tacos are nothing fancy, but they are extremely flavorful and easy—you can also add hot sauce, salsa, or any additional produce you might have lying around.
Chickpea Tacos
1 can organic chickpeas, rinsed
2 cups water
2 teaspoons of Better Than Bouillon Organic Vegetable Base
1/2 ripe avocado, thinly sliced
1 to 2 cups of romaine lettuce leaves, washed and shredded
1/2 lime, cut into wedges
1 to 2 sprigs of fresh cilantro, to taste
6 corn tortillas
1. Combine water, vegetable base, and chickpeas in a large pot. Bring to a boil, stir, then simmer 20 minutes or so while you're preparing the rest of the ingredients.
2. Cut, chop, slice, wedge, etc. the avocado, lettuce, lime, and cilantro (and any additional produce you'd like to add, like tomatoes or onions).
3. Layer seasoned chickpeas, avocado, lettuce, and cilantro (and anything else) on a tortilla. Squeeze a lime wedge over the top, fold, and enjoy!
We have a tortilla press, so we make our own tortillas. Even if you don't, corn tortillas are quick and easy, so I definitely suggest trying it. Here's a good recipe from Simply Recipes.
We finished the meal off with cherries and lemonade, but soy ice cream would have done the trick too!
**If you click through a link to Amazon.com in this post, I will make a little money if you make a purchase. Don't say I didn't warn you.**