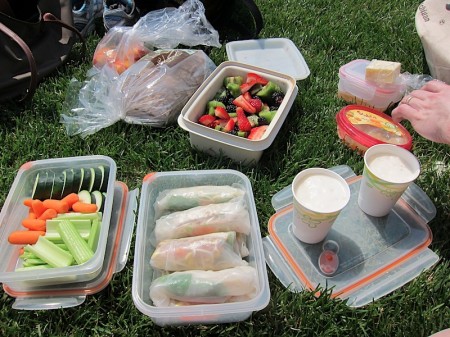 For Memorial Day, Jeremy, Melissa, and I had our second annual picnic. The goal was to keep it simple (But, seriously, when do I ever keep anything simple?), so we dispensed with the grill and had a mostly fresh, mostly raw vegan picnic lunch in Brooklyn Bridge Park.
Here's what you need to make your very own Memorial Day picnic lunch (on any day):
1. Summer rolls: Soak rice wrappers. Add baked tofu, sliced carrots, bean sprouts, spring greens, and avocado. Roll them up like a tiny burrito. Dip in peanut sauce.
2. Make a fruit salad, cut up some vegetables, and buy or make a tub of hummus. Pretty self-explanatory.
3. For good measure, throw in some whole wheat sourdough bread and vegan cheese.
3. Make a batch of Heavenly Raw Chocolate Mousse. (I also added some Sweet and Sara vegan marshmallows and slivered almonds to the recipe.)
Now that you're full, have a good time:
4. Pay for 30 seconds on a site-seeing machine and look like tourists.
5. Play some catch.
6. Come home and take a giant nap.
You have now had a successful Memorial Day Picnic.