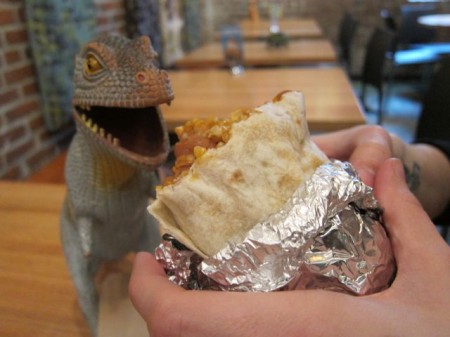 While in Portland, we wandered into many more awesome places than I could ever hope to tell you about. The whole time I was there, I was completely overwhelmed by the sheer number of places to find good vegan food, local products, and creative people. I'm sure that I'm leaving out a ton of great businesses, but here's a roundup of some of my favorites:
After searching high and low for a good fabric store (what gives, Portland?), my friend Elsa finally pointed me in the direction of Cool Cottons. I bought some hedgehog fabric, which will eventually turn into a button-down shirt. This place is as adorable on the outside as it is inside, so definitely click through to their site and have a look.
If the Brooklyn Borough Hall Greenmarket were anything like the Portland Farmers Market, I'd never eat anything that wasn't local again.
Breakfast of champions: a vegan kolache from Happy Sparrow and a vegan chocolate covered cake doughnut from Voodoo Doughnut.
A burrito that would turn a t-rex vegan from Laughing Planet Cafe.
One morning, I had a vegan corn dog basket at Hungry Tiger Too. It was amazing, even if corn dogs aren't traditional brunch fare.
One of our last nights in the city, we went to Vege Thai for dinner. We chose the place because it was in our friends' neighborhood and it was raining, but were certainly not disappointed. Jeremy, my husband, ordered the pineapple curry pictured above.
Our friend Tyler got the pad sei-iew. He ate the whole thing, so it must have been good.
I had the massaman curry.
It would be fair to say that I'm a tad obsessed with finding and trying ANY vegan massaman curry available, so, when I saw it on the menu, my decision was made. The curry from Aroy Thai earlier in the week was tasty, but Vege Thai took the extra step of adding carrots to the mix, which put them at the top of my (admittedly small) PDX curry rating list. (If I had to guess, both restaurants probably used my favorite vegan massaman curry paste.)
Elsa got tom yum soup with fake shrimp, which I had never seen before. Here, I'm receiving an education in the ways of fake shrimp/fake crab. The fake shrimp looked pretty real to me.
**Obligatory vegan warning: Not all of the options on the Vege Thai menu are vegan. You should check to see if the dish you want contains eggs or dairy.**
The vegan french toast from Wild Abandon, was tasty, but I wish they'd served it with real maple syrup!
The vegan sausage (also from Wild Abandon) was well-intended, but needed to spend a little more time frying before being served.
The food was perfectly fine, but you should definitely hit up Wild Abandon for the bizarro interior decorating choices and the fantastically friendly brunch-time waitress.
**If you click through a link to Amazon.com in this post, I will make a little money if you make a purchase. Don't say I didn't warn you.**