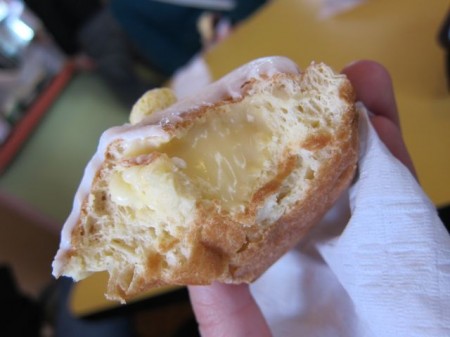 I was planning to do a quick overview of the rest of the awesome food I ate while in Portland, but decided that Voodoo Doughnut deserved its own post. After all, our visit (okay, 5 visits) was (were) pretty epic.

Walking into the Davis location (we also visited the 3rd Ave location several times)
Inside doughnut heaven
The magical revolving case, where you find out which doughnuts are available.
The line wasn't too bad this time, but it regularly stretches out the door and around the block at the 3rd Ave location.
Raised vegans. 'Nuff said.
This one was called the "Gay Bar." It was pretty darn happy.
Obligatory unflattering eating shot
Vegan creme filling

The doughnuts were perfect (I know–I tried most of them), and Voodoo Doughnut definitely got an A+ for taste, texture, variety, and hot ladies behind the counter. Their customer service was the tiniest bit surly, which is just how I like it!
Did I mention that you can get married there?
My only regret is that I left without buying a t-shirt.