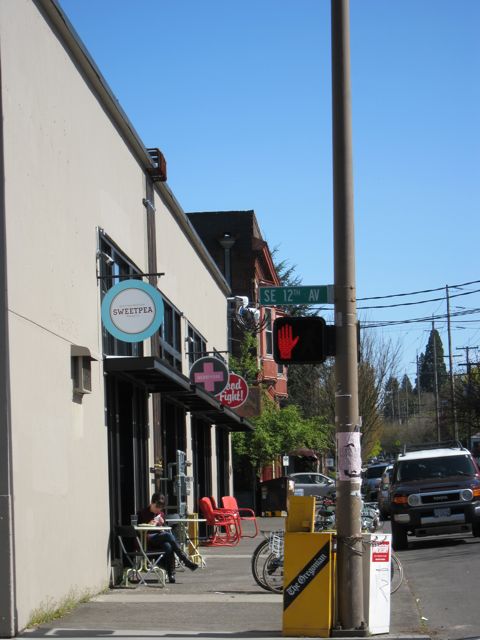 I spent the morning and early afternoon scouting out more vegan goodies. My first order of business was to visit the fabled vegan strip mall, and what I found was totally worth the hike from the other side of the river. As icing on the vegan cake, on top of discovering good businesses, I met even more incredibly friendly, helpful people.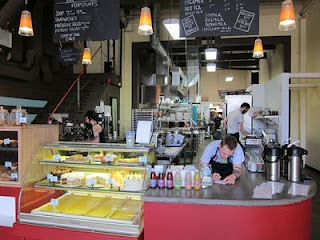 My first stop was Sweet Pea Baking Company, where I got a delicious lunch, dessert, and a whole list of other vegan places to try from the guy behind the counter. He possessed a wealth of information, and I'm hoping to put his recommendation of Portobello Vegan Trattoria to good use tomorrow.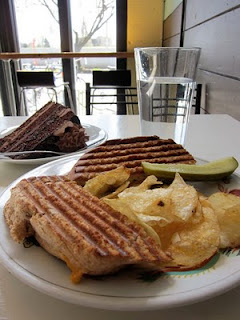 For lunch, I had The Press, a pressed vegan grilled cheese sandwich with avocado. I thought it might be too plain without soup on the side, but it was definitely fine on its own. I don't know what kind of vegan cheese they use, but the flavor and texture were spot on, and the avocado was perfect.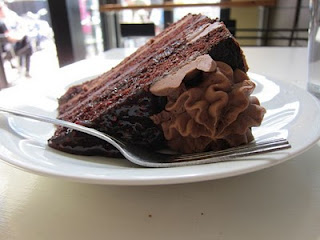 I rounded off my Sweat Pea experience with a huge slice of chocolate raspberry torte (half of which is still in my hotel fridge), and got a chocolate cream-filled danish for the road.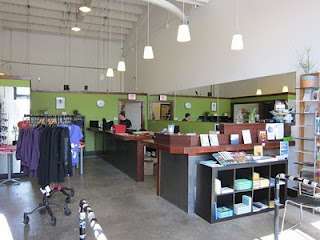 After filling my belly at Sweet Pea, I headed next door to Herbivore Clothing Company, where I scored a Krazy Katlady Cookbook zine and a couple sets of awesome buttons, one of which was free, because I got really excited about them. (Thanks, Josh! It was great meeting you!) I kind of (read: really, really) want a bento set and carrying bag, a t-shirt, and a wallet, so I'm confident that I'll be back before heading home to Brooklyn!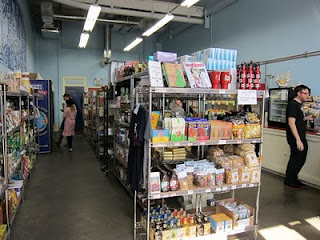 Because I wasn't in the market for a tattoo (the last business in the row), my final stop was Food Fight Grocery. Food Fight was smaller than I had expected, but really thorough–they actually had specifically labeled vegan floss! I didn't need much in the way of groceries, but I did get a sweet Food Fight tote bag.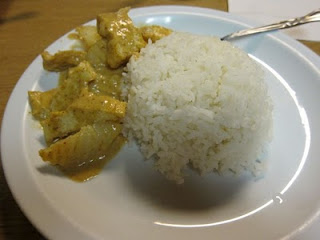 In a bonus vegan adventure, my co-worker and I headed out to find dinner after our show tonight, and picked Aroy Thai Cuisine almost at random out of the Veg Out book. The place looked tiny and plain, but the massaman curry was rich, with just enough spice to have a little kick, and was definitely fish sauce-free. It really hit the spot at the end of a long day!