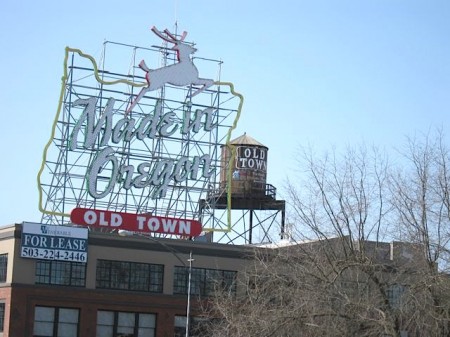 This week, I'm writing to you from beautiful, sunny (for now) Portland, Oregon. Surprisingly, a business trip is to blame for my first visit to the city, but I've long heard it described as the Mecca of both vegan food and bicycles, so I've been meaning to check it out for a while. Now that I'm here, I have big plans to eat as much vegan food as I possibly can. (To fulfill the bike portion of the legend, I also tried to bring my Swift Folder along, but alas, I couldn't carry both the bike and my luggage on the subway.)
I started the week out by trying the DC Vegetarian food cart (SW 3rd Avenue b/t Stark and Washington Streets), which is one of the many food carts lined up along 3rd Ave. The DC folks were kind enough to let me take a quick photo for the blog, so you can see what a cute, tiny place it is.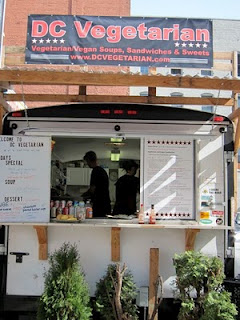 The guy and gal team who were manning the counter and grill were friendly and inviting, especially to an awkward out-of-towner like myself. I ordered up a vegan burger with soy cheese (according to the sign, the burger is their own special recipe), and chatted with them while they made my meal to order.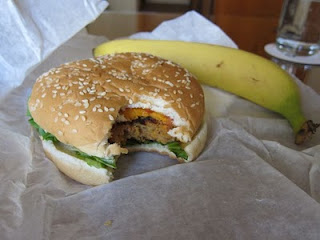 The verdict: I'm not sure if the burger recipe was soy, or lentil, or what, but it was fresh, and had just the right texture and firmness. Even with toppings as simple as soy cheese, lettuce, and ketchup (my choice), it was full of flavor, didn't fall apart, and was tasty to the last bite. I'll definitely go again in the coming days to try some of the other items on the menu.
I'm really enjoying Portland, and am looking forward to continuing my vegan food adventures! (Voodoo Doughnut, anyone?)
For the record, there was one little cat-muffin who wasn't happy to see me leave Brooklyn: